IBM Weather Channel location data use spurs privacy concerns
IBM CEO Ginni Rometty pushed real-time weather data mining for travel and other uses, even as the Los Angeles city attorney is suing IBM's Weather Company unit over its sharing of location data with business partners.
IBM CEO Ginni Rometty in her CES keynote touted progress on big data at IBM's Weather Company subsidiary, even as the subsidiary and its Weather Channel app are coming under scrutiny for allegedly selling location data culled from users' smartphones without proper notice.
Rometty's Weather Company news came less than a week after the subsidiary's data privacy practices were thrust into the spotlight when the Los Angeles City Attorney's office sued The Weather Company, charging that it deceptively used its popular app to gather app users' location data -- a claim that IBM rejects.
Related data privacy issues drew wide attention last year as the European Union's GDPR rules went into effect, and as Facebook faced criticism over it sales of data that eventually ended up with political consultancy Cambridge Analytica.
At the sprawling Las Vegas consumer electronics show, Rometty cast data as the "world's great natural resource," underlying advances in predictive AI and quantum computing systems. She also disclosed The Weather Company's plans to release a data-driven Global High-Resolution Atmospheric Forecasting system, called GRAF for short.
GRAF will use IBM Power9-based supercomputers to provide predictions that cover areas of 3-kilometer resolution. That is a significantly higher resolution than is common in weather forecasting today. Moreover, the forecast data will update hourly across the globe.
Rometty said the new system was part of a push by IBM to exploit "deep data" -- that is, data that has yet to be tapped.
"We estimate that less than 1% of the data that the world is emitting is actually collected and analyzed," she said.
The early users of GRAF-generated forecasts could include airlines, travelers, farmers and other agricultural concerns.
"If you are farmer in Kenya or in Kansas," Rometty said, "you are going to get way better weather prediction."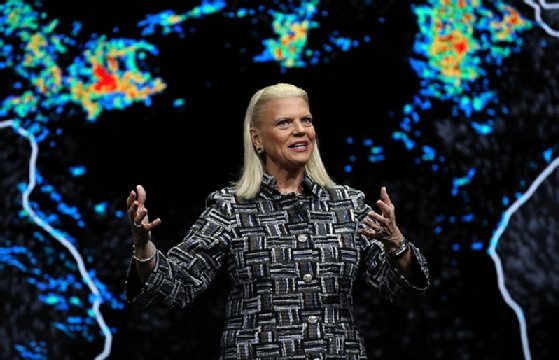 Stormy weather
The Los Angeles complaint charged that app users were inadequately alerted as to the extent to which The Weather Channel app data was being mined and sent "to IBM affiliates and other third parties for advertising and other commercial purposes."
The suit came after reports by The New York Times and other media organizations about allegedly improper Weather Company data uses. Such criticism has been leveled at IBM even though the IT vendor has sought to differentiate its data policies from those of other tech titans more closely involved with digital advertising and marketing.
In the wake of the media scrutiny, The Weather Company in early December updated the terms in the privacy policy it serves up to users of its website and applications, adding a section that says aggregated location data and other information collected through its services may be shared with third parties "for research or commercial purposes."
But in response to the suit, IBM defended the unit's data collection and usage practices. "The Weather Company has always been transparent with use of location data; the disclosures are fully appropriate, and we will defend them vigorously," IBM said in a statement.
Since the days of the first ENIAC machine, weather data and computation have been closely interlinked. IBM's 2015 acquisition of The Weather Company came at an early stage in the rapid expansion of the big data industry that is still going on.
That same year, IBM bought Merge Healthcare, a software vendor specializing in storage and analytics of medical imaging data. In both cases, feeding data to its Watson cognitive computing platform was a clear objective for IBM, but it also apparently saw selling data to others as an objective.
Data privacy worries
If the legal claims over IBM's sharing of location data are a guide, the challenges of data privacy will be a problem for data managers in a variety of other industries.
The recent events show how deeper awareness of data's possible use and misuse is a part of doing business now, according to Adam Schwartz, senior lawyer at the Electronic Frontier Foundation, a privacy advocacy group based in San Francisco.
"Location data is a rich record of where you live, where you work and what stores you go to," Schwartz said. "The information is often sold to data brokers."
Consumers, in effect, sell their "location" in exchange for an app that provides some convenience, such as advice on the location of the nearest burrito store, the availability of a ride-share service, or the weather forecast, he said.
"What people don't realize is that the app follows them wherever they go after they got the burrito, found a ride or learned about the weather," Schwartz said.
Risky data business
Companies will more and more grapple with data privacy issues, said Barbara Wixom, principal research scientist at MIT's Sloan Center for Information System Research. Much of Wixom's research is focused on effective and ethical practices for data monetization.
Companies have got to get their head around acceptable data use. It's not just about being compliant with regulations.

Barbara Wixomprincipal research scientist, MIT
"Companies have got to get their head around acceptable data use. It's not just about being compliant with regulations. Data uses must be decided according to values, and not just values within the company," she said. Consumers' and other stakeholders' values also must be considered, Wixom added.
As IBM has found, using data about people presents unique challenges.
"Other forms of data may not be as risky," she said. "But people data is."
When data managers' data efforts become externally facing, a whole new series of risks must be considered, she continued.
Otherwise, she said, "you can end up like Facebook -- with serious risk."
Wixom said companies can move ahead in using so-called exhaust data -- data that is created as a byproduct of daily activity of an organization and its websites. But executives have to put controls in place to make sure they are mitigating risk.
Watching the watchers
Despite the privacy controversy, IBM is looking to tap more deeply into smartphone data as part of The Weather Company's GRAF effort.
The system will make use of pressure sensor readings garnered from barometers embedded in smartphones around the world.
At CES, Rometty pointedly emphasized that IBM will collect such crowdsourced sensor readings "with consent from the user." Privacy groups and others -- including data managers looking to stay ahead of unwelcome surprises -- can be expected to monitor such commitments.