IBM's Project Debater loses debate but shows off AI prowess
While Project Debater, the IBM AI debate system, lost the live IBM Think 2019 debate, it impressed those who watched the event. Maybe next time, Debater.
SAN FRANCICSCO -- The voice of IBM's Project Debater didn't sound human; it was far too monotone, the cadence too irregular. But during a live debate on the eve of IBM Think 2019, the IBM AI debate system brought together words and ideas to form paragraphs and themes that, while perhaps lacking in rhetorical finesse and strategic thinking, seemed quite human, indeed.
Debater, an AI system built by the IBM Research Lab in Haifa, Israel, over the last several years, argued for governments subsidizing preschool. Professional human debater Harish Natarajan argued against the debate proposal as a crowd of hundreds at the Yerba Buena Center for the Arts here on Feb. 11 listened, applauded, cheered and, at the end, voted on a winner -- which turned out to be Natarajan.
Other IBM AI developments
In another AI-related development from IBM Think 2019, the tech-giant's flagship conference that is running Feb. 12-15 at the Moscone Center here, IBM revealed a new wave of Watson AI services that will now be available to use on any cloud platform.
With IBM Cloud Private for Data (ICP for Data), an open data platform that debuted in mid-2018, organizations will be able to integrate a range of IBM Watson AI services with existing third-party cloud services, like those offered by AWS, Microsoft and Google, as well as with on-premises platforms.
Joining Watson Studio and Watson Machine Learning, two services that IBM made available on ICP for Data when it was released, are: Watson Assistant, a platform to build and integrate conversational interfaces; Watson Speech to Text, a tool to develop speech recognition capabilities; and Watson OpenScale, a tool to better manage AI models.
Rules of engagement
I sometimes listen to opponents and wonder, what do they want? Would they prefer poor people on their doorsteps, begging for money?

IBM's Project Debater
Meanwhile, the rules of the debate, which was sponsored by Intelligence Squared US, were simple. Each contestant learned the subject of the debate 15 minutes before the start of the event, and the debaters -- machine and man -- had to provide a short, timed opening rebuttal and closing statement, with brief pauses in between segments.
To drive its arguments, IBM's Project Debater drew on its corpus of millions of documents to provide facts and theories from studies and papers, occasionally tossing in small jabs and jokes and other emotionally appealing tactics.
"I sometimes listen to opponents and wonder, what do they want? Would they prefer poor people on their doorsteps, begging for money?" the IBM AI debate system said at one point.
At times, perhaps given the way the IBM AI system is programmed to identify a few key themes and create arguments based on them, Project Debater seemed to skirt around some of the overarching concepts.
It frequently noted that studies have shown that children who attend preschool are likely to do better later in life, and pointed out that many families might not otherwise be able to afford preschool. However, it largely failed to address that fact that governments have limited budgets, a point brought up several times by Natarajan, even as IBM Project Debater referenced and rebuked a few of Natarajan's points.
Winner and loser
In the end, it was the tussle over that issue, and perhaps Debater's clunky transitions, compared to Natarajan's smooth rhetoric, that led the audience to choose Natarajan as the winner of the debate.
Yet, even as the human opponent emerged victorious, IBM's Project Debater impressed many.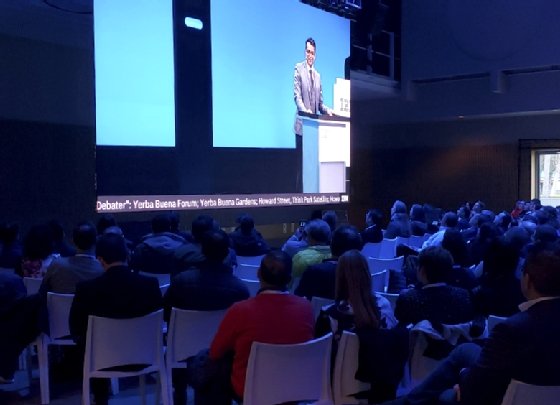 While attendee and IBM customer Buc Trinh ultimately voted Natarajan the winner, he acknowledged that AI and machine learning have progressed much since IBM Watson appeared on Jeopardy! eight years ago.
"Jeopardy! is simply how fast you can retrieve facts," Trinh said. "Here, this was about synthesizing all the stuff and turning it into a story that actually makes sense. I thought it was fascinating."
"This is definitely a milestone for artificial intelligence," he said.
Siddhartha Sen Choudhary, an attendee who said he does design work for IBM products at Frog Design Inc., expressed similar views.
"I found that the Project Debater made the right points and was very thoughtful, actually," said Choudhary, who voted for Debater after picking up on "some repetition" from Natarajan.
"Project Debater was pretty good," he said.
More AI
At Think 2019, IBM also introduced IBM Business Automation Intelligence with Watson, a software automation capability that IBM will sell through its Automation Platform for Digital Business.
Expected to be generally available later this year, Business Automation Intelligence will enable platform users to apply AI to their applications with Watson OpenScale, Watson Studio and Watson Machine Learning. This, according to IBM, will help users automate their workflows without needing to develop new applications.