ilolab - Fotolia
Using data and IBM AI to make coronavirus economic predictions
A major marketing firm has turned to IBM Watson Studio, and its data, to create an interactive platform that predicts the risk, readiness and recovery periods for counties hit by the coronavirus.
Global digital marketing firm Wunderman Thompson launched its Risk, Readiness and Recovery map, an interactive platform that helps enterprises and governments make market-level decisions, amid the coronavirus pandemic.
The platform, released May 21, uses Wunderman Thompson's data, as well as machine learning technology from IBM Watson, to predict state and local government COVID-19 preparedness and estimated economic recovery timetables for businesses and governments.
Building a platform
The idea for the Risk, Readiness and Recovery map, a free version of which is available on Wunderman Thompson's website, originated two months ago as the global pandemic accelerated, said Adam Woods, CTO at Wunderman Thompson Data.
"We were looking at some of the visualizations that were coming in around COVID-19, and we were inspired to really say, let's look at the insight that we have and see if that can make a difference," Woods said.
A global marketing subsidiary of British multinational communications firm WPP plc, Wunderman Thompson has collected thousands of data elements on 270 million people in the U.S, including transaction, demographic and health data. That data, which is anonymized, led the company to understand the potential economic impact of the coronavirus quickly.
"We've seen the economic damage that this has caused, and we see that because we have access into really deep transactional data," Woods said. "We were able to watch the ball drop almost in real time."
We're focusing on "how do we help brands that we work with really understand the right response and the way they should reopen their operations," he said.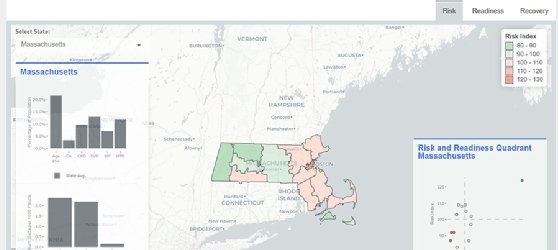 Wunderman Thompson Data, the technology arm of the company, developed the interactive Risk, Readiness and Recovery platform using that data.
Machine learning technology from IBM Watson proved to be an integral part of the platform.
Two data-centered companies
Wunderman Thompson Data started working with IBM Watson about a year ago. Wunderman Thompson Data had a data lake and consolidated data did not have modern tools to build machine learning models, Woods said.
So, the firm looked at the products from several different data science and AI vendors before settling on IBM.
We were able to watch the ball drop almost in real time.

Adam WoodsCTO of Wunderman Thompson Data
IBM provided a scalable system to help with Wunderman Thompson's data science problem using Watson Studio, a machine learning-as-a-service platform with tools for data preparation, drag-and-drop machine learning model building and data visualization.
"They are very confident in their ability to work a problem at this scale," Woods said, adding that Wunderman Thompson Data has about 20,000 different features it can bring into a machine learning model.
"We can do really fast, high-quality model understanding with those tools," he said.
Wunderman Thompson Data brought in IBM's Data Science Elite Team, a consultancy that works with customers to tackle AI- and analytics-related use cases, to set up a rapid growth testing model.
"Organically, we knew these were the right things to do, but we just didn't have a way to get the project done," Woods said.
The IBM and Wunderman Thompson partnership eventually powered the Risk, Readiness and Recovery platform, which uses Wunderman Thompson's data and machine learning models built with IBM Watson Studio.
Risk, Readiness and Recovery
The platform, as the name suggests, focuses on three areas:
Risk. Health conditions, COVID-19 and census.
Readiness. Health support within communities.
Recovery. The impact of COVID-19 on the economy.
Risk identifies how much a given local government organization or zip code area in the U.S. is at risk from COVID-19. Readiness, meanwhile, identifies how prepared an area is by looking at its hospital and intensive care unit availability, and Recovery identifies how economically affected local areas are, how fast they might recover and when they might return to normal.
Wunderman Thompson Data is selling the tool to state and local governments, as well as to enterprise customers.
"We've been able to really quickly look at this [data] and bring it to a position …to help brands in a highly localized way," Woods said.
As the economic fallout and, in some places, recovery from the worst of the pandemic continues, it's going to be on a "vastly different county and county basis, and we can see that in the data," Woods said.