blobbotronic - stock.adobe.com
AI vendors to watch in 2020 and beyond
The past 10 years have seen a surge of new AI vendors, and the trend isn't likely to end anytime soon, as investors continue to pour money into artificial intelligence.
There are thousands of AI startups around the world. Many aim to do similar things -- create chatbots, develop hardware to better power AI models or sell platforms to automatically transcribe business meetings and phone calls.
These AI vendors, or AI-powered product vendors, have raised billions over the last decade, and will likely raise even more in the coming years. Among the thousands of startups, a few shine a little brighter than others.
To help enterprises keep an eye on some of the most promising AI startups, here is a list of those founded within the past five years. The startups listed are all independent companies, or not a subsidiary of a larger technology vendor. The chosen startups also cater to enterprises rather than consumers, and focus on explainable AI, hardware, transcription and text extraction, or virtual agents.
Explainable AI vendors and AI ethics
As the need for more explainable AI models has skyrocketed over the last couple of years and the debate over ethical AI has reached government levels, the number of vendors developing and selling products to help developers and business users understand AI models has increased dramatically. Two to keep an eye on are DarwinAI and Diveplane.
DarwinAI uses traditional machine learning to probe and understand deep learning neural networks to optimize them to run faster.
Founded in 2017 and based in Waterloo, Ontario, the startup creates mathematical models of the networks, and then uses AI to create a model that infers faster, while claiming to maintain the same general levels of accuracy. While the goal is to optimize the deep learning models, a 2018 update introduced an "explainability toolkit" that offers optimization recommendations for specific tasks. The platform then provides detailed breakdowns on how each task works, and how exactly the optimization will improve them.
Founded in 2017, Diveplane claims to create explainable AI models based on historical data observations. The startup, headquartered in Raleigh, N.C., puts its outputs through a conviction metric that ranks how likely new or changed data fits into the model. A low ranking indicates a potential anomaly. A ranking that's too low indicates that the system is highly surprised, and that the data likely doesn't belong in a model's data set.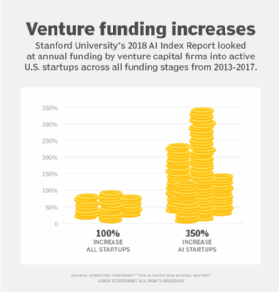 In addition to the explainability product, Diveplane also sells a product that creates an anonymized digital twin of a data set. It doesn't necessarily help with explainability, but it does help with issues around data privacy.
According to Diveplane CEO Mike Capps, Diveplane Geminai takes in data, understands it and then generates new data from it without carrying over personal data. In healthcare, for example, the product can input patient data and scrub personal information like names and locations, while keeping the patterns in the data. The outputs can then be fed into machine learning algorithms.
"It keeps the data anonymous," Capps said.
AI hardware
To help power increasingly complex AI models, more advanced hardware -- or at least hardware designed specifically for AI workloads -- is needed. Major companies, including Intel and Nvidia, have quickly stepped up to the challenge, but so, too, have numerous startups. Many are doing great work, but one stands out.
Cerebras Systems, a 2016 startup based in Los Altos, Calif., made headlines around the world in 2019 when it created what it dubbed the world's largest computer chip designed for AI workloads. The chip, about the size of a dinner plate, has some 400,000 cores and 1.2 trillion transistors. By comparison, the largest GPU has around 21.1 billion transistors.
The company has shipped a limited number of chips so far, but with a valuation expected to be well over $1 billion, Cerebras looks to be going places.
Automatic transcription companies
It's predicted that more businesses will use natural language processing (NLP) technology in 2020 and that more BI and AI vendors will integrate natural language search functions into their platforms in the coming years.
Numerous startups sell transcription and text capturing platforms, as well as many established companies. It's hard to judge them, as their platforms and services are generally comparable; however, two companies stand out.
Fireflies.ai sells a transcription platform that syncs with users' calendars to automatically join and transcribe phone meetings. According to CEO and co-founder Krish Ramineni, the platform can transcribe calls with over 90% accuracy levels after weeks of training.
The startup, founded in 2016, presents transcripts within a searchable and editable platform. The transcription is automatically broken into paragraphs and includes punctuation. Fireflies.ai also automatically extracts and bullets information it deems essential. This feature does "a fairly good job," one client said earlier this year.
The startup plans to expand that function to automatically label more types of information, including tasks and questions.
Meanwhile, Trint, founded in late 2014 by former broadcast journalist Jeff Kofman, is an automatic transcription platform designed specifically for newsrooms, although it has clients across several verticals.
The platform can connect directly with live video feeds, such as the streaming of important events or live press releases, and automatically transcribe them in real time. Transcriptions are collaborative, as well as searchable and editable, and included embedded time codes to easily go back to the video.
"It's a software with an emotional response, because people who transcribe generally hate it," Kofman said.
Bots and virtual agents
As companies look to cut costs and process client requests faster, the use of chatbots and virtual agents has greatly increased across numerous verticals over the last few years. While there are many startups in this field, a couple stand out.
Boost.ai, a Scandinavian startup founded in 2016, sells an advanced conversational agent that it claims is powered by a neural network. Automatic semantic understanding technology sits on top of the network, enabling the agent to read textual input word by word, and then as a whole sentence, to understand user intent.
Agents are pre-trained on one of several verticals before they are trained on the data of a new client, and the Boost.ai platform is quick to set up and has a low count of false positives, according to co-founder Henry Vaage Iversen. It can generally understand the intent of most questions within a few weeks of training, and will find a close alternative if it can't understand it completely, he said.
The platform supports 25 languages, and pre-trained modules for a number of verticals, including banking, insurance and transportation industries.
Formed in 2018, EyeLevel.ai doesn't create virtual agents or bots; instead, it has a platform for conversational AI marketing agents. The San Francisco-based startup has more than 1,500 chatbot publishers on its platform, including independent developers and major companies.
Eyelevel.ai is essentially a marketing platform -- it advertises for numerous clients through the bots on in its marketplace. Earlier this year, Eyelevel.ai co-founder Ryan Begley offered an example.
An independent developer on its platform created a bot that quizzes users on their Game of Thrones knowledge. The bot operates on social media platforms, and, besides providing a fun game for users, it also collects marketing data on them and advertises products to them. The data it collects is fed back into the Eyelevel platform, which then uses it to promote through its other bots.
By opening the platform to independent developers, it gives individuals a chance to get their bot to a broader audience while making some extra cash. Eyelevel.ai offers tools to help new bot developers get started, too.
"Really, the key goal of the business is help them make money," Begley said of the developers.
Startup launches continuing to surge
This list of AI-related startups represents only a small percentage of the startups out there. Many offer unique products and services to their clients, and investors have widely picked up on that.
According to the comprehensive AI Index 2019 report, a nearly 300-page report on AI trends complied by the Human-Centered Artificial Intelligence initiative at Stanford University, global private AI investment in startups reached $37 billion in 2019 as of November.
The report notes that since 2010, which saw $1.3 billion raised, investments in AI startups have increased at an average annual growth rate of over 48%.
The report, which considered only AI startups with more than $400,000 in funding, also found that more than 3,000 AI startups received funding in 2018. That number is on the rise, the report notes.