Laurent - stock.adobe.com
Intel acquisition of Habana Labs expected to enhance AI portfolio
By purchasing Habana Labs, an AI hardware startup, Intel now has a more diverse AI portfolio in a quickly growing multi-billion-dollar hardware market.
Intel has acquired Habana Labs, an Israel-based startup that specializes in developing deep learning accelerators, in a $2 billion bid to build out its AI portfolio.
The Intel acquisition of the 2016 startup, which developed and sells a chip for AI training and one for AI inference, improves Intel's position in the AI hardware market, said Peter Rutten, research director of infrastructure systems, platforms and technologies at IDC.
"Intel is working very hard on bringing a complete portfolio of processors and co-processors to market that can deliver in all machine learning training and inferencing scenarios. But they've been playing a bit of catch-up in this space," Rutten said. "Habana Labs provides them with two very promising dedicated processors for those tasks that have shown extremely competitive benchmarks."
Habana's AI
Habana Labs emerged from stealth in 2018 with its Goya processor, a fast, low-watt inference processor. It's designed specifically for processing AI inferencing workloads, including image recognition, sentiment analysis and recommender systems, and contains a Tensor Processing Core.
Intel has its own inference chips, including the Intel Nervana Neural Network Processor for Inference (NNP-I1000) , which was announced in January 2019.
Havana's AI training processor, Gaudi, was announced earlier this year. Gaudi, with a Tensor Processing Core cluster and development tools and libraries designed for training deep learning models, was marketed as a competitor to GPUs.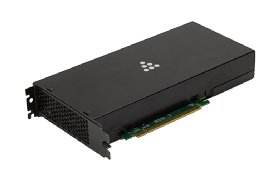 Intel also has training chips, like the tiny NNP-T1000, which went into production only recently. Again, unlike the Habana processor, it does not contain a Tensor core.
Diverse market
As Intel's processors do not contain Tensor cores, the Goya processor might complement them, explained Alan Priestley, a vice president analyst at Gartner.
"The AI market is not one thing," Priestley said. "This market, there are a lot of different algorithms being developed, a lot of different techniques being experimented with … and all of those are using different types of hardware."
"There's no one-size-fits-all" with AI hardware, he added. So, for Intel, a larger portfolio makes sense.
Habana will remain an independent business unit under Intel's Data Platform Group, which houses Intel's data center-class AI technologies. Habana's current management team will remain intact, and the company will remain based in Israel.
Intel's investment arm, Intel Capital, was previously an investor in Habana.
The AI market is not one thing.

Alan PriestleyVice president analyst, Gartner
Speaking to Intel's overall AI strategy, Rutten said the Intel acquisition "gives them a very competitive product within a short time frame."
It also prevents "anyone else from acquiring that competitive product," he added.
Both Rutten and Priestley predicted that the AI hardware market will grow quickly over the next few years, and Intel wants a piece of that market.
"The accelerated server market will be a $25.6B market in 2022, and a large portion of that is for AI," Rutten said.
They also agreed that some of the many AI hardware startups out there today are likely to fall into one of three categories.
While some startups will become successful as independent companies, probably as niche players, there are currently "a lot of players out there, and a lot of those startups are either going to get acquired or fall by the wayside," Priestley said.