Rawpixel - Fotolia
Automatic meeting transcription records business sessions
By using an automated transcription platform from Fireflies.ai, employees at Zenatta Consulting can more easily find and read transcripts from important client calls.
Zenatta Consulting President Brett Martin takes in so many client phone meetings that he occasionally needs a reminder on the subject of the meeting before jumping in.
Call transcriptions -- automatically transcribed and distilled by Fireflies.ai, a vendor of an automatic meeting transcription service platform -- provide such a refresher.
Automated transcription
The platform automatically joins work calls scheduled in Martin's Google Calendar, and then records and transcribes each call in real time, enabling his sales staff to later quickly search the transcriptions and extract useful information from them.
"It works exceptionally well, and the filtering is amazing," Martin said.
Zenatta, based in Aliso Viejo, Calif., is a certified Zoho partner that sells and provides consulting services for automated marketing and sales. In addition to using the Fireflies.ai platform, Zenatta sells the platform and helps its clients use the software.
The consulting firm was also a beta user of the Fireflies.ai platform.
Founded in 2016, San Francisco-based Fireflies.ai works with many integration partners and providers, and it has small to enterprise-level clients.
AI transcription services are in high demand, and the vendor competes against other natural language processing and text-to-speech technologies from tech giants, such Google and Microsoft, as well as numerous startups, like Otter.ai and Trint.
As a move to help set itself apart from the crowded pool of automatic meeting transcription vendors, Fireflies in May revealed a new, unlimited, free automatic meeting transcription and recording service geared toward more casual users or businesses looking to test the platform before signing up for its paid services.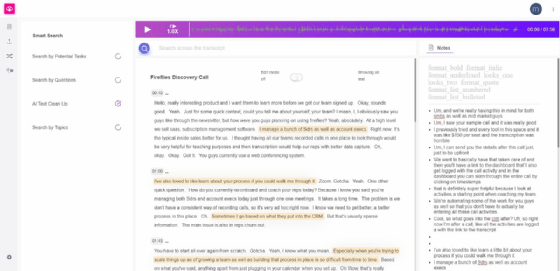 Accuracy levels
[Fireflies.ai] works exceptionally well, and the filtering is amazing.

Brett MartinPresident, Zenatta Consulting
Fireflies.ai typically works with its business users to customize the platform to their companies' needs, said Krish Ramineni, CEO and co-founder of the company.
That can take a lot of work, Ramineni said. Fireflies.ai will initially train its machine learning models on company call data for days or weeks to boost the platform's accuracy levels, customizing the algorithms to the business model, Ramineni said.
Without customized training, he continued, the platform provides an accuracy level of about 90% in ideal conditions, such as high sound quality and no heavy accents. That number can reach higher with training, however.
After each call, the Fireflies.ai platform provides users with a full recording and editable transcript complete with punctuation and paragraph breaks. The platform tries to automatically extract and bullet the most important parts of each call, as well, with a feature it calls AI Suggested Notes.
That feature does "a fairly good job," Martin said.
Time saver
For Martin, however, the real value of Fireflies.ai lies in the way it joins every call with prompting -- "you never really have to think about it," he said -- and how it integrates well with Zenatta's existing tools.
When the platform was still new, Zenatta ran into a few CRM integration problems, he said, "but the last couple of months, it's been pretty much rock-solid."
The automatic meeting transcription service saves Zenatta time and money, Martin said, as he and his staff can easily find and read up on important client calls before meetings without having to actually listen to the full call.
"It's extremely useful in a sales environment, extremely useful in a customer engineering environment," he said.
Fireflies.ai's accuracy, while "not perfect," is generally "very good," Martin said.
"The ability to not necessarily worry about taking detailed notes because it's being done is a big find," he said.