The use of technology in education has pros and cons
Vendors continue to develop AI in education applications and technologies as students see benefits in using technology in the classrooms and when doing their homework.
The use of technology in education continues to grow, as students turn to AI-powered applications, virtual reality and internet searches to enhance their learning.
Technology vendors, including Google, Lenovo and Microsoft, have increasingly developed technology to help pupils in classrooms and at home. That technology has proved popular with students in elementary education and higher education, and has been shown to benefit independent learning efforts, even as critics have expressed worry that can lead to decreased social interactions.
Lenovo, in a recent survey of 15,000 technology users across 10 countries, reported that 75% of U.S. parents who responded said their children are more likely to look something up online than ask for help with schoolwork. In China, that number was 85%, and in India, it was 89%.
Taking away stress
According to vendors, technology can augment schoolwork help busy parents give their children.
Parenting in general is becoming a challenge for a lot of the modern families as both parents are working and some parents may feel overwhelmed," said Dilip Bhatia, vice president of user and customer experience at Lenovo, a China-based multinational technology vendor.
If children can learn independently, that can take pressure and stress off of parents, Bhatia continued.
Independent learning can include searching for information on the web, querying using a virtual assistant, or using specific applications.
About 45% of millennials and younger students find technology "makes it much easier to learn about new things," Bhatia said.
Many parents, however, said on the survey that they felt the use of technology in education, while beneficial to their children's learning, also led to decreases in social interactions. Using the technology to look up answers, instead of consulting parents, teachers or friends, concerned parents that "their children may be becoming too dependent on technology and may not be learning the necessary social skills they require," according to the survey.
At the same time, however, many parents felt that the use of technology in education would eventually help future generations become more independent learners.
Technology has certainly helped [children learn].

Rich HendersonDirector of global education solutions, Lenovo
"Technology has certainly helped [children learn] with the use of high-speed internet, more automated translation tools. But we can't ignore the fact that we need students to improve their social skills, also," said Rich Henderson, director of global education at Lenovo. "That's clearly a concern the parents have."
Yet, despite the worries, technology vendors have poured more and more money into the education space. Lenovo itself sells a number of hardware and software products for the classroom, including infrastructure to help teachers manage devices in a classroom, and a virtual reality (VR) headset and software to build a VR classroom.
The VR classroom has benefited students taking online classes, giving them a virtual classroom or lab to learn in.
Google in education
Meanwhile Google, in an Aug. 15 blog post, promoted the mobile learning application Socratic it had quietly acquired last year. The AI-driven application, released for iOS, can automatically solve mathematical and scientific equations by taking photos of them. The application can also search for answers to questions posed in natural language.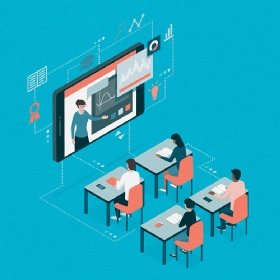 Also, Socratic features references guides to topics frequently taught in schools, including algebra, biology and literature.
Microsoft, whose Office suite is used in many schools around the world, sells a range of educational and collaborative note-taking tools within its OneNote product. The tool, which includes AI-driven search functions, enables students to type in math equations, which it will automatically solve.
While apparently helpful, the increased use of technology in education, as well as the prevalence of AI-powered software for students, has sparked some criticism.
The larger implications
Mike Capps, CEO of AI startup Diveplane, which sells auditable, trainable, "transparent" AI systems, noted that the expanding use of AI and automation could make basic skills obsolete.
Many basic skills, including typing and driving, could eventually end up like Latin -- learnable, potentially useful, but unnecessary.
AI systems could increasingly help make important life decisions for people, Capps said.
"More and more decisions about kids' lives are made by computers, like college enrollment decisions and what car they should buy," Capps said.