Getty Images
Experts doubt U.S. retaliation following China's Micron ban
The Biden administration likely won't retaliate for China's Micron Technology ban but will continue to play the long game garnering independence from China in semiconductor chips.
China's recent ban of U.S.-based Micron Technology memory and storage chips is rallying cries from U.S. lawmakers for retaliatory action. But President Joe Biden's administration will be cooling its heels for now in this tense trade dispute with China over advanced technologies.
China's Micron ban follows U.S. implementation of export controls and tech sanctions in October 2022, stopping U.S. companies from selling high-end chips and technologies for building advanced artificial intelligence and supercomputers to China. The U.S. has continued working to stymy the sale of advanced technologies to China by engaging in talks with countries, including Japan and South Korea, to limit their China chip sales.
The escalating tech sanctions are evidence of an ongoing trend where the U.S. is seeking to pull farther back from China with technology as a national security precaution and to increase its ability to manufacture and produce tech products within the U.S. as well as to bolster its own innovation and competitiveness.
Last year's export controls and sanctions marked some of the most significant tech sanctions by the U.S. against China since the 2019 ban on telecommunications equipment from Huawei. There isn't likely much more the Biden administration will do despite lawmakers asking Biden to implement similar bans on Chinese companies, said Stanley Chao, president of All in Consulting and a member of the U.S.-China Business Council.
"The Micron ban furthers the status quo with both countries seeking to decouple and de-risk with one another," he said.
Chao said Biden is seeking to ease U.S.-China relations, meaning the U.S. isn't likely to act directly in response to the Micron ban. The only step the administration has taken so far is the U.S. Department of Commerce engaging with China to detail the administration's views on the Micron ban, according to a White House press briefing.
Why Biden won't act fast on Micron ban
The Biden administration is not the Trump administration in that it's less likely to get into a tit-for-tat battle with China, said Riley Walters, deputy director of the research organization Hudson Institute's Japan Chair.
Walters said the Chinese learned from the Trump administration how to use the national security exemption to target specific products and companies with maneuvers like sanctions and bans. The Trump administration used this exemption to trigger investigations into steel, aluminum and other products sourced from China.
Now China claimed that Micron posed a national security risk to China's critical information infrastructure supply chain, resulting in the ban. The Biden administration said China's claim is "not based in fact," but Walters said it will be a tough claim to fight.
I don't see new export controls specific to this.

Riley WaltersDeputy director, Hudson Institute Japan Chair
"There is going to be a difficulty in the Biden administration proving that the Chinese don't have a legitimate national security reason to do this," he said.
Walters said he doesn't see Biden acting in the short-term and is unsure what actions the administration could immediately take, despite the administration speaking against the Micron ban. He said Biden will likely not want to "make things worse" by triggering further backlash from China.
"I don't see new export controls specific to this," Walters said.
However, lawmakers continue to call for a U.S. response against China. China's actions are "blatantly coercive" and demonstrate that China is not interested in Biden's "thaw" in relations, said Sen. Jim Risch, R-Idaho, ranking member of the Senate Foreign Relations Committee, in a statement following the Micron ban.
"We cannot, and do not, decide to ban goods manufactured in other countries based on petty whims," Risch said. "By contrast, China targets companies in the United States and our allies and partners without providing a shred of evidence."
Rep. Mike Gallagher, R-Wis., and chairman of the House Select Committee on the Chinese Communist Party, said in a statement that the administration should make it clear that the U.S. "will not tolerate economic coercion against its companies or its allies." He called on the U.S. Department of Commerce to ban Chinese-owned ChangXin Memory Technologies from receiving U.S. technology.
Additionally, the U.S. Senate Committee on Banking, Housing and Urban Affairs held a hearing this week on countering China, focusing on new legislation targeting technology policies toward China.
"We all agree China is a real and growing threat," committee chairman Sen. Sherrod Brown, D-Ohio, said during the hearing.
Though the administration isn't likely to respond to China's Micron ban directly, All in Consulting's Chao said he expects U.S. Secretary of Commerce Gina Raimondo to put pressure on South Koreans to not make up for China's loss of Micron's memory chip supply.
Despite the United Nations indicating willingness to limit the business it can to China, Hudson Institute's Walters said U.S. companies could further experience Chinese sanctions like those implemented against Micron, increasing pressure on those countries to provide an alternate supply.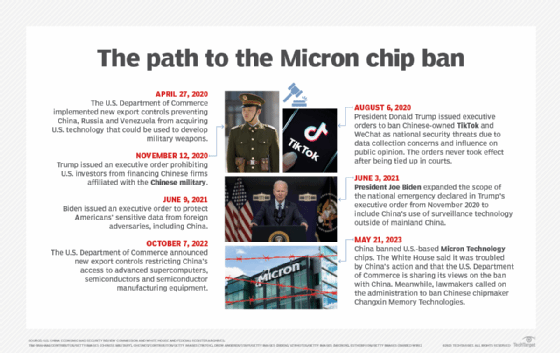 Biden aims to further U.S. independence
The federal government has already initiated a lengthy process of shifting reliance on China for manufacturing advanced technologies back to the U.S. through the tech sanctions as well as legislation passed into law last year, including the Bipartisan Infrastructure Law and CHIPS and Science Act.
Though the Huawei ban in 2019 kickstarted tech sanctions against China, the 2020 pandemic exposed the limits of U.S. chip production. That recognition launched the Biden administration's efforts to build up U.S. chipmaking capabilities and create some distance from China.
The CHIPS Act provides $52 billion in funding to chipmakers to supplement plans to build chip manufacturing facilities in the U.S. and train local talent. Intel, Taiwan Semiconductor Manufacturing Company and Samsung are some of the companies pursuing the funding. Yet it will take years for the U.S. to untangle from its heavy reliance on Asia for semiconductor chips, said Kunjan Sobhani, lead semiconductor analyst for Bloomberg Intelligence.
China has also been building out its own domestic supply base, which can account in part for the country's ban on Micron, Hudson Institute's Walters said.
"The thing that we often see out of China -- there's often more than one reason behind the way that they act," he said. While China wants to respond to U.S. actions, it also wants to drive demand for its own domestically produced chips, he said.
Walters said the concern is that as China funnels billions into its semiconductor industry, it could become as prevalent as its steel industry worldwide "where they're flooding the world with cheap chips, undercutting the profitability of western markets."
Makenzie Holland is a news writer covering big tech and federal regulation. Prior to joining TechTarget, she was a general reporter for the Wilmington StarNews and a crime and education reporter at the Wabash Plain Dealer.