Software robot tech arrives: Are CIOs ready?
RPA technology is coming of age and becoming a strategic play in the public and private sectors. The task for CIOs is to make sure deployments are enterprise-grade.
The software robot movement is upon us, and it is entering a stage that requires CIO attention.
Continue Reading This Article
Enjoy this article as well as all of our content, including E-Guides, news, tips and more.
Software robots that automate repetitive tasks and rules-based processes fall under the banner of robotic process automation (RPA). RPA technology dates back at least two decades, but the current crop of products, which are beginning to incorporate cognitive technologies such as machine learning, is a more recent development. And it's a development that is going through a series of what industry executives describe as stages or waves.
In the first stage, enterprises -- typically, the largest of the large -- began educating themselves on RPA. A 2015 Deloitte client survey documented that wave: The study found 80% of the respondents had heard about RPA technology at conferences or had read about it. But that interest in RPA had "yet to translate into broad implementation of the software," the report noted at the time.
By 2017, however, software robot pilot projects and proof-of-concept (POC) demonstrations became increasingly common. Those second-stage initiatives were tactical efforts, addressing specific business processes, and were typically sponsored by the process owners -- as opposed to the IT department.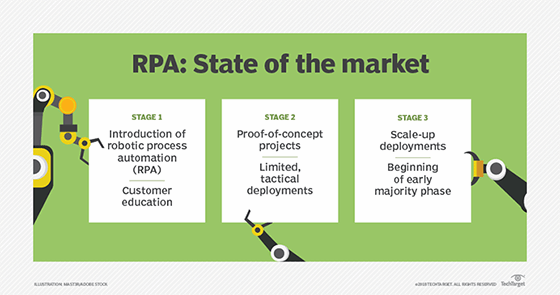 RPA technology enters the third wave
The third wave, which is just beginning, aims to move beyond those pilots and tactical POCs and make software robot technology a strategic, enterprise endeavor.
Marc Mancher, a principal at Deloitte and leader of its Federal Analytics Service Business, has seen government agency involvement in RPA start slowly and then accelerate. Demand is now such that the company is receiving requests for software robot technology across civilian, defense and health-related agencies.
"As we get into wave three, we are going to be seeing hundreds and then thousands of bots deployed across the federal government," Mancher said.
A similar pattern is playing out in the private sector, where enterprises that have been running software robot pilots for a couple of years now look to scale up their deployments. With regard to the technology adoption cycle, the market is moving rapidly from the early adopter to early majority phase.
CIO involvement
Larger-scale deployments translate, at least potentially, into larger benefits. Largely manual processes such as health insurance claims processing are seen as software robot wins. Estimates from market researcher Everest Group suggest that RPA deployed in finance and accounting can bring home savings above what could be achieved via offshore outsourcing.
But scale-up enterprise deployments call for the involvement of enterprise IT. RPA is no longer a science project when thousands of bots are running critical business processes. At that point, the CIO and IT shop need to get involved, working in cooperation with RPA's process and operations sponsors.
Terry Walby, CEO at Thoughtonomy, a London company that builds RPA platforms, believes the technology requires IT discipline, governance and oversight to make the transition from software robot pilots to an IT platform. He noted managers from the business side of the house tend to be the RPA technology buyers, but said his company engages with "the IT function to make sure [the software] is configured in a way that supports enterprise deployment."
Resiliency -- companies will scarcely want an RPA system to fail once it is supporting key business operations -- is a key architectural consideration, Walby said. Security and change management are other IT disciplines that should be part of an RPA deployment, he added.
CIOs should get up to speed on RPA if they haven't already. Like software as a service before it, RPA has the potential to become shadow IT. And better to learn now than to find out later when a process-owner knocks on your door with a broken enterprise RPA deployment.