Definition
Boomi AtomSphere Platform (Dell Boomi AtomSphere)
What is Boomi AtomSphere Platform (Dell Boomi AtomSphere)?
Boomi AtomSphere Platform, formerly known as the Dell Boomi AtomSphere, is an integration platform as a service (iPaaS) platform. Specifically, Boomi is a unified cloud-native intelligent platform for connecting data, applications and people across B2B ecosystems. With Boomi AtomSphere, organizations can integrate applications, customers and partners as well as share data between various backend platforms to ensure holistic connectivity across their entire ecosystem.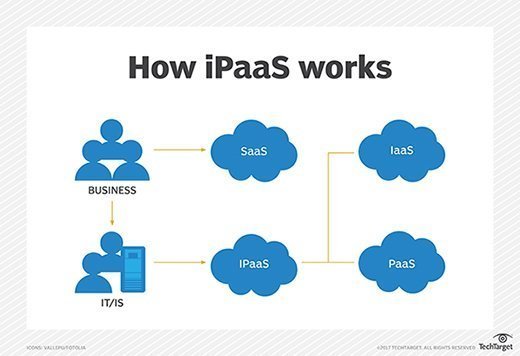 Boomi AtomSphere explored
Boomi AtomSphere is a cloud-native, unified platform to integrate applications, devices, databases, partners and customers; accelerate data access; and seamlessly connect digital ecosystems. The iPaaS platform was sold by Dell Technologies -- where it was called Dell Boomi -- to investment firm Francisco Partners and private equity firm TPG Capita in 2021.
AtomSphere makes it easy for organizations to discover, catalog and synchronize their data as well as extend connectivity across their partner ecosystems regardless of size. The platform also helps enterprise teams design, secure and scale APIs as well as build automated workflows on-demand to improve human-data interactions.
Boomi's drag-and-drop visual user interface supports a wide range of connectivity and integration projects. Boomi offers starter templates through its process libraries and pre-built integration accelerators for simple projects and common use cases.
For more complex integration scenarios, Boomi offers many advanced tools for developers to ensure effective project delivery. In addition, central IT units can support and manage business users via Boomi Discover, a library of pre-built solutions that can be installed directly into the enterprise Boomi platform account. They can also manage integrations on a per-account basis using Boomi's integration packs.
Key capabilities of Boomi AtomSphere
The Boomi AtomSphere platform provides numerous capabilities for connectivity and integrations between multiple endpoints and environments. These include the following:
Boomi Integration. A tool to connect applications, data, and devices across hybrid multi-clouds
Master Data Hub. A master data management (MDM) platform for synchronizing and augmenting trusted data throughout the enterprise
B2B/EDI Management. A tool to help businesses modernize their B2B/EDI networks by seamlessly integrating with their vendors, suppliers, distributors, partners and marketplaces
API Management. A process to configure, publish and test APIs in hybrid environments.
Flow. A drag-and-drop interface to connect data across systems, automate processes and improve cross-functional collaborations.
Data Catalog and Preparation. A service to operationalize data governance, generate insights from data, and simplify data sharing and reuse.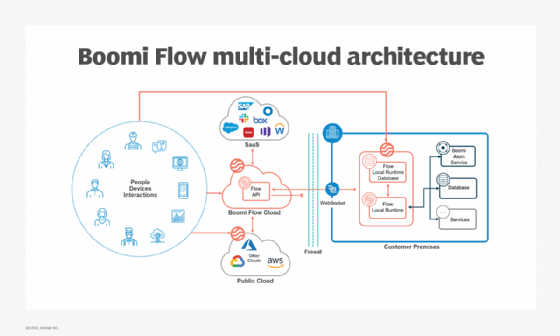 Connectivity capabilities of Boomi AtomSphere
Organizations can use Boomi AtomSphere to connect to over 1,500 applications and data sources. The platform comes with numerous pre-built connectors to jumpstart integrations as well as a Connector SDK that any organization can use to build their own connectors.
Pre-built starter processes and a growing library of application and technology integrators quickly connect and start transferring data. User organizations can deploy integrations in their preferred location: behind the firewall, in the cloud, or even at the edge where events take place. They can also get a detailed view of and reporting on status and process details with AtomSphere's cloud-hosted dashboard.
Boomi AtomSphere intelligent features
One of Boomi AtomSphere intelligent features, Boomi Suggest, provides intelligence for automated data mapping for new integrations. It simplifies one of the most challenging aspects of integration building and minimizes errors during the process. Likewise, a feature called Filter Suggest helps users quickly configure the connector query filter and simplify/shorten building integrations.
Two other intelligent features are Boomi Resolve, for resolving common error messages, and Boomi Assure, for crowd-sourced regression testing so platform updates won't break existing integration processes.
What is Boomi Atom?
Boomi Atom is a lightweight runtime engine that supports the AtomSphere platform. It enables enterprise connectivity across on-premises and multi-cloud environments. Atom lets users deploy integrations anywhere required: on-premises in Boomi's Atom Cloud or in a public or private cloud. Furthermore, users can cluster multiple Atoms as a Boomi Molecule for scaling and process runtime distribution purposes.
Boomi API management
Boomi API Management helps organizations manage the complete lifecycle of APIs in hybrid environments. With it, users can create, align, secure and scale APIs. It lets them expose real-time integrations as well. Any endpoint can be created and published as an API, both on premise and in the cloud, using Boomi API Management.
Its API gateway lets users enforce contracts and policies as well as centrally test and deploy APIs. Centralized API lifecycle management provides greater visibility into the suite of APIs and web services as they scale plus greater control to manage and administer these APIs.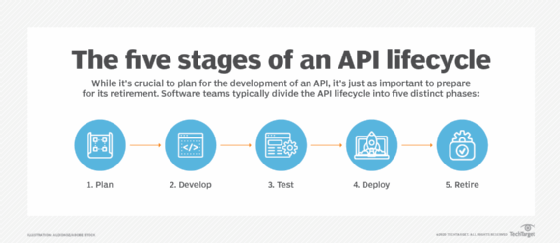 Organizations can also use Boomi API Management to do the following:
produce composite applications with aggregated data from various applications and sources of data;
control and govern data access by roles by setting up consistent and secure API deployments;
facilitate third-party access with APIs; and
monitor API health with usage dashboards.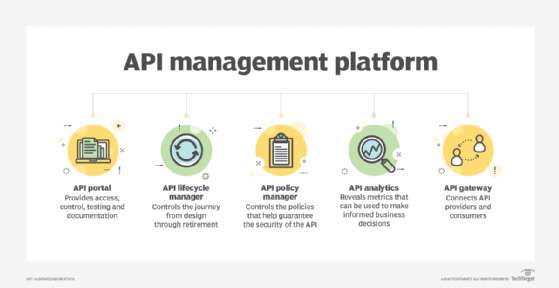 Benefits of Boomi AtomSphere
Boomi AtomSphere helps organizations connect apps and data. Such integrations reduce the complexities of maintaining software on-premises and eliminate massive capital costs. The platform brings all the benefits of the cloud through its single-instance multi-tenant platform. With AtomSphere, organizations can enhance operational flexibility and agility, increase application availability and scalability, take advantage of built-in redundancy and automatic upgrades, and benefit from its range of design patterns.
AtomSphere incorporates data sources and devices as well as on-premise and cloud applications across distributed environments. It also supports growing data volumes while ensuring low latency and boosting performance.
AtomSphere supports varied skills levels. Therefore, integration specialists, business users, citizen integrators and central IT units can all benefit from the platform. Security is another key advantage of Boomi AtomSphere. As an iPaaS vendor, Boomi is FedRAMP authorized, demonstrating its focus on security. The Boomi AtomSphere Platform has also gone through intensive third-party assessments to receive all these compliance certifications:
ISO/IEC 27001:2013
HECVAT (Higher Education Cloud Vendor Assessment Tool) 2.1
This was last updated in
February 2023
Continue Reading About Boomi AtomSphere Platform (Dell Boomi AtomSphere)
Dig Deeper on Cloud app development and management