Definition
digital ecosystem
What is a digital ecosystem?
A digital ecosystem is a group of interconnected information technology resources that can function as a unit. Digital ecosystems are made up of suppliers, customers, trading partners, applications, third-party data service providers and all respective technologies. Interoperability is the key to the ecosystem's success.
Digital ecosystems are frequently created and controlled by market share leaders; the model has its roots in keiretsu and is quickly influencing change in various industries, including consumer products, automotive and healthcare. The integration of business-to-business (B2B) practices, enterprise applications and data within an ecosystem allows an organization to control new and old technologies, build automated processes around them and consistently grow their business.
Unmanaged, organic growth of an ecosystem can be fatal to a business. It's important when building an ecosystem to ensure all dependencies have been identified and can be controlled. Creating a digital ecosystem map is a key to establishing a strong ecosystem. The digital ecosystem map is a visual diagram of all digital tools and platforms used within the organization. It illustrates processes, how data is transferred between parts of the ecosystem and whether the process is automated or manual. To be effective, mapping should also document which systems are not currently connected or able to speak and transfer data between each other, as well as who the users of each system are and who is responsible for maintaining them.
How digital ecosystems work
The technical, legal and business-related difficulties found in digital ecosystems are significant. Service orchestration, delivery and monetization, as well as customer engagement and data management (CDM) across the entire ecosystem, are some of the biggest challenges.
The tools for managing an ecosystem can fall into the following categories:
Project management tools, such as Agile software development tools, task management software and issue tracking systems.
Research applications, including data storage and visualization, resource libraries and archives.
Engagement tools, like email marketing, donor management tools and customer relationship management (CRM) software.
Collaboration tools, including email, file sharing, instant messaging and video conferencing.
Public platforms, such as websites, Mobile apps and social media channels.
Knowledge management platforms, such as intranets and wikis.
How to map a digital ecosystem
The digital ecosystem map is essential to any digital transformation. The goal of the map is to clarify what an organization has to work with, guarantee they have the proper tools to support their goals, and ensure they are being as efficient and effective as possible in achieving those goals.
The following steps can be used to create a digital ecosystem map:
Create a list of tools. Take inventory of all applications and systems used within the organizations.
Document who uses the tools. Identify who uses each system and app and who is responsible for each one. This helps ensure all necessary stakeholders are included in the ecosystem.
Categorize the use of every tool. Define what every system and app does and for which department and purpose. Systems should be categorized by ownership and department.
Form connections between tools. Indicate where data is transferred between tools and whether it is done automatically or manually. Note what tasks are being duplicated and which systems possess similar functionalities.
Define the effectiveness of every tool. Investigate whether any tools are underperforming and need to be replaced, upgraded or consolidated. Feedback should be provided by the people who use the specific tool every day.
Prioritize every tool. Rank each tool according to how critical it is to the organization. If tools are going to be replaced or added, consider their importance in terms of their immediate need to the organization and create an order in which they should be implemented.
Types of digital ecosystems
There are three main types of digital ecosystems: the digitizer ecosystem, the platform ecosystem and the super platform ecosystem.
Digitizer ecosystems focus on digitizing an existing product with the help of business partners, while also maintaining low managerial complexity. Digitizer ecosystems can add new functionality to systems and create digital service revenue. This ecosystem usually incorporates 20 to 100 existing partners across five industries.
The digitizer ecosystem is best suited for businesses with strong product capabilities, limited digital abilities and a primarily internal focus. It works well for organizations looking to make their established product smart and connected. An example of a digitizer ecosystem is an automotive manufacturer that partners to obtain the technology and intellectual property (IP) needed to connect their cars with related digital services.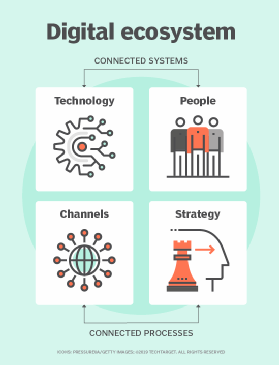 Platform ecosystems are more advanced than digitizer ecosystems. They focus on flawlessly connecting users and smart devices on a platform, while simultaneously guaranteeing high service levels and limited obstacles. The platform ecosystem creates revenue streams from platform usage. The data generated by the ecosystem can be used for similar businesses and service models. Platform ecosystems typically have 50 to 10 million partners across a maximum of five industries.
The platform ecosystem works best with companies that have solid digital capabilities and a strong focus on external expertise. Established tech startups and companies are more likely to adapt this platform as their core business model than non tech companies. An example of a platform ecosystem is Xiaomi, a Chinese electronics company that makes and invests in a variety of product types, including smartphones, laptops, fitness brands and mobile apps. Xiaomi works closely with its contributors -- the device makers -- to provide a smart home platform, equipped with a variety of smart, connected devices.
Super platform ecosystems are the most complex type of digital ecosystem. They focus on integrating several platforms into one integrated service, while also capturing user data from the integrated platform. This type of ecosystem provides a wide range of user data and turns the data into money using adjacent business models. The super platform ecosystem typically has at least 10 million partners across at least 10 different industries.
Super platform ecosystems are best suited to companies that possess advanced digital abilities and an established platform from the start, as well as a willingness to work with external partners. As a result, this ecosystem is preferred by well-established tech companies. A good example of a super platform ecosystem is a virtual assistant that incorporates shopping, payment, transportation and communication services into one user-friendly option.
Many companies find the best results by using more than one type of ecosystem at a time. For example, Amazon Alexa uses all three. The digitizer ecosystem improves the smart speaker's hardware and voice recognition functionality; a platform ecosystem exists for adding skills and applications that are used to increase the services offered by Alexa; and a super platform ecosystem is used to integrate all other platforms.
Why are digital ecosystems important?
Many organizations' strategies are built on digital transformation. No matter where in the digital journey a company is, it is essential that a digital ecosystem is established to improve performance and assist with interactions outside the company. The digital ecosystem allows an organization to focus its energies on facilitating business value by removing any frustrations linked to outdated, legacy B2B services. Furthermore, digital ecosystems add value to customer relationships by helping companies consistently meet service-level agreements (SLAs), provide fast fixes and quickly surface expectations.
Digital ecosystems are also transforming supply chains. Supply chains that originally functioned in separate markets are coming together in digital ecosystems to support the development of new products and services, creating supplier ecosystems. Although the traditional supply chain is still the foundation of most companies, the new model -- digital ecosystems -- is transforming the world of business by creating linear paths between suppliers and customers, thus creating new business opportunities.
Benefits of digital ecosystems
Benefits of a digital ecosystem include the following:
Faster adoption of technology. Companies can implement new technology in ways that were previously too complicated and unmanageable, allowing them to take full advantage of cloud services and SaaS.
Generation of new sources of revenue. Ecosystem integration creates new revenue streams and allows organizations to track and analyze wide-ranging data that flows through the business. They can use this data to create new products and services with increased value.
Decreased costs with better business processes. Digital transformation and the creation of a digital ecosystem improve workflow efficiency and working relationships with customers and partners. Automated data processes and increased business-wide efficiency also reduce operational costs.
Digital ecosystem best practices
When creating an integrated digital ecosystem, it is important organizations remain open to change. Digital transformation focuses on reworking the products, processes and strengths within an organization by using their current technologies. This reworking cannot proceed if the organization is not willing to embrace all the potential changes.
Other recommended best practices for the creation and maintenance of a stable and effective digital ecosystem include the following:
Rethinking the business model. Business processes, management styles, silos, contracts and governance structures should be reevaluated to determine if they still fit.
Encouraging an open and collaborative culture. A well-rounded, successful digital ecosystem relies on strong communication and collaboration between companies.
Gathering a large number of diverse partners. Digital ecosystems need to draw on expertise from other industries. Therefore, the more partners an ecosystem has, and the more industries they come from, the stronger and more productive the ecosystem will be. The average ecosystem has around 27 partners, but the most successful ecosystems have closer to 40.
Establish a strong user base. In most cases, the most successful digital ecosystems are created and controlled by market share leaders -- companies with the highest profit margin in their specific market -- because these organizations are best positioned to attract partners with the necessary skills and funding.
Create a large global footprint. The geographic scope of a digital ecosystem is another characteristic of its success. Similar to how it is important to gather a large number of partners, it is also advantageous to collaborate across a multitude of geographic, language and cultural barriers. Average ecosystems often have partners in five locations, while successful digital ecosystems often cover 10 or more countries.
Stay up to date with technology. Outdated software, failing connections and cumbersome data centers will inhibit sharing and, consequently, innovation. The most successful digital ecosystems invest in the most recent and best technologies on the market, as well as the people who are dedicated to learning about the latest digital capabilities.
Digital ecosystem audits
While digital ecosystems can be extremely beneficial to business processes and efficiency, an unhealthy digital ecosystem can significantly drain productivity, capital and morale. If the systems within an ecosystem are not communicating or require major manual updating for reports to be useful, then the organization is wasting time and energy on efforts that are not growing the business. The best way to ensure ecosystem health is by conducting ecosystem audits.
The primary questions to address in an audit include the following:
How are the tools managed? Is there an established governance model to support the tools? Is there a roadmap for the future or the ability to address needs as they arise?
How do the current tools support the company's vision and goals? Do the tools provide a consistent brand experience and personality?
How does information travel through the organization? How can the digital ecosystem increase support of the organization's operations and workflows?
How do people collaborate within the ecosystem? What has access to what? What can people do, and how can they do it more efficiently and effectively?
Answering these questions and conducting a full digital ecosystem audit may take a lot of time, but it will provide a deeper understanding of how an organization's digital ecosystem is working. This can then be used to generate significant cost savings and impressive growth for the organization.
Digital Ecosystem Management
Digital Ecosystem Management (DEM) is a new discipline that has emerged for businesses in response to digital transformation and the integration of digital ecosystems. Digital Ecosystem Management focuses on using the ecosystem to grow a business by taking advantage of the creativity of other people and all other available resources.
Examples of digital ecosystems
The modern banking application is one example of a digital ecosystem. The ecosystems created through these apps integrate all services and applications into one place, including expense managers, digital wallets, online banking and digital passbooks.
Danske Bank, a Danish firm, created an online system combining customer data with housing market listings. This provided potential homebuyers with tax, electric and heating cost estimations; a catalog of realtors, information and service providers; and strong, trustworthy financial advice.
The healthcare industry has also found digital ecosystems to be beneficial. A digital healthcare ecosystem incorporates every touchpoint in a patient's journey, including scheduling appointments, receiving appointment reminders, storing test results and recording prescriptions. The ecosystems help healthcare organizations maintain compliance with industry and government requirements by ensuring they have the necessary documentation and audit capabilities to comply with mandates like the Health Information Exchange (HIE), the Health Insurance Portability and Accountability Act (HIPAA) and the Health Information Technology for Economic and Clinical Health Act (HITECH).
Many healthcare organizations are exploring how to integrate artificial intelligence (AI) and machine learning (ML) into their systems as a way to improve customer experiences and decision-making processes. A digital ecosystem will make this possible by ensuring the correct data is available at the right time, allowing healthcare organizations to take full advantage of the benefits AI and ML offer.
The auto industry is also adopting digital ecosystems. In the past, automotive manufacturers either formed an alliance with an original equipment manufacturer or built contractual relationships with hundreds of suppliers to obtain the necessary parts. Now, a typical auto company will use an ecosystem of more than 30 partners, five different industries and various countries to manufacture cars that are autonomous, electric and connected to the company's digital platform.
This was last updated in
June 2023
Continue Reading About digital ecosystem