imageteam - Fotolia
2 important edge data storage backup best practices
Edge data storage backup has become a key component of data protection plans. File sync-and-share software can complement this important backup process.
Edge data storage backup has always presented a challenge to organizations. However, interest in the process has skyrocketed during the coronavirus pandemic because so many users now work remotely.
Edge storage has evolved considerably over the years and encompasses many things -- from data stored on IoT devices to data residing in NAS appliances. This year, organizations have focused mainly on data stored on users' remote devices, such as laptops and tablets.
The biggest challenge associated with backing up these types of devices is that they connect to the corporate network on an intermittent basis. If a user never signs in through a VPN, then there is no direct connectivity between the device and the corporate office, which means that simply installing a backup agent on the device doesn't work.
Edge data storage backup guidelines
To keep edge data safe, first have users save data to a specific location. That way, file sync-and-share software can copy whatever happens to be in that location. Depending on the device type and the software running on the device, you can do this in one of several ways. For example, you can change the default save path within a user's applications. If users work from Windows devices, use the local security policy, which you access through the Group Policy Editor, to force a default path.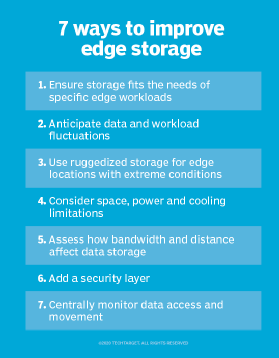 You should also install the aforementioned enterprise file sync-and-share software onto end-user devices. If your organization uses mobile device management software, you can push this to the devices automatically, even with users working remotely. Once this software is installed, you should configure it to synchronize the location to which users save their data.
A user usually doesn't have to log into the corporate network for the synchronization to occur. Normally, synchronization takes place any time the user is connected to the internet.
Keep in mind that file synchronization is not the same thing as edge data storage backup. However, if you can synchronize data from end-user devices to a share on your network, then you can back up the contents of that share, thereby, backing up the user's data.
Dig Deeper on Remote data protection
While Google Cloud Storage has several limitations, these three are among the most prevalent -- but users have straightforward ways to get around ... Continue Reading
Unpredictable user behavior and boot storms can cause VDI resource usage fluctuations throughout the day. IT can take steps to identify and curtail ... Continue Reading
Determining how to host and manage desktops for an entire organization is a major task, so business leaders need to understand the modern VDI market ... Continue Reading