Seraphim Vector - Fotolia
Build an effective edge data storage plan
IoT data storage is a key edge storage use, but not the only one. Stay on top of this movement in IT and make sure an edge infrastructure plan is in place.
The COVID-19 pandemic has accelerated the trend of edge storage. Workloads that used to live in a central data center or network now often reside on remote workers' computers.
As this trend looks to have staying power, organizations should implement an edge data storage plan. A strong grasp of edge storage benefits and challenges, as well as infrastructure considerations, is an important first step.
Benefits of edge data storage
Edge storage enables organizations to store data close to where that data is created and processed. This decreases internet bandwidth usage and minimizes cloud storage and data transfer costs. It also enables quick access for systems that need it.
One common use case for edge data storage involves IoT devices. These devices produce vast quantities of data. As a result, it's often more practical and cost-effective to store and process that data locally, rather than upload it to the cloud.
Challenges of edge data storage
Storing IoT device data is not the only use for edge storage. The coronavirus pandemic has prompted many companies to adopt a remote working model. Employees often store the data they create directly on their laptop hard drives. Traditionally, this same data might have been stored on an enterprise file server or in the cloud. In a way, this type of edge data storage is beneficial to the user, as it eliminates the complexities of remote data storage. The user can access the data quickly and efficiently because it is stored locally.
This new approach to data storage, however, introduces several challenges for IT professionals, including data protection. Decentralized data is difficult to protect. Data that resides on an employee's personal laptop probably isn't backed up -- it isn't common for an organization to install backup agents onto personal devices. If the device fails or the user leaves the company, there is a good chance the data could be lost.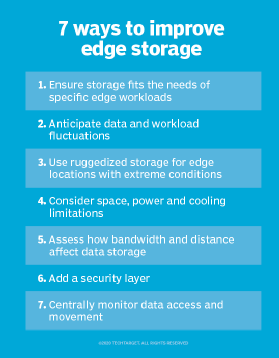 Compliance is another challenge with edge data storage. Organizations in regulated industries are required to handle certain data sets in a way that guarantees security, privacy and retention. This type of compliance can be difficult to enforce if the data is stored on a user's personal device.
What edge storage infrastructure should entail
An organization's edge storage infrastructure will likely vary based on workload. For example, the approach that an organization takes for IoT data storage and processing probably isn't going to work for data created by end users who work from home. Design edge storage infrastructure based on data type, volume, change rate and location.
For instance, one of the best ways to cope with users storing documents directly on their laptops is to invest in enterprise file synchronization software. This technology enables users to continue storing data locally on their own devices but replicates that data to a location of the organization's choosing. This lets IT teams back the data up and apply retention policies.
For other edge data storage uses, including for IoT devices, there are several infrastructure planning considerations. Think about required storage volume and performance, as well as connectivity. Because organizations often send data to the cloud once it has been processed, they must consider requirements for external connectivity, as well as the storage architecture for processed data.
Dig Deeper on Storage system and application software