Roman Milert - Fotolia
Remote office backup best practices and options
How can organizations ensure backup of data generated from employees' remote offices? Explore two top options and guidance to help protect your critical data.
With much of the world working from home as a result of the current coronavirus pandemic, proper data backup is more essential than ever. Depending on your organization's architecture, however, it might struggle to perform backups in the normal way.
IT administrators must look for creative ways to ensure remote office backup. Two such methods are deploying a backup agent and using file sync and share.
Why is remote backup challenging?
Two main elements can make data backups challenging during a pandemic. The first challenge is that many IT employees might not have physical access to the data center. While this might not cause problems if their organization has implemented a continuous data protection platform, it does create a challenge for organizations that depend on tape backup because no one can change the tapes.
The second challenge is that data might not be stored in the usual way. When employees work in the corporate office, the data that they create might be stored on file servers or in cloud-based data repositories. However, if employees work from home, they might simply store any newly created data on their own personal devices. Such devices are not typically included in an organization's backup architecture.
If employees are storing data on their own personal devices, then it is imperative that IT pros devise a way of protecting that data. There are two main options for backing up the users' data, but there are challenges associated with both.
Deploy a backup agent
The first option for remote office backup is to deploy an agent to users' devices. That way, continuous data protection can back up the contents of those users' personal devices, alongside other resources.
However, deploying a backup agent to a user's personal device is only effective if those users connect to the organization's network over a VPN. Otherwise, there is no direct path for the backup server to communicate with users' devices. The backup server can only access a device as long as that device is turned on and connected to the VPN. It cannot back up devices that are powered off or that are disconnected.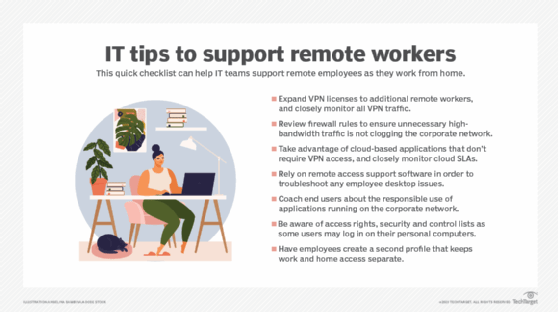 The backup agent itself can also create certain challenges. Some users might work from devices for which no compatible backup agent exists. Even if a backup agent is available for a certain device, you must also consider how to deploy it. Additionally, you must come up with a way of backing up business data without accidentally backing up a user's personal data in the process.
Use file sync and share
The second option for remote office backup is to use enterprise file sync-and-share software. Much like with backup agents, IT pros must figure out a way to install the software on end-user devices. Once installed, though, sync-and-share software can overcome many of the challenges associated with agent-based backups.
File sync-and-share software synchronizes one or more folders on a user's device to either a file server or a cloud-based share. The synchronization process usually occurs in real time, so the success of the backup process does not depend on the user's device being powered on at the time of a scheduled backup job. Some sync-and-share products can also work without a VPN.
An enterprise sync-and-share product is not technically a backup product. However, such products can help to overcome the challenges of backing up data stored on a user's personal device by synchronizing that data to an enterprise or cloud-based file share. The organization can then back up the data in the normal way.
Enterprise file sync-and-share software can help streamline backups if users store data on personal devices. However, for better remote office backup, users should continue to store data in the usual location if possible, rather than locally.