WavebreakmediaMicro - Fotolia
5 areas to assess when rethinking storage at the edge
Does your organization have the right edge storage resources? Here's what you need to focus on to ensure your organization keeps pace with changes at the edge.
With more data being generated at the enterprise edge than ever, many organizations are taking a hard look at the storage systems they're using for that data. For example, the COVID-19 pandemic has healthcare organizations of all sorts generating more data and putting a greater strain on edge systems. At the same time, those organizations have more people working from home, sending massive amounts of unstructured data into and out of edge environments.
Given shifting workloads, IT must assess how data flows are affecting their edge storage capabilities. Here, we look at five ways data at the edge can affect storage and some of the factors to consider when managing storage at the edge.
1. Amount and type of data
The current pandemic is changing edge workloads, but even if it weren't, the amount and types of data at the edge would still affect storage. An edge environment can support anything from virtual desktop infrastructures to streaming healthcare services to IoT devices. A storage system must be able to accommodate the targeted workloads, while meeting data retention requirements, often incorporating tiering and other strategies.
If an edge environment supports only one type of workload, storage is more straightforward, as long as it has been adequately provisioned and considers anticipated workload fluctuations. Multiple types of workloads complicate matters. For example, prior to the pandemic, a medical facility may have had an edge system set up to support patient monitoring devices. Now, it may also be supporting a variety of workloads related to administrative staff working from home. Storage systems can be severely affected during times of change, especially if they were already operating at their limits.
2. Environmental conditions
The edge environment itself affects storage architectures. A storage system might be embedded in a car, plane, train, boat or even a drone. Or it might be in an industrial setting, surrounded by heavy machinery, such as on an oil rig or in a mine, where vibration or dust could be a factor. And depending on geographical location, it could be subjected to extremes in temperature, pressure, humidity and altitude.
An edge system must be able to withstand the rigors of its environment no matter how harsh the conditions. Whether perched on a polar ice cap with subzero temperatures or sitting in the Sahara with hot, dry sand blowing all around, storage devices must be purpose-built for their environments, incorporating rugged and durable components that won't break under extreme conditions.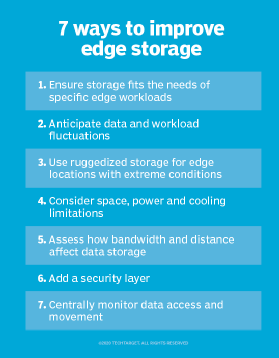 3. Facility and space limitations
Space itself may be in short supply at some edge implementations. An edge system might be housed in a plane's cargo hold, at the foot of a windmill or in a satellite office's storage closet. In addition, the space might come with power and cooling limitations that affect how storage is implemented. Storage at the edge must accommodate these restrictions, even as workloads fluctuate and grow, as is the case with the pandemic.
Use smaller storage form factors or density requirements to counter space limitations. For example, SSDs make more sense than HDDs in some circumstances, because they require less space, power and cooling. Computational storage is also an option to consider when space is tight, moving some of the processing to the storage system itself, taking part of the burden off the compute resources.
4. Infrastructure limitations
Circumstances outside the edge environment can also affect the storage architecture. For instance, network bandwidth limitations and distance can dictate how much data can be reasonably sent between an edge system and a centralized repository in a data center or cloud. Or the central repository might not have the capacity to handle all the data from multiple edge systems, even if network bandwidth isn't an issue. An edge system's location can also affect IT's ability to physically access an edge storage device on a routine basis.
Whether perched on a polar ice cap with subzero temperatures or sitting in the Sahara with hot, dry sand blowing all around, storage devices must be purpose-built for their environments.
To address infrastructure limitations, many organizations process data at the edge, sending only cleansed and aggregated data to a central repository. This approach can lead to better application performance. However, storage must be able to meet application demands for low latency and high IOPS, which may mean investing in higher-performing devices. Edge environments might also require highly reliable storage that uses software-defined or intelligent storage technologies to support remote management and reduce administrative overhead.
5. Data protection requirements
IT teams that manage edge systems must ensure data security and privacy, while protecting data integrity in the event of a disaster. Unfortunately, edge computing can increase risks because it expands the potential attack surface, especially when supporting numerous IoT devices. If multiple applications are running on the same hardware, the risks can be even greater. Situations such as the current pandemic can exacerbate security risks if more people are connecting to edge systems from their home devices, leading to an increase in sensitive data being moved in and out of corporate systems.
IT must encrypt data at rest and in motion, isolate data between applications and employ strategies such as firewalls, VPNs and antimalware. In addition, administrators should monitor data access and movement across all edge systems, as well as the storage devices themselves from a centralized management dashboard or portal. An organization should also consider using intelligent storage devices that respond to threats automatically, without waiting for human intervention.
Dig Deeper on Storage system and application software