Edelweiss - Fotolia
What are Google G Suite backup best practices?
Is your Google data protected? Make sure you are backing up G Suite files, because Google doesn't provide the comprehensive protection you'll need to be safe.
Whether you use Google's G Suite as a consumer or as a part an organization, it is important to regularly back up your documents. Google does not provide G Suite backup on behalf its users, so a simple "oops" moment could result in data loss.
The cloud-based G Suite -- formerly Google Apps -- includes Gmail, Google Docs, Google Drive and Google Calendar. As with other software-as-a-service applications such as Salesforce and Microsoft Office 365, it needs proper backup, typically in the form of cloud-to-cloud backup.
One of the big misconceptions about protecting Google data is that Google Drive File Stream renders backups unnecessary by creating redundant copies of a user's data. Although this tool creates the illusion that the user's data is available directly on the desktop, those desktop file copies are really just pointers to data that is stored in the Google cloud. And while it is true that files can be cached for offline use, this is not the default behavior.
Likewise, creating a local cache of files stored on Google Drive isn't a good substitute for a true G Suite backup. Not only does the caching process scale poorly, but the cache contents are kept in sync with Google Drive. As such, accidentally deleting a file from Google Drive generally removes the file from the cache as well.
When it comes to G Suite backup, the best option is to use an application that is specifically designed to work with Google. It is important to remember that while some backup vendors make it possible to back up your Google data, there are other vendors that will enable you to back up your local data to Google Drive, but do not support backing up data from Google Drive. As a result, it is important to make sure a backup application actually protects your Google data.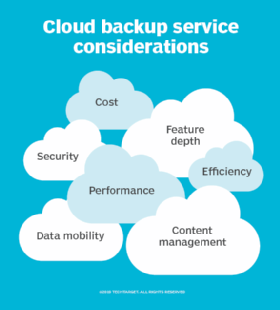 Finally, if you are an IT professional and want to protect your organization's Google data, then make sure the backup software you choose isn't designed for individual use. Many of the G Suite backup apps are designed to back up a single user's data. They use the user's Google account to log in, and then periodically dump the contents of the user's Google Drive to an on-premises storage device. The problem with this sort of platform -- besides scalability -- is that if a user were to change a password, it would break the backup process. That being the case, it is important to use a backup application that can back up G Suite at the organization level.
Dig Deeper on Cloud backup
Without a Windows 11 registry backup, IT risks breaking the OS by making edits. Find out how easy it is to back up the Windows 11 registry. Continue Reading
While Google Cloud Storage has several limitations, these three are among the most prevalent -- but users have straightforward ways to get around ... Continue Reading
Unpredictable user behavior and boot storms can cause VDI resource usage fluctuations throughout the day. IT can take steps to identify and curtail ... Continue Reading