Fotolia
How has backup as a service evolved and improved?
The backup-as-a-service platform is a popular use of cloud-based infrastructure. With new products and features launching, it's important to plan out your BaaS environment.
Backup as a service is an alternative to traditional on-premises backups. Typically, a BaaS provider hosts a backup application in the cloud and also provides cloud-based backup storage. On-premises resources are transferred over the internet, encrypted and saved to cloud storage.
Although it's easy to think of backup as a service and other cloud backup products as relatively recent technologies, BaaS has actually been around for more than a decade. Not surprisingly, the technology has seen significant innovation during this time.
Backup as a service emerged with an extremely limited scope. First-generation providers focused almost exclusively on file backups. It was also quite common for providers to limit the types of files that they would allow users to back up. Some providers, for example, would not allow subscribers to back up operating system files, application binaries, databases or video files.
Today, backup as a service has changed drastically compared with its humble beginnings. Faster internet speeds and increased competition among providers has largely caused file type restrictions to disappear. More importantly, though, modern BaaS offerings can protect much more than just file data.
Pay attention to these BaaS features
For those considering backup as a service, think about the following: First, make sure to pick a product that can protect both your physical and virtual infrastructure. Most BaaS providers now support backups for VMware and/or Microsoft Hyper-V.
Look for integration with other vendor clouds. Some BaaS products, for instance, support G Suite and can back up Google Drive, Gmail and other Google applications. Other providers can also back up Microsoft Office 365 data including Exchange mailboxes, OneDrive and SharePoint Online.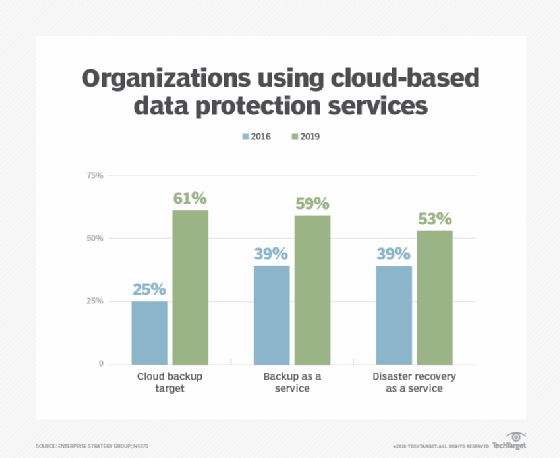 Consider mobile device support. Some providers allow you to back up your Apple or Android devices alongside your PCs, but some might not.
Some providers also offer a web interface that enables users to perform on-demand restorations of their own data. This feature can be extremely useful because it frees administrative staff from having to constantly restore files on users' behalf.
Finally, make sure that your backup provider offers cross-region replication to protect your data against regional disasters. Your backup as a service should also provide immutability or some other protective mechanism that prevents backups from being altered or destroyed by ransomware attacks.
Dig Deeper on Cloud backup
While Google Cloud Storage has several limitations, these three are among the most prevalent -- but users have straightforward ways to get around ... Continue Reading
Unpredictable user behavior and boot storms can cause VDI resource usage fluctuations throughout the day. IT can take steps to identify and curtail ... Continue Reading
Determining how to host and manage desktops for an entire organization is a major task, so business leaders need to understand the modern VDI market ... Continue Reading