Backblaze is a provider of online backup services and cloud storage. The vendor, which was founded in 2007 and is based in San Mateo, Calif., offers personal and business cloud backup.
Backblaze promotes its ability to back up all data, regardless of storage location and file size. It uses military-grade security to encrypt files, which are transferred through a Secure Sockets Layer (SSL) and stored at the vendor's data center that staffs full-time guards. Data backed up through Backblaze is accessible through a Web browser on mobile devices and computers. Restores are downloaded over SSLs.
Backblaze initially backs up all of a company's data files, and then backs up only new or changed files. The vendor said it backs up data that cannot be retrieved if a computer breaks, is lost or is stolen. Backblaze does not back up the operating system (OS), applications, system caches or other temporary information, so it cannot be used for full disaster recovery. Backup focuses on documents, photos, email and music, storing versions of file changes for four weeks.
Backblaze features
For stolen computers, the "Locate My Computer" function will detect the IP address, map the location of the device when it is online and show any files a thief saves.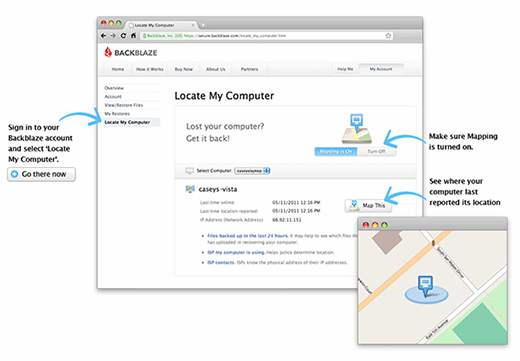 Backblaze offers a choice of individual or IT access for businesses. With individual access, employees can log in to Backblaze and restore their own files, and only the user has access to the data. The IT access option allows business customers to set up all company computers under one Backblaze account.
In 2015, Backblaze introduced its B2 Cloud Storage service that customers can use to build cloud applications. B2 was designed to compete with public clouds such as Amazon Simple Storage Service, Microsoft Azure and Google Cloud Storage, but at a lower cost.
Backblaze stores data on its customized, open source hardware platform called Storage Pods, and its cloud-based Backblaze Vault file system. It is compatible with Windows and Apple OSes.
Backblaze claims the dense architecture of Storage Pods allows it to offer backup at a low price. For example, a Storage Pod 5.0 installed in a data center in November 2015 could hold 180 terabytes (TB) of data on 4 TB drives in a 4U enclosure. As of November 2015, Backblaze said a Storage Pod costs the vendor a little more than 4.4 cents per gigabyte (GB), and it charges customers half a cent per GB per month. Backblaze also sells fully assembled, fully populated Storage Pods.
This was last updated in
April 2016
Continue Reading About Backblaze