Fotolia
Arcserve UDP update supports Nutanix AHV, Office 365
The Arcserve UDP update extends the backup software's support to Nutanix AHV and Office 365, with the promise of other hypervisors and SaaS applications to come.
Arcserve Unified Data Protection 7 brought granular, file-level backup and recovery for Office 365, including Exchange Online, SharePoint Online and OneDrive for Business. This is an improvement over native backup, which can only restore entire sessions from backup.
On the hypervisor side, the Arcserve UDP update added agentless backup to Nutanix AHV, along with UDP's Virtual Standby and Instant Virtual Machine features. Arcserve supports these features on VMware vSphere and Microsoft Hyper-V hypervisors, and the Nutanix support allows customers to use AHV as a disaster recovery (DR) platform.
The Arcserve UDP update also added support for Windows Server 2019 and Microsoft Exchange 2019.
Oussama El-Hilali, CTO at Arcserve, based in Eden Prairie, Minn., said UDP's move toward hyper-converged and cloud-based applications was driven by market trends. He said, given those trends, it made sense to push Arcserve's image-based replication technology to support third-party hypervisors and software-as-a-service (SaaS) applications, and customers can expect to see Salesforce and others in future Arcserve UDP updates.
"There are a number of things on the roadmap, depending on the customer base and future opportunities," El-Hilali said. "There's this predominant assumption, and I hear it often: 'If it's in Azure or AWS, it must already be backed up.'"
El-Hilali said he especially sees an opportunity on the SaaS backup front, as he claimed 95% of Office 365 users don't have a backup policy. He said as more of those customers become educated and learn that cloud providers aren't responsible for backing up their data, they will turn to third parties like Arcserve for data protection.
El-Hilali said Arcserve will also be doubling down on the hyper-converged space, and Nutanix support is only the beginning.
"Our focus and commitment to hyper-converged is strong. We believe it's a transformational technology," El-Hilali said. "Just like our strategy with using hardware snapshots, we are applying the same approach to hyper-converged, starting with Nutanix, as they are leading the pack."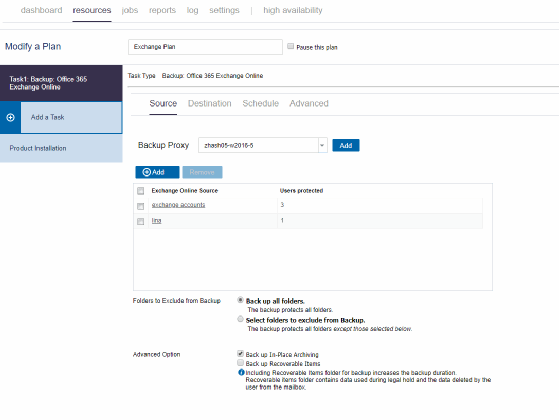 Arcserve's Nutanix support puts it ahead
Nutanix support was the chief reason Dominion Fiduciary chose Arcserve UDP over other backup providers. Adam Smith, information services manager at the financial services company, based on Jersey Island, said the firm switched to Nutanix earlier this year.
There's this predominant assumption, and I hear it often: 'If it's in Azure or AWS, it must already be backed up.'

Oussama El-HilaliCTO, Arcserve
Smith bought Arcserve UDP appliances in January of this year. Prior to that, Dominion's infrastructure was a mix of VMware virtual environments and physical servers, and it used Arcserve Backup tape appliances as data protection. Softcat, an IT supplier based in the United Kingdom, introduced Smith to Nutanix and Arcserve UDP appliances during a time he felt Dominion was due for a hardware refresh.
"Our infrastructure was getting very dated. We knew virtual was the right way to go for an on-premises solution and were then made aware of Nutanix," Smith said. "As we were making the transition to Nutanix, I felt that Arcserve's products were more geared toward it."
Although the Arcserve UDP update brought Nutanix AHV support, Smith said he'd always only been primarily interested in UDP for its agentless backup of Nutanix virtual machines (VMs), as he hasn't yet done anything with Acropolis. Right now, he said he is satisfied with the ability to replicate Nutanix VMs to multiple sites as part of his DR plan.
Moving off of Arcserve tape backup to Arcserve UDP greatly simplified the backup process for Smith. One of the aspects that initially attracted him to UDP was the interface, which he viewed as something he and his team could pick up and use on a daily basis. He said, in the past, it would take around 45 minutes to analyze the status of tape backups, but UDP's backup status could be assessed in just 15 seconds on the product's dashboard.
"UDP has really simplified our daily processes to monitor and manage backups," Smith said. "All the complication of the previous product that we were using has just been completely eradicated."