canjoena - stock.adobe.com
New Arcserve appliances tightly integrate DR capabilities
The third generation of appliances from Arcserve combines backup workloads with disaster recovery with the ability to spin up copies directly on an appliance or to the cloud.
The latest Arcserve appliances can pull double duty as backup appliances and disaster recovery data servers.
Released into general availability this week, the new Arcserve Appliance Series models can handle data deduplication and data management like a standard backup appliance. However, they also function as a DR device, capable of spinning up copies of physical or virtual systems on itself or in a cloud, ensuring application availability in a disaster scenario.
The appliances ship bundled with Arcserve's Unified Data Protection (UDP) software.
Oussama El-Hilali, vice president of products at Arcserve, differentiated how the device works from traditional DR, in which deduplicated backup data is typically restored to a functional state on another device or cloud. This device essentially copies an entire working system to another location.
"This appliance allows you to, if there was any disruption in accessibility to your primary data, launch a virtual machine in the cloud through the appliance and run your applications through there," El-Hilali said. "You're replicating the appliance to another appliance or to the cloud and launching your applications from there."
This unified backup and DR appliance is unique, said Phil Goodwin, research director at IDC. Most appliances can do cloud data transfer or replication for cloud failover and failback, but they usually need to be restored to a primary array or other storage system before the data can be used. In addition, the new Arcserve appliances can create DR testing environments within themselves, without the need for additional hardware.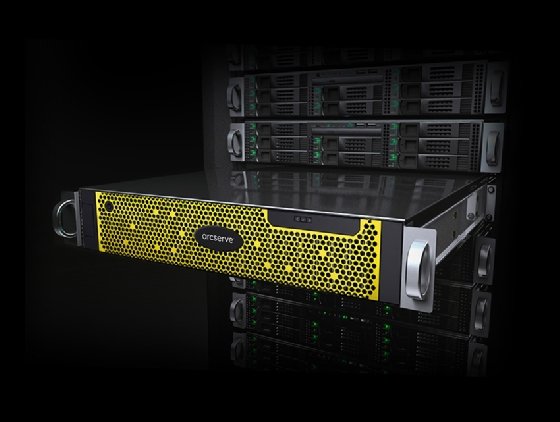 "It's both a backup appliance, which provides you with reliability, dedupe and data management, but can also be used as a data server in the event of a disaster," Goodwin said. "And to be able to spin up a virtual machine and do testing directly on the device is definitely unique."
I think organizations are starting to look at application availability, rather than at separate technology stacks associated with backup, DR, high availability, archive, etc.

Phil GoodwinResearch director, IDC
Goodwin said the Arcserve appliances fall between traditional backup appliances and hyper-converged infrastructure devices. They consolidate availability, business continuity, backup and DR. While these functions have separate technologies, Goodwin said he has found that IT teams already typically have the same members handling them.
"If you think about the ability to move a workload from one location to another and recover it seamlessly to the end users, what's the difference between that and disaster recovery?" Goodwin said. "I think organizations are starting to look at application availability, rather than at separate technology stacks associated with backup, DR, high availability, archive, etc."
El-Hilali said the goal of this release was simplification through consolidation. The new devices, bundled with Arcserve's UDP software and offered alongside options for high availability and DR services, would ideally accommodate every possible data recovery use case, he said.
The new Arcserve appliances improved upon the previous generation with larger storage capacity (up to 504 TB) and a higher data deduplication ratio (up to 20-to-1). El-Hilali said support will continue for customers currently using the older machines, but they will be phased out over time.