jules - Fotolia
Latest update takes Arcserve RHA to the cloud
Arcserve enhances its RHA disaster recovery software, enabling cloud-to-cloud failback, as well as the ability to continuously replicate from on premises to a public cloud.
The newest version of Arcserve RHA extended its continuous replication capabilities up to the cloud, allowing users to leave the site-to-site failover world behind.
Arcserve RHA (Replication and High Availability) is Arcserve's business continuity and disaster recovery (BC/DR) software, a replication tool that records I/O changes in a journal and synchronizes it across the primary and secondary targets. A failure at the primary site will trigger an immediate failover to the secondary site.
Up until this update, Arcserve RHA could only replicate from and to on-premises environments. This version not only allows site-to-cloud failover, but also failback to new hardware, a different geographical site, or to another cloud.
Arcserve CTO Oussama El-Hilali said this capability provides more flexibility for organizations building out their DR infrastructure. He pointed out that another use case for Arcserve RHA is for migrating applications to the cloud.
"You can actually turn off the one on prem and the application will failover and start to run on the cloud," El-Hilali said. "Initially, it was intended to be used for data loss or some kind of disaster, but it can be used just for simple migration."
Arcserve RHA supports both physical and virtual environments. Windows systems can be replicated to XenServer, VMware or Microsoft Hyper-V hypervisors or to Amazon EC2 or Microsoft Azure clouds.
This update also added Linux support. Linux systems can be replicated to VMware, Hyper-V, KVM, EC2 or Azure.
"The challenge for BC/DR vendors today is addressing the complexity caused by the increasingly hybrid IT ecosystem," said Steven Hill, senior analyst at 451 Research. "Arcserve's on the right track with an approach to hybrid high availability that pulls together multiple physical, virtual and cloud production systems with a common model for policy-based workload protection under a single pane of glass."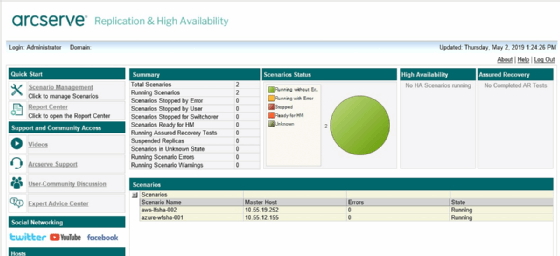 Sawyers Control Systems Inc., a security and surveillance company based out of Hampton, N.J., uses Arcserve RHA to maintain uptime for the access control systems of one of its clients, a large financial company. Sawyers' vice president Pat Callahan said the Linux support opens up some doors for him.
However, Callahan said he won't be able to take advantage of the public cloud support because streaming surveillance footage on demand from an off-site source would take longer and could raise security concerns.
The challenge for BC/DR vendors today is addressing the complexity caused by the increasingly hybrid IT ecosystem.

Steven HillSenior analyst, 451 Research
"The Linux portion I am interested in, because I do have about 400 Linux machines in production in different environments," Callahan said. "I'm not sure about the cloud. Traffic going out, what's exposed and what's not, is the concern."
Arcserve RHA encrypts data while it's being replicated, and this latest version added a new security feature. All access activity is now tracked and logged, allowing for authentication and auditing.
El-Hilali couldn't say for sure what other public clouds or hypervisors will be supported by Arcserve RHA in the next version. Nutanix AHV is the most popular hypervisor that RHA currently doesn't support, but he noted there was little AHV adoption among RHA users. Still, he acknowledged it's an entrant in the market, and one to watch closely.
"Next year, though, who is to say?" El-Hilali said.
Hill, though, thinks AHV is worth getting into now.
"AHV and GCP [Google Cloud Platform] are getting a lot of attention right now, because I believe those areas were underserved by the BC/DR market," Hill said. "Nutanix AHV is based on KVM, which Arcserve already supports, so I would imagine it's not a huge step to get validated for the Nutanix ecosystem as well."
El-Hilali said the next stop on the Arcserve RHA road map is cross-hypervisor replication and integrating RHA and Arcserve UDP (Unified Data Protection) data protection recovery software with the Arcserve cloud management console. He also said Arcserve is in early development of AI-powered logic that will determine for the user whether a particular job should be done using RHA or UDP.
Although Arcserve RHA has snapshot capabilities and can do point-in-time restores, it is not meant to replace UDP, or traditional backup in general. Even as companies merge backup and DR, Hill said workload protection and data protection have different backup methods and recovery needs, so the distinction is important.
"Whether through choice or compliance, having a full, reliable, off-site and up-to-date copy of your data remains a business necessity," Hill said.