Minerva Studio - Fotolia
Arcserve cloud platform eyes comprehensive business continuity
The Business Continuity Cloud brings together the spectrum of Arcserve's technologies. Through the web-based user interface, users can perform most jobs in a few clicks.
Arcserve is expanding its cloud cover.
Continue Reading This Article
Enjoy this article as well as all of our content, including E-Guides, news, tips and more.
Launched today, the Arcserve Business Continuity Cloud integrates backup, disaster recovery, high availability and email archiving under a cloud-based management console. The Arcserve cloud protection platform covers a range of systems, from Unix and x86 to virtual workloads to public and private clouds. It also provides support for multi-cloud and cross-cloud data protection.
The Business Continuity Cloud brings together Arcserve's product and feature set -- including its Unified Data Protection (UDP), Replication and High Availability and Arcserve Backup -- under one roof.
The new Arcserve cloud platform "takes our set of products and turns it into a set of solutions," said Oussama El-Hilali, vice president of products at the backup and recovery vendor, based in Eden Prairie, Minn.
The Business Continuity Cloud also marks an inflection point for Arcserve to go from a traditional vendor to a "cloud data protection company," El-Hilali said. "It was a product that was cloud-born."
The platform reflects what Arcserve has learned in about 35 years of business, El-Hilali said.
Arcserve aims for all-inclusive data protection
Most tasks are implemented in three clicks or less through the cloud-based web console, according to Arcserve. The vendor claimed the platform supports near-zero recovery time and recovery point objectives with its high availability. The Arcserve cloud platform also supports other recovery options, such as bare-metal restore, as well as granular recovery and quick discovery for compliance.
Edwin Yuen, senior analyst at Enterprise Strategy Group in Milford, Mass., said there's a trend in the industry toward the unification of functions. Arcserve does a good job with its integration and bringing everything together -- from on-premises to SaaS-based protection -- within a modern user interface that's easy to navigate, he said.
Arcserve Business Continuity Cloud is seeking to eliminate the need for other data protection tools.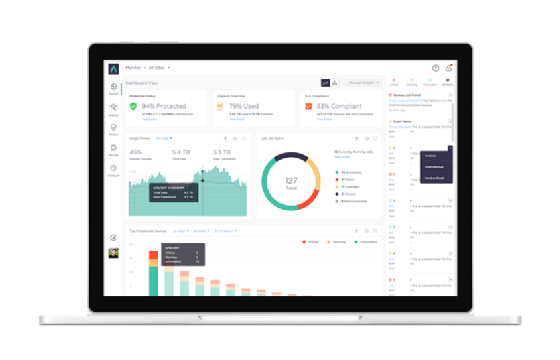 Competition will be across the board, Yuen said. The Druva Cloud Platform, for example, protects and manages the data center, SaaS, end-user devices and cloud workloads. Arcserve could also find itself competing with vendors that have a more specific focus, such as cloud-to-cloud backup providers.
"This has the potential to touch a number of different competitors," Yuen said. "On the flip side, it will touch a lot of areas customers are looking for."
Yuen said he expects Arcserve to extend out its areas of integration and expand its capabilities.
It was a product that was cloud-born.

Oussama El-Hilalivice president of products, Arcserve
Mark Johnson, director of presales for North America at Arcserve, said the company has an aggressive roadmap of adding elements to the Business Continuity Cloud. There is a prioritized list, starting with UDP Cloud Hybrid next month, followed by the rest of UDP, and availability and archiving.
The new Arcserve cloud platform features reporting now, but will shift to even more higher-end analytics in the future, Johnson said.
Existing customers have the option of using the Business Continuity Cloud or the Arcserve platform they previously used, El-Hilali said. He said he anticipates up to 18 months of overlap, adding that Arcserve expects to slow down the addition of features to the old platform and focus on the new.
The Business Continuity Cloud does not cost extra, and users do not need an additional license to use it. Customers pay for the services they use. Existing customers can transfer licenses and backups.
Minimum pricing is $695 per terabyte, per year.
The Arcserve cloud product was in beta with about 30 customers for a month. Those customers liked what they could see in the platform and gave feedback about how Arcserve could present the information, El-Hilali said.
Arcserve claims 47,000 customers.