alphaspirit - Fotolia
Commvault lays out Metallic and Hedvig roadmaps
Commvault is adding nonbackup capabilities to Metallic and integrating Hedvig with HyperScale. The vendor will roll out features for the two ventures over the course of next year.
Commvault's roadmap calls for it to integrate Hedvig primary storage software on its HyperScale appliance, converging storage and data management on the same platform.
Commvault acquired Hedvig in September for $225 million, giving it its first primary storage technology. That was one of two big additions to Commvault's portfolio in recent months. Commvault added a Metallic-branded SaaS backup product, which also calls for expansion on its roadmap.
Executives from Commvault said Hedvig will have a phased rollout on HyperScale, with full integration not expected until mid-2021.
Commvault HyperScale integrates the vendor's flagship data protection software on a disk appliance. Commvault will sell the appliances with Hedvig software under the covers, and customers can subscribe to and unlock the Hedvig features as needed.
Don Foster, Commvault vice president of storage solutions, said the vendor will support Commvault and Hedvig interfaces before phasing out the Hedvig interface in three or four years. He said that will prevent any disruption to Hedvig customers.
"We don't break anything for current customers," Foster said.
George Crump, president of storage analyst firm Storage Switzerland, said the Hedvig-Commvault HyperScale integration needs to be tactfully rolled out. He said entrenched customers and Commvault partners will worry about the cost of migration, so it's important Commvault can execute this in a cost-neutral way.
"[Commvault] needs to very clearly communicate that customers who bought HyperScale will have no risk. They need to get out in front of that," Crump said.
Commvault received criticism during its Go user conference last month for failing to lay out a clear roadmap for Hedvig and Metallic. Commvault executives launched Metallic at the conference and formally introduced Hedvig, but customers who attended the show said they were unsure how the two products would help them. Many took a cautious, "wait and see" approach. Commvault representatives said in the case of Metallic, its target audience was different than those using its core data protection and management products.
"You can't take Metallic to Commvault Go and say, 'This is not for you,'" Crump said.
Metallic will expand over time
Foster and Commvault chief product officer Rajiv Kottomtharayil offered more details in an interview after the conference.
Kottomtharayil said Metallic will gain capabilities from Commvault's Activate and Orchestrate products, allowing for GDPR compliance and disaster recovery. This would expand Metallic's core data protection functions, which at launch includes products for on-premises servers and VMs, Office 365 data and endpoint devices to areas beyond backup.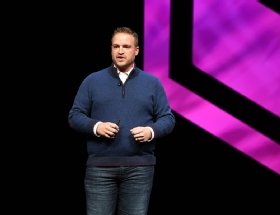 Kottomtharayil said these additional features will be available "fairly soon," but he did not give a specific timeline. He said they are the two top priorities for Metallic right now because of customer demand that Commvault would like to address as quickly as possible.
"Many on-premise Commvault backup customers want GDPR and E-discovery but do not have the required skill sets to manage those functionalities," Kottomtharayil said.
Christophe Bertrand, a senior analyst at IT analyst firm Enterprise Strategy Group, said this is a good way to go after data analysis. Noting that Metallic is geared toward smaller businesses than Commvault's usual enterprise customers, he said one of the hurdles these customers face is having enough space and expertise in their data centers to handle data classification. There is a use case here because the size of the business doesn't matter -- GDPR still applies to them.
"Being able to do it as a SaaS is a very good approach," Bertrand said.
Kottomtharayil said the entire Activate package will eventually make its way into Metallic, but it will be rolled out in phases depending on customer demand.
A shift to subscription
Commvault exceeded its earnings expectations for last quarter, following two quarters of failing short of its forecasts. Total revenue of $167.6 million represented a 1% decline from the previous year, but a 3% increase sequentially. During the earnings call at the end of October, CEO Sanjay Mirchandani attributed Commvault's success to its continued execution toward simplifying the business.
Crump said businesses are consuming storage technology differently than they did a few years ago. There is more subscription pricing, with companies buying storage resources as a service. That makes software an Opex buy rather than Capex -- something they can flexibly turn on or off with no upfront investment.

"The whole world's subscription. It's hard to own anything anymore," Crump said.