alphaspirit - Fotolia
HYCU backup for Google Cloud adds SAP HANA support
HYCU dives deeper into the Google Cloud Platform with backup for SAP HANA. The backup vendor aims to keep costs down and provide a fully managed service.
HYCU enhanced its Google Cloud Platform backup with SAP HANA support, offering it as a managed service that eases the burden on IT.
The HYCU Backup as a Service for Google Cloud is purpose-built for GCP, similar to how HYCU's first major product was purpose-built for Nutanix data protection. It's fully integrated into Google Cloud Identity & Access Management.
"It was built with the Google administrator in mind," so there's no extra training needed, said Subbiah Sundaram, vice president of products at HYCU.
Offering it as a service is critical to protecting cloud workloads natively, according to Enterprise Strategy Group senior analyst Christophe Bertrand. The firm's research shows that IT professionals want similar features in cloud-native data protection as in their on-premises environments, but there are gaps.
"Among the key areas are enterprise-class scalability, which HYCU is addressing in this release with enhancements to cloud-native incrementals, scalability, mission-critical application support with SAP HANA and performance optimizations," Bertrand wrote in an email. "Cloud is about scale, and this means that data protection mechanisms have to adapt."
Protection for a 'mission-critical application'
HYCU backup for GCP is supporting SAP HANA for the first time with this release. The support requires a special understanding of the infrastructure being protected and a mechanism to coordinate with SAP HANA to get a consistent copy, according to Sundaram.
The HYCU Backup as a Service uses Google snapshots for database-consistent, impact-free backup and recovery. It includes support for single file recovery.
The use of native storage snapshots is a distinguished approach, according to Bertrand.
"I expect that we will see a number of HYCU customers scale their environments in time," Bertrand wrote. "SAP HANA is a mission-critical application in many enterprises, and in combination with GCP, offers a lot of promise for scaling deployments up and out, and the ability to do analytics for business uses beyond just backup or BC/DR."
Sundaram said Google sellers and partners asked for the SAP HANA support -- they want more customers adding SAP HANA on GCP. SAP HANA, an in-memory database for processing high volumes of data in real time, is popular with large retailers.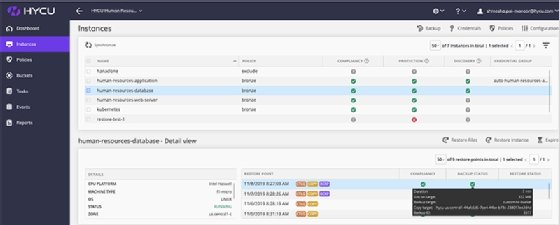 Dive deeper into HYCU's strategy
HYCU's GCP backup product originally launched in July 2018. Because it is a service, HYCU takes care of the installation, management and upgrades. HYCU claims one-click backups.
It was built with the Google administrator in mind.

Subbiah SundaramVice president of products, HYCU
Users back up to Google Cloud Storage buckets. Starting with this update, HYCU backup uses changed block tracking to enable optimized bucket storage consumption.
HYCU can keep costs down because the customer doesn't pay for compute, Sundaram said. The product's incremental backups and auto-tiering also save money.
The product does not require caching storage, according to HYCU, which means cheaper data transfer for backup and better use of cloud storage.
HYCU, which is based in Boston, Mass., has built its strategy on offering specialized services that go deep in specific environments, according to Bertrand.
"It gives them this best of breed advantage over generalists, and our research shows that IT professionals have no problem using the best cloud backup solutions for the job at hand -- meaning using a new solution or an additional vendor," Bertrand wrote. "I believe that they are well-positioned to deliver additional services beyond backup and BC/DR, such as intelligent data management based on data reuse."
HYCU Backup as a Service for Google Cloud is available on the GCP Marketplace and through authorized partners. Cost depends on the amount of data under protection and frequency of backup.
HYCU backup automatically updated for current customers in October.
In the coming weeks, HYCU expects to launch its Protégé product for multi-cloud disaster recovery and migration. It's also planning a major update in early 2020 that will add another supported cloud platform.