WavebreakmediaMicro - Fotolia
The ins and outs of Google Cloud Anthos on NetApp HCI
Combining NetApp HCI with Anthos from Google enables enterprises to more easily implement and maintain a hybrid cloud infrastructure that supports modern applications and more.
Few enterprises want to move all operations to the cloud, but they don't want to give up on the cloud altogether either. What they want is the best of both worlds: the ability to support legacy and modern workloads while meeting performance and security requirements. To accommodate these goals, NetApp and Google have joined forces to provide an enterprise-class hybrid cloud solution based on NetApp HCI, a disaggregated hyper-converged infrastructure validated to work with Google Cloud Anthos.
NetApp HCI is billed as both a hybrid cloud infrastructure and hyper-converged infrastructure. NetApp tends to emphasize the hybrid cloud aspects, but the platform is still a hyper-converged system at its core, relying on a hypervisor to support virtualized workloads as opposed to running them on bare metal. NetApp HCI is also a disaggregated infrastructure (or HCI 2.0 platform), which means users can scale compute and storage resources independently for more flexibility than traditional hyper-convergence.
The components that make up a NetApp HCI system are installed into a chassis housed inside a four-post rack or cabinet. Components include independent compute nodes and storage nodes, available as one or two full rack units or two half-width RUs to provide customers with a wide range of performance and capacity options, along with the ability to scale compute or storage resources as needed.
NetApp HCI also comes with the software necessary to manage operations and deploy workloads, including the Hybrid Cloud Control suite, which provides a single pane of glass for managing, monitoring and upgrading the infrastructure throughout its lifecycle. With the addition of Google Cloud Anthos, NetApp HCI can more readily extend into the cloud, making it a more comprehensive and versatile platform than ever.
Introducing Google Cloud Anthos
Google Cloud Anthos is an application management platform that promises a consistent development and operations experience across cloud and on-premises environments. The idea is to make it easy to run containerized applications in multiple environments without needing to modify them or deploy special hardware.
Together, NetApp HCI and Anthos can address the needs of organizations looking for an infrastructure that's easy to deploy and maintain, provides a hybrid cloud experience and supports today's modern workloads.
At the heart of Anthos lies the Google Kubernetes Engine (GKE), which drives the platform's container-based operations -- both in Google Cloud and in data center systems. The on-premises version of GKE is typically referred to as GKE on-prem.
Each GKE on-prem instance communicates and interoperates with Google Cloud GKE, enabling administrators to manage workloads on premises or in Google Cloud. The GKE also makes it possible to support workloads on other public cloud platforms, including Azure and AWS.
Google Cloud Anthos is completely software-based, built on open source technologies such as Kubernetes, Istio and Knative. With Anthos, IT teams can build, deploy and manage containerized applications wherever they choose in a secure and consistent manner (e.g., Anthos enforces a common set of security policies across environments). Anthos also includes tools for modernizing applications so they can take full advantage of the Google Cloud Anthos ecosystem.
The Google Cloud Anthos software
In an on-premises Google Cloud Anthos deployment, the Anthos software runs in containers on the same physical machines that host VMware vSphere. Anthos interfaces with VMware vCenter Server to facilitate access to vCenter objects and extend Anthos management capabilities.
The Google Kubernetes Engine on-premises component is responsible for managing and orchestrating the containers in the Kubernetes clusters. Organizations can run a wide range of containerized applications, both Windows- and Linux-based, and they can run them on premises or in cloud environments.
In addition to GKE on-prem, Anthos software includes a number of other components, such as Anthos Config Management, a tool for defining, automating and enforcing policies across environments. The tool helps IT teams meet their security and compliance requirements, as well as enforce custom business logic.
The Google Cloud Anthos software also includes Anthos Service Mesh, a managed service mesh that enables administrators to oversee and secure traffic between services. Anthos Service Mesh also provides tools for monitoring, troubleshooting and optimizing application performance.
Another important tool is Migrate for Anthos, which converts legacy workloads to containers and Kubernetes. Migrate for Anthos can automatically migrate workloads running in VMs or on other cloud platforms, without needing to modify the applications.
Google Cloud Anthos also provides Cloud Run, a serverless platform for defining and deploying services. Anthos users can also access the Google Cloud Platform Marketplace, which offers prebuilt Kubernetes development stacks and applications.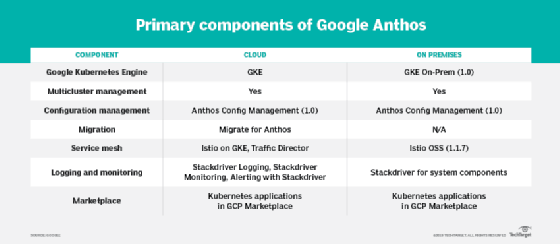 Google Cloud Anthos and NetApp HCI
Google Cloud Anthos integration with on-premises systems makes it possible to deliver applications faster and manage them from anywhere. Now that NetApp HCI has been validated to work with Anthos, IT teams have a powerful foundation for implementing a hybrid cloud infrastructure that supports both virtual and containerized workloads.
At the same time, users gain the advantages that come with a hyper-converged system, such as simplified deployment, management and scaling. In this way, they still get a virtualized environment for running workloads that don't fit neatly into a containerized architecture, but they also gain a multi-cloud management platform for applications that can be containerized.
In addition, IT teams ready to modernize their applications can use Migrate for Anthos, which enables them to take incremental steps toward modernization. Not only does this make it possible to run their applications across environments, it also helps users move toward open source technologies, which can lower licensing fees and reduce operational overhead.
DevOps teams also benefit because they get the type of portability that enables write once, run anywhere workflows, while supporting modern development methodologies such as continuous integration and deployment. In this way, they gain a cloud-native experience on premises, consistency across data center and cloud environments, and an infrastructure in which compute and storage resources can be scaled independently.
Google Cloud Anthos on NetApp HCI promises greater flexibility for enterprises ready to modernize at least some of their workloads, while at the same time minimizing deployment and operational overhead.
Move over NetApp
By supporting Google Cloud Anthos, NetApp HCI promises to deliver a more versatile and extensive infrastructure. NetApp isn't the only partnership that Google has been pursuing, however. The company has entered into similar relationships with a number of other vendors, with no end in sight.
For example, Google has expanded its partnership with Cisco to deliver Anthos in Cisco's HyperFlex HCI platform, with the goal of providing a common building block for both Kubernetes-based and virtualized workloads. In addition, the HyperFlex Container Storage Interface plugin now extends HyperFlex capabilities to Kubernetes stateful applications. Anthos is also now integrated with other Cisco technologies, including Cisco ACI, Cisco SD-WAN and Cisco Stealthwatch Cloud.
Not to be left behind, Hewlett Packard Enterprise also partnered with Google to provide Anthos-validated solutions based on HPE SimpliVity HCI and Synergy composable infrastructure, as well as Nimble Storage dHCI (disaggregated HCI) -- a converged system built on HPE Infosight. To add even more appeal to this partnership, HPE is making its Anthos-validated solutions available through the HPE GreenLake consumption-based program.
Google has also entered into a partnership with Lenovo to develop Anthos-validated designs for Lenovo's ThinkAgile integrated server appliances, which incorporate products from vendors such as Nutanix, VMware and Cloudian. Google and Lenovo are working together to integrate compute, storage and networking technologies with Anthos to deliver hybrid cloud capabilities to enterprise data centers.
Another newly sanctioned Google relationship focuses on Dell EMC VxFlex, an integrated rack system that comes preassembled and preconfigured for customer environments. The VxFlex platform provides an end-to-end engineered platform with lifecycle management, monitoring and automation. VxFlex is built on Dell EMC PowerEdge servers and includes VxFlex OS and VxFlex Manager, a comprehensive IT operations management tool. And now VxFlex comes ready to run Anthos.
Google also recently announced Anthos Ready Storage, a new qualification program for partner storage offerings that meet a core set of requirements to operate optimally with Anthos running on-premises. Several vendors already offer storage products that meet the new qualification, including Dell EMC, HPE, NetApp, Portworx, Pure Storage and Robin.io.
Clearly, Google has big ambitions for Anthos, with additional partnerships likely to come to fruition before too long, as Google Cloud Anthos continues to make steady inroads into the enterprise data center. Whether this will be enough to rock the world of hybrid computing is yet to be seen, but Google shows no signs of slowing down.
The ever-expanding hybrid cloud
NetApp HCI goes a long way toward simplifying IT, but its primary focus remains the virtualized workload. On the other hand, users can implement Google Cloud Anthos on infrastructures other than NetApp HCI, but those infrastructures might not deliver the benefits offered by a disaggregated hyper-converged system.
Together, NetApp HCI and Anthos can address the needs of organizations looking for an infrastructure that's easy to deploy and maintain, provides a hybrid cloud experience and supports today's modern workloads. Google and NetApp also have a lot to gain by this union.
NetApp now has an effective and easy way to extend its platform into the public cloud and support containerized workloads that can run in multiple environments, making the NetApp HCI platform more appealing to a wide customer base. Google, meanwhile, has found a way to extend its reach into the data center, breaking down its own cloud barriers to target a larger customer base.
Dig Deeper on Converged infrastructure management