Sergey - stock.adobe.com
What is AI-defined infrastructure, and does it work?
Software-driven hyper-converged, composable infrastructures and incorporation of AI technologies into compute and storage has brought more intelligence to enterprise IT than ever.
Artificial intelligence is playing a greater role than ever in managing data center resources. The more systems that integrate AI technologies, the more effectively IT teams can plan, deploy, maintain and secure their environments. The trend toward AI is proving so beneficial that it has given rise to the concept of the AI-defined infrastructure, an intelligent system that incorporates advanced analytics, self-learning and automation to streamline IT infrastructure management.
Moving toward a more intelligent infrastructure
Today's workloads are more diverse, data-intensive and geographically distributed than anything we've seen before. Fueled in no small part by such movements as mobile computing and IoT. In such an environment, IT teams must come up with solutions that can effectively run their applications, manage unprecedented amounts of data, and deliver maximum performance and resource utilization, all while ensuring data and systems remain fully protected.
To help address these challenges, many IT organizations are turning to software-defined infrastructures, which can make it easier to accommodate diverse and fluctuating workloads. The software-defined infrastructure approach helps streamline management, simplify operations, increase flexibility and better utilize resources. It also facilitates the process of automating administrative operations by supporting such deployment methodologies as infrastructure as code.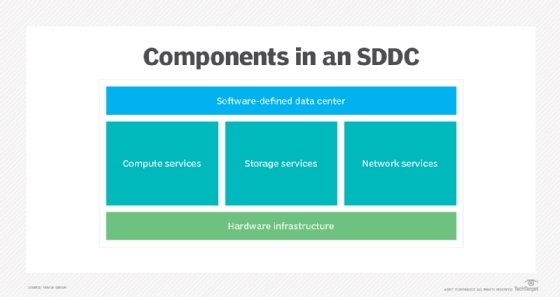 A hyper-converged infrastructure is a good example of software-defined infrastructure in action. Hyper-convergence uses virtualization to abstract physical compute, storage and network components into logical resource pools that can be easily allocated to support specific workloads. However, a hyper-converged infrastructure, like any software-defined infrastructure, is not inherently intelligent and relies on static code and human intervention to carry out operations.
To bring intelligence to a software-defined environment requires the benefits of AI.
Introducing intelligent infrastructure
An AI-defined infrastructure system collects system data from across an IT infrastructure and prepares it for analysis. To carry out this analysis, it incorporates AI technologies such as machine learning and deep learning, along with predictive analytics. The AI system then uses the results to predict outcomes and automate administrative tasks, working hand-in-hand with software-defined infrastructure technologies.
Think of AI-defined infrastructure as a way to enhance or augment software-defined infrastructure, both working together to streamline IT and reduce administrative overhead. The AI-defined infrastructure movement is still relatively young, however, and has a long way to go before seeing widespread implementation. Significant gains are being made in data center systems, though, particularly at the storage level.
For example, Hewlett Packard Enterprise (HPE) offers the Primera storage platform, all-flash enterprise storage for running mission-critical applications. HPE backs Primera with its InfoSight analytics service, which collects and analyzes telemetric data from HPE systems across the globe. The insights gained from this analysis can be applied to HPE customer systems such as Primera to optimize them and preemptively address potential issues.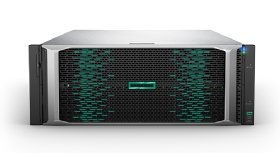 InfoSight also supports the server resources in HPE's composable infrastructure products, Synergy and Composable Rack. Each of these offerings is a software-defined composable system that disaggregates the compute, storage and network resources to provide a complete software-defined infrastructure system. HPE recently announced users can now implement these two composable products with Primera storage. As a result, customers can deploy composable infrastructures with InfoSight enabled to monitor and optimize both compute and storage resources, moving both Synergy and Composable Rack infrastructures one step closer to the complete AI-defined infrastructure vision.
AI-defined infrastructure's potential
IT teams may have only just begun to tap into AI's potential for planning, deploying, maintaining and securing infrastructures, but the field is full of possibilities. For example, an AI-defined infrastructure could analyze the demand for resources to plan capacity, or it could automatically allocate and de-allocate resources based on predicted outcomes.
An AI-defined infrastructure's advanced analytics would make it possible to detect anomalies, find root causes, predict disruptions to services and proactively address issues before they occur. These features can also help secure the infrastructure by being able to better assess risks in real time and orchestrate data protections. So, it might pull data from events, metrics, system logs, database logs, operating systems, application settings, hardware components or any other data points that can provide consumable telemetric data.
After data has been collected and prepared for analysis, it is fed into the AI engine, which models and classifies the data, applies advanced machine learning algorithms, runs simulations and performs whatever other analysis has been programmed into the system. The AI engine identifies incongruities, unexpected behavior and data patterns, and then uses this information to make predictions and recommendations and carry out specific operations.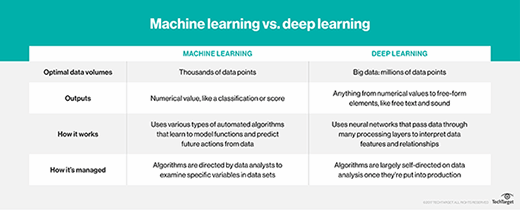 The benefits of intelligence
The benefits of an intelligent system are many, in large part because an AI-defined infrastructure can perform real-time analytics that leads to actionable insights. For example, it can predict hardware failures and then take steps to mitigate them, even if it's only to alert administrators so they can take preemptive action.
When combined with automation, AI-defined infrastructure can streamline operations, while reducing human error as well as operational expenses. It can also lead to more secure and reliable systems. In addition, AI-defined infrastructure can offer deeper insights into IT infrastructures, allowing administrators to address root causes and take preventative measures, while providing management with better information for making strategic decisions.
The field of AI-defined infrastructure is still evolving, and the ideal of an entire AI-driven data center has a long way to go before it can be realized. Even a fully software-driven data center -- to serve as a catalyst for realizing true AI-defined infrastructure -- has yet to emerge.
For now, IT must be satisfied with intelligent components such as servers and storage arrays or self-contained systems such as hyper-converged or composable infrastructures. Such gains are not to be taken lightly, however, as they bring with them a vision of an IT infrastructure in which all components are managed under a single AI-defined infrastructure umbrella that intelligently controls systems and automates operations as part of a unified effort.
Dig Deeper on Converged infrastructure management