Eclipse Digital - Fotolia
IBM mainframes face competitive pressures inside and out
IBM's mainframe business continues to be under pressure from cloud-based competitors, and perhaps even its own Power server. But analyst opinions vary about its long-term fate.
While IBM holds tight to its loyal base of mainframe users, there are signs that the company is placing less long-term strategic emphasis on the venerable system in favor of other distributed hardware and software platforms.
Over the past year or so, IBM has funded the rise of its Power server and recently placed two versions of that system in the top three fastest supercomputers in the world, outpacing its z Series mainframes. The company also made one of the industry's most expensive acquisitions with its Red Hat Inc. buy, which has little to do with advancing mainframe technology, and sold off pieces of its mainframe software portfolio to companies such as HCL and Rocket Software, albeit less strategic offerings.
At the same time, IBM continues to pour investment monies into technologies that make up multiyear-old Strategic Imperatives initiative, which calls for a hard focus on cloud, analytics, mobile, social and security services, as a hedge against the flat-to-tepid growth of its legacy server hardware.
All of this is to say, IBM appears more interested in maintaining the status quo of its z/OS mainframe portfolio rather than positioning the systems as offensive weapons.
"I don't think the mainframe has been strategic for a while," said Frank Dzubeck, president of Communications Network Architects Inc., a consultancy in Washington, D.C. "Strategic systems are meant to deal with the massive issues coming up over the next decade. Mainframes are more relevant to issues over the next quarter or year because you have another turn of the crank coming," he said.
There are reasons for IBM to maintain the status quo, Dzubeck said. The systems still account for a healthy portion of IBM's overall profits, mostly derived from maintenance fees, along with the research and development monies invested in the next version due out sometime by the end of next year.
"They still have a good number of engineers working on the next redesign," Dzubeck said. "Besides, if they pull the plug on the mainframes, they could lose a ton of customers."
Mainframe shops make their way to the cloud
Some corporate IT departments recently publicized how they pulled the plug on mainframes or plan to minimize the importance of mainframes in their shops.
This past spring, Swisscom migrated all of its mainframe applications over to the Swisscom Enterprise Service Cloud environment running on LzLabs Software Defined Mainframe (SDM). Swisscom accomplished this without recompiling any applications or making any changes to its data, company officials said.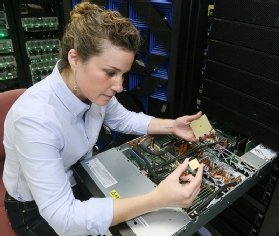 The company attributed the switch to competitive pressures it felt in the increasingly competitive telecommunications market, citing the need to focus on market segments that offer better business benefits, namely the cloud.
The move will save Swisscom 50% to 60% of its typical mainframe costs and offer flexibility across its IT infrastructure, according to Markus Tschumper, head of general IT services at Swisscom. It also allows Swisscom to begin offering SDM as a service through its enterprise cloud, he said.
"Moving our entire mainframe workload to SDM in the cloud gives us the ability to scale workloads up and down and consume only the right amount of compute power when it needs it," Tschumper said. "Secondly, we live in an open world with tools available that were not before. This gives us the flexibility to manage legacy applications with open source tools and, critically, to upskill staff and attract a new generation of IT talent."
Another longtime mainframe user organization, Sabre Corp, began to slowly migrate its applications off the mainframe in 2014 and intends to complete that process by 2023. Over that time, mainframe utilization has been flat with its open systems footprint steadily expanding, company officials said.
Ironically, it is Red Hat assisting the company with this project. Sabre is deploying Red Hat's OpenShift to host its services in both private and public clouds.
One Lz/Labs executive and former Gartner analyst, Dale Vecchio, believes his company can successfully compete against the mainframe because of the same inherent problems mainframes have posed to corporate IT shops for a couple of decades.
"In thousands of conversations I had with [IBM mainframe] customers as an analyst, it was never about how hard a mainframe was to use and maintain, or that IBM was a bad company," said Vecchio, chief marketing officer at LzLabs'. "It was always about cost, agility and skills shortages they had to deal with. Unless they can develop a growing base of mainframe-skilled younger people over in the next decade, it will be a tough thing to overcome."
IBM mainframe modernization efforts continue
One analyst believes mainframe critics underestimate the resiliency of the mainframe, which has weathered similar bouts of skepticism in the past. He refutes critics who say IBM is not investing enough money to introduce new innovations.
"People don't see the investments they make in mainframes for things like cloud, software, API capabilities or machine learning, because much of it is under the covers," said Peter Rutten research director at IDC's enterprise infrastructure practice. "But in fact there is an enormous amount of effort and money that goes into creating those capabilities to modernize the mainframe."
In May, IBM took steps to modernize the z/OS mainframe with add-ons like Container Extensions and it updated its pricing model to mimic clouds. And in 2018, IBM rolled out a "skinny" mainframe for cloud-centric IT shops that wouldn't have invested in the company's traditional mainframe system.
Still, Rutten admits IBM will have a difficult time growing its mainframe base in terms of new net users, but he adds there are many large banks, airlines and insurance companies that still have no practical alternative to turn to.
"It's an important market for IBM and represents a significant revenue source for themselves and for other mainframe software companies, such as Broadcom and Compuware," Rutten said.
While IBM has grown mainframe hardware revenues incrementally the past few years, IDC estimates mainframe hardware revenues for 2018 between $3 and $4 billion. This does not include mainframe software and services revenues.
Another inhibitor to growth is the mainframe equivalent of Moore's law. With each new release the past several years IBM has found it increasingly difficult to increase speed and performance given the physical limitations of the mainframe chip. This again, is something that also plays in favor of Power-based systems that don't face those constraints.
"It is getting harder for them to deliver more performance. They just can't push the chip frequency much further; they are already over 5 [GHz]," said Mike Chuba, a Gartner analyst and managing vice president. "With the next product coming in the not-too-distant future, it will be the same eight, 10 or 12% performance improvement. That's why you see them pushing their [pervasive] encryption capabilities," he said.
The other constant barrier to greater mainframe growth is its seven-figure price tag, which again gives the IBM Power servers another advantage in the price-performance battle between the two.
The universe of people that can afford the entry point for a mainframe is far smaller than the people who can afford the entry point for Power. Still, I don't see [IBM] walking away from the mainframe any time soon.

Mike Chuba Analyst, Gartner
"Mainframes are still a $1 million-plus procurement and there are only so many companies you can sell to," Chuba said. "The universe of people that can afford the entry point for a mainframe is far smaller than the people who can afford the entry point for Power. Still, I don't see [IBM] walking away from the mainframe any time soon."
Just a couple of years ago, IBM's Power servers appeared to be losing steam in the market, and rumors swirled that the company would continue designing the chip but would only sell it through its network of value-added resellers. But since the company debuted a version with the P9 processor in 2017, it appears to have found new momentum. The world's fastest supercomputer, Summit, and the third fastest, Sierra, both use POWER9. IBM also plans to port its Power AI software to the mainframe.
"They are reorienting themselves toward the Power architecture and looking at it as the underpinning for their cloud," said one analyst who requested anonymity. "Two years ago it looked like the chip [P9] was not going to be around long, but now it sits atop the fastest computers list and is commercially available to any user organization. So, why do I need a mainframe?"
IBM officials could not be reached for comment as of press time.