Petya Petrova - Fotolia
HCI storage adoption rises as array sales slip
Dell goes against the grain by increasing storage sales, but much of its gains came from hyper-converged and data protection products rather than traditional primary storage arrays.
The value and volume of data keep growing, yet in 2019 most primary storage vendors reported a drop in sales.
Part of that has to do with companies moving data to the cloud. It is also being redistributed on premises, moving from traditional storage arrays to hyper-converged infrastructure (HCI) and data protection products that have expanded into data management.
That helps explain why Dell Technologies bucked the trend of storage revenue declines last quarter. A close look at Dell's results shows its gains came from areas outside of traditional primary storage arrays that have been flat or down from its rivals.
Dell's storage revenue of $4.15 billion for the quarter grew 7% over last year, but much of Dell's storage growth came from HCI and data protection. According to Dell COO Jeff Clarke, orders of VxRail HCI storage appliances increased 82% over the same quarter in 2018. Clarke said new Data Domain products also grew significantly, although Dell provided no revenue figures for backup.
Hyper-converged products combine storage, servers and virtualization in one box. VxRail, which relies on vSAN software from Dell-owned VMware running on Dell PowerEdge, appears to be cutting in on sales of both independent servers and storage. Dell server revenue declined around 10% year-over-year, around the same as rival Hewlett Packard Enterprise's (HPE) server decline.
"We're in this data era," Clarke said on Dell's earnings call last week. "The amount of data created is not slowing. It's got to be stored, which is probably why we are seeing a slightly different trend from the compute side to the storage side. But I would point to VxRail hyper-convergence, where we'll bring computing and storage together, helping customers build on-prem private clouds."
The amount of data created is not slowing. It's got to be stored.

Jeff ClarkeCOO, Dell
Dell is counting on a new midrange storage array platform to push storage revenue in 2020. Clarke said he expected those systems to start shipping by the end of January.
Dell's largest storage rivals have reported a pause in spending, partially because of global conditions such as trade wars and tariffs. NetApp revenues have fallen year-over-year each of the last three quarters, including a 9.6% dip to $1.38 billion last quarter. HPE said its storage revenue of $848 million dropped 12% from last year. HPE's Nimble Storage midrange array platform grew 2% and Simplivity HCI increased 14% year-over-year, a sign that 3PAR enterprise arrays fell and the vendor's new Primera flagship arrays have not yet generated meaningful sales.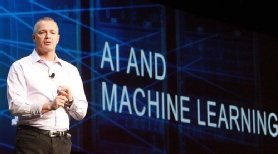 IBM storage has also declined throughout the year, dropping 4% year-over-year to $434 million last quarter. Pure Storage's revenue of $428 million last quarter increased 16% from last year, but Pure had consistently grown revenue at significantly higher rates throughout its history.
Meanwhile, HCI storage revenue is picking up. Nutanix last week reported a leveling of revenue following a rocky start to 2019. Related to VxRail's increase, VMware said its vSAN license bookings had increased 35%. HPE's HCI sales grew, while overall storage dropped. Cisco did not disclose revenue for its HyperFlex HCI platform, but CEO Chuck Robbins called it out for significant growth last quarter.
Dell/VMware and Nutanix still combine for most of the HCI storage market. Nutanix's revenue ($314.8 million) and subscription ($380.0 million) results were better than expected last quarter, although both numbers were around the same as a year ago. It's hard to accurately measure Nutanix's growth from 2018 because the vendor switched to subscription billing. But Nutanix added 780 customers and its 66 deals of more than $1 million were its most ever. And the total value of its customer contracts came to $305 million, up 9% from a year ago.
Nutanix's revenue shift came after the company switched to a software-centric model. It no longer records revenue from the servers it ships its software on. Nutanix and VMware are the dominant HCI software vendors.
"It's just the two of us, us and VMware," Nutanix CEO Dheeraj Pandey said in an interview after his company's earnings call. "Hyper-convergence now is really driven by software as opposed to hardware. I think it was a battle that we had to win over the last three or four years, and the dust has finally settled and people see it's really an operating system play. We're making it all darn simple to operate."