reborn55 - Fotolia
Manage Windows Server HCI with Windows Admin Center
Download and install Microsoft's free and easy-to-use Windows Admin Center to manage local and remote Windows Server-based hyper-converged infrastructure clusters.
With Windows Admin Center, you can view and control Windows Server hyper-converged infrastructure clusters, manage virtual compute, storage and network resources, and carry out a variety of other tasks.
Windows Admin Center is available as a free, downloadable application that can run on Windows Server or Windows 10. Once installed, you can use Windows Admin Center's browser-based interface to connect to hyper-converged clusters locally or remotely without an internet connection.
Introducing Windows Server HCI
With the release of Windows Server 2016, Microsoft introduced hyper-converged infrastructure (HCI) capabilities that incorporate software-defined compute, storage and networking resources into a single Windows Server Datacenter cluster. The Windows Server HCI integration is based on three Windows Server technologies: Hyper-V, Storage Spaces Direct and software-defined networking.
Hyper-V is a hypervisor that virtualizes compute resources such as processors and memory and makes them available to one or more VMs running on the Hyper-V host. Each VM operates in its own isolated space, runs its own OS and includes the same basic components as a physical computer. Like most hypervisors, Hyper-V makes it possible to run different OSes and applications on the same machine without interfering with each other.
Windows Server HCI also incorporates storage spaces direct, which virtualizes physical storage hardware to create a storage pool made up of drives from across the cluster. Storage Spaces Direct can support up to 16 servers and more than 400 drives to deliver up to a petabyte of storage per cluster. When you add servers or drives to the HCI cluster, Storage Spaces Direct automatically onboards the new components and uses them right away. Storage Spaces Direct also incorporates such features as caching, storage tiers and erasure coding.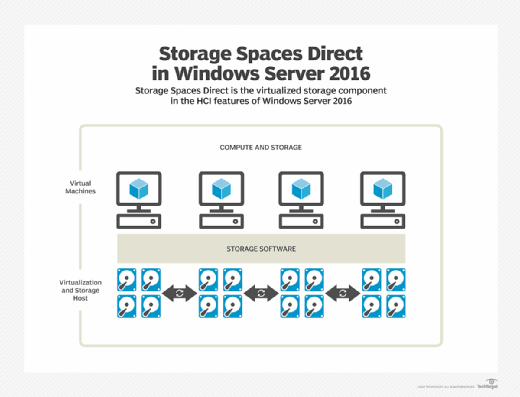 The final piece in the Windows Server HCI puzzle is software-defined networking (SDN), which virtualizes network hardware by abstracting physical resources such as routers, switches and gateways. With SDN, you can centrally manage both physical and virtual network devices, helping to speed up workload deployments and dynamically respond to evolving application requirements.
In addition to these three main components, a Windows Server HCI cluster also incorporates Windows Server Failover Clustering services, which tie the servers together to provide load balancing and failover capabilities. Failover Clustering also makes it possible to run workloads such as VMs on any server in the cluster. In addition, these HCI clusters can use Azure hybrid services to support such operations as monitoring or site recovery.
Windows Admin Center is free, so administrators have little to lose by giving it a try.
Introducing Windows Admin Center
Windows Admin Center provides a single interface for managing Windows Server computers, clusters and Windows 10 PCs. You can download Windows Admin Center for free and run it on Windows Server or Windows 10, and install it on one of the nodes in the managed cluster or on a separate computer. You do not need an internet connection to connect to clusters on your private network.
Windows Admin Center provides a browser-based interface -- accessible through Microsoft Edge or Google Chrome -- for viewing and controlling managed components by consolidating all aspects of local and remote management into a seamless dashboard. Windows Admin Center does not require Azure or any other cloud services, nor the Microsoft System Center management suite. Simply download and install Windows Admin Center, and within minutes you can be managing your systems.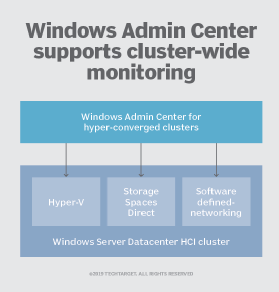 Windows Admin Center makes it possible to work directly with Windows Server HCI clusters. View and manage physical components such as host servers, storage drives and network devices, as well as virtual components such as Hyper-V VMs, Storage Spaces Direct volumes and SDN virtual networks. Windows Admin Center also supports cluster-wide monitoring, including the ability to track virtual networks, subnets and the SDN infrastructure.
When you connect to a cluster, Windows Admin Center displays a dashboard that provides comprehensive system information and easy access to features for carrying out management tasks. For example, the dashboard displays real-time performance metrics such as total throughput, average latencies, memory usage, and IOPS. In addition, drill down into components such as servers or drives to view more specific details.
The dashboard also lets you perform administrative operations, such as:
Create VMs and install the necessary OSes
Pause and restart servers
Create, expand or delete storage spaces direct volumes
Create and manage virtual networks and subnets
Connect VMs to virtual networks
In addition, the dashboard delivers alerts when critical events occur. For example, if a drive fails, the dashboard automatically displays an alert. You can then click the alert to view details about the failure, such as the drive's physical location. Alerts are not the only way to view information, however. At any time, you can access details about the health of system components such as network controllers, virtual gateways or software load balancers.
To use Windows Admin Center to manage an HCI cluster, the cluster must run Windows Server 2016 Datacenter or Windows Server 2019 Datacenter, with Hyper-V and Storage Spaces Direct enabled. You can also enable software-defined networking in Windows Server using Windows Admin Center. Some features are available only to Windows Server 2019, such as deduplication and compression.
If you're using Windows Server 2016 in your HCI clusters, you must configure the servers with the 2018-05 Cumulative Update or later. Windows Admin Center depends on management APIs introduced after Microsoft first released Windows Server 2016, and those APIs are included with the Cumulative Updates.
Windows Admin Center's support for HCI clusters could prove a valuable tool for organizations that have implemented or plan to implement Windows Server HCI clusters, especially as Microsoft continues to enhance the application's capabilities. Windows Admin Center is easy to install and use, and it can be used for both local and remote clusters. Best of all, Windows Admin Center is free, so administrators have little to lose by giving it a try.
Dig Deeper on Converged infrastructure management