Troubleshooting Logical Volume Manager boot problems
If Logical Volume Manager (LVM) boots incorrectly, logical volumes are inaccessible and you can't manage server disk space. In this LVM how-to, we offer some simple steps to troubleshoot boot issues with LVM.
Logical volumes enable you to manage server disk space. If problems occur with your logical volumes, however, it's...
harder to fix them than it is with normal partitions. Troubleshooting the management of volumes in Logical Volume Manager (LVM) is also difficult. In this article, you'll learn how to fix LVM problems that occur during startup.
When your server boots up, it normally self-scans for LVM volumes. It does so by executing the pvscan command from the startup scripts, regardless of which Linux distribution you use. If something isn't working properly, however, pvscan will fail and you'll have to initialize LVM yourself. Once you understand how LVM works, this task isn't too onerous .
LVM's bottom layer consists of physical devices, or storage devices that are marked as usable by LVM. But not every storage device is a physical device; they need to be initialized using the pvcreate command before they can be used. When your server boots, it uses the pvscan command to find LVM devices that exist on your storage devices.
LVM's second layer consists of the volume groups. A volume group is a collection of one or more storage devices from which logical volumes can be created. During the configuration of LVM, one or more volume groups is normally created using the vgcreate command. When booting, your server uses the vgscan command to activate the volume group.
From the volume group, logical volumes are created. These are the storage devices on which file systems can be created. You use lvcreate to create them and lvscan to activate them. Figure 1 gives an overview of the LVM setup.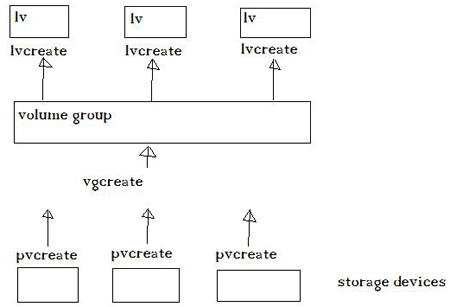 Figure 1: Overview of LVM setup
Before you begin troubleshooting, inspect your volumes with the lvdisplay command. If all is well, lvdisplay will give an overview of your logical volumes. If it isn't, it will tell you, "No volume groups found." If this message is returned, you must check the LVM setup from the physical volumes up to the logical volumes to see what might be wrong. Use these steps to help with your troubleshooting:
At this point, your logical volumes should be accessible. If they are not, you have to start troubleshooting a problem unrelated to the boot procedure, which is an issue I will address in a later tip.
ABOUT THE AUTHOR: Sander van Vugt is an author and independent technical trainer, specializing in Linux since 1994. Vugt is also a technical consultant for high-availability (HA) clustering and performance optimization, as well as an expert on SLED 10 administration.

Dig Deeper on Data center ops, monitoring and management