Kesu - Fotolia
Big data management practices gain attention amid risks
Many data professionals have yet to solidify traditional data management practices, but they have a new set of challenges to overcome to ensure data privacy and avoid misuse.
Data managers are in a difficult position. In the midst of this raucous era of fast-moving big data, they must provide a steady voice of caution. At the same time, they must encourage speedier application building based on innovative use of data, while maintaining best data management practices.
Laura Sebastian-Coleman, data quality lead at health insurer Aetna, and publications officer with the DAMA International professional association for data managers, will discuss those challenges in her keynote at Enterprise Data World 2019 in Boston this month.
We spoke with Sebastian-Coleman ahead of the EDW conference to learn about her work on DMBOK2 -- the shorthand name for the second edition of the Data Management Body of Knowledge guide that DAMA created to help systematize data management practices.
In this Q&A, Sebastian-Coleman discusses DMBOK2 in the face of the general surge in data use and how the high level of interest in data changes the way it's handled in organizations. She also advises data management professionals to look at enterprise data in its largest context.
Data is regularly in the headlines now. It seems that the days of isolation for data management are over. What guidance do you offer for practitioners?
Laura Sebastian-Coleman: What I have learned is that many people who work in data management are not even super-aware of how their work connects with others in data management. If people don't recognize how they are connected to others, it's not good.
Data management is a complicated set of processes and responsibilities that are divided between the technical side and the business side. There are many moving parts, and you need to know why those parts exist. If you're a data quality analyst, you need to know what a DBA does, and why he or she does it, as well as what impact that may have on data quality.
So, people need to see a big picture, to understand how their work affects others, to figure out how to collaborate ... and they can do their own work better if they know its context.
What approaches can data pros pursue as they work with other colleagues in lines of business?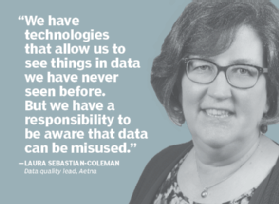 Sebastian-Coleman: How we interact with stakeholders is key. Often, data management professionals try to explain everything to stakeholders, when it's more important to simply present the direct connections to the problems the company has.
The goal isn't having data for data's sake. The goal, for example, could be managing data better as part of a quest for better customer relationships. At the EDW conference, everyone there loves data -- but when they go back to work, they have to focus on the business's problems, and how better data management can help solve them.
What is increasingly the case is that the data profession has to take that attitude to the larger world as well.
Big data and the web have opened up data management to more of the world, for sure. Could you expand on what happens when those worlds collide? What happens to data management practices?
Sebastian-Coleman: It's an ongoing challenge. People in this profession are highly analytical, and they get excited by the potential of data. Now we have technologies that allow us to see things in data we have never seen before. But we have a responsibility to be aware that data can be misused.
We have a lot of people involved with managing data in organizations now, trying to get value, and we have new risks. Basically, just because we can do things with data doesn't mean we should. And you have to ask whether some of this is really data or not. A lot of the information we can collect with ease isn't what I would call data.
In my work with others on DMBOK, I realized, we have hardly just solidified our traditional data management practices, and now we have a whole new set of challenges. We have to account for the new technologies and their positive potential, as well as potentially negative consequences.