Sergey Nvns - Fotolia
Building a business glossary enhances data governance
Experts say data professionals should work to create a common vocabulary in organizations to help boost data governance and compliance with laws like GDPR.
BOSTON -- It's time for data professionals to start building a business glossary at their organizations.
That's according to panelists at the Enterprise Data World 2019 conference, who argued that -- while it's not easy -- establishing a common data vocabulary across an organization is one of the highest priorities for data managers, both for business reasons and because it's a key component of successful data governance programs.
A business glossary is a metadata repository with clear and consistent definitions of important business terms and related technical information, such as contacts, tools, processes and what constitutes customers, suppliers, business partners, employees and other entities, the panel members said.
Not having a business glossary complicates internal communication and results in misunderstandings, rework, unnecessary high costs and other business and data management problems, said panelist Laura Sebastian-Coleman, data quality lead at health insurance company Aetna.
"If our own employees were unable to successfully communicate with each other about the organization's data, we would not be able to manage our data well," Sebastian-Coleman said. "And if we can't manage our data well, how can we manage our business since all of our business depends on data?"
Perhaps more important, failing to create a common vocabulary on business data puts an organization at greater risk for data breaches -- and at risk of violating new data privacy laws, such as the European Union's General Data Protection Regulation.
"GDPR demands that organizations know what category of personal data they process, where [it's from] and what its purpose is," said panelist Katherine O'Keefe, chief ethicist and lead data governance and protection consultant at Ireland-based Castlebridge. "Organizations need to have appropriate controls to detect and respond to a breach. A common vocabulary makes it clear what data was exposed, whom to call and how best to contact them."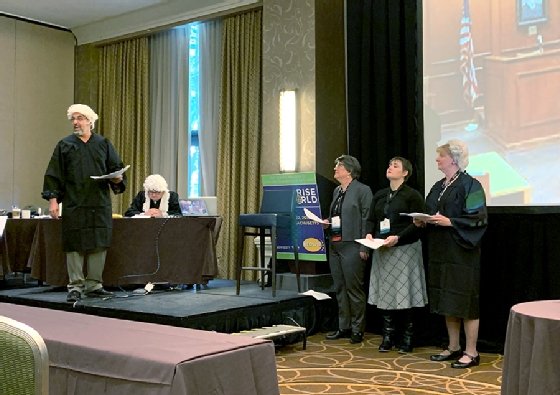 Getting started on a common data vocabulary
The first thing for data architects and other data professionals charged with creating their organization's business glossary to remember is that it's not a one-person job, according to the panelists. It requires organizational commitment from the top down and help from data stewards, they said.
O'Keefe broke down the process of creating a business glossary into three key steps: definition, consensus building and communication.
The definition process is defining an element or process and capturing its attributes and its relationship with other elements or processes. It requires a "vocabulary lead" and one or two subject matter experts -- preferably one each from the business and IT sides, she said.
Consensus building involves circulating the definitions to relevant people in the organization for review, and identifying synonyms and homonyms and recording those translations.
Communication requires publishing and promoting the definitions, as well as curating them on an ongoing basis.
O'Keefe estimated that each organization may need to define up to 2,500 terms to provide the underlying foundation of a business glossary, but she urged data management teams to start small. Even having just a few key common vocabulary terms, such as definitions for customers and various types of contact information, would make a significant difference in operational efficiency and GDPR compliance, she said.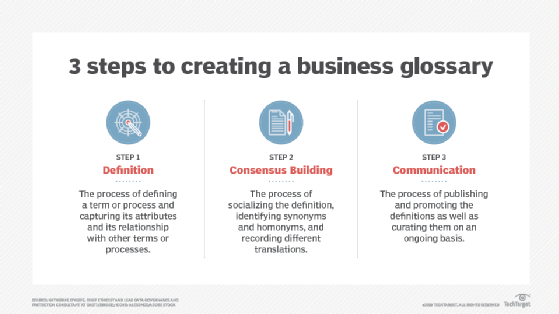 Writing skills needed for glossary projects
Since clarity and accessibility are basic to a business glossary, Sebastian-Coleman said it's critical to have people with good writing skills on the project.
If our own employees were unable to successfully communicate with each other about the organization's data, we would not be able to manage our data well. And if we can't manage our data well, how can we manage our business since all of our business depends on data?

Laura Sebastian-ColemanData quality lead, Aetna
"Not everybody's a writer," Sebastian-Coleman said. "Very smart people are often not very good writers on their own subjects, because they know [the subjects] too well. So it seems obvious to me that if you want something written, you would hire people that have talent in writing to help facilitate that process."
Jan Bednarczuk, a data governance specialist at Nationwide who attended the EDW conference, has been charged with building the business glossary at her company for the last several years. She said she knows firsthand the importance of enlisting people who are able to write well.
"There are a lot of people in the insurance and financial services industry who would rather stab themselves with a fork than write anything," Bednarczuk said after the session. "Those people cannot be in charge of writing definitions. Even if they're the greatest subject matter expert, they will try to get it off their desk as fast as possible and it will not have the detail that it needs to have. You've got to find the person who got A's in English."
Meanwhile, panelist Thomas Redman, president of consulting firm Data Quality Solutions, offered closing advice: "Don't start from a blank piece of paper. There are so many different resources that allow you to get a jumpstart on the definition." Those resources could include something as simple as the dictionary or a financial, law or sales handbook, Redman said.