Gabi Moisa - Fotolia
MemSQL 7.0 set to advance both row and column data stores
As MemSQL pushes into the cloud with its Helios service, the vendor is also pushing the boundaries of traditional row and column data stores with its SingleStore technology approach.
MemSQL is developing a new approach to help its users create and use a system of record database, that can run on premises or in the cloud.
MemSQL's Helios cloud service was launched on Sept. 23 as a public preview running the MemSQL 6.8 database, which is currently the most recent shipping version. The same day, the database vendor released the second beta of MemSQL 7.0, providing a preview of next-generation capabilities, including faster synchronization, as well as SingleStore for faster database queries, by improving both rowstore and columnstore tables.
The opportunity and the market that MemSQL fits into is growing, said David Menninger, SVP and research director at Ventana Research.
"We see continued growth in real-time and streaming data processing," Menninger said. "MemSQL, with their in-memory architecture, is a natural fit for this category."
Menninger added that MemSQL's ambition is broader than just streaming and real-time workloads. He noted that MemSQL has expanded its capabilities, offering a credible alternative for all combinations of on-premises and cloud-based transaction or analytical workloads.
MemSQL's SingleStore approach is not unique, Menninger said.
However, MemSQL has used this technique to continue to blur the distinction between OLTP databases and analytical databases, he said.
"The SingleStore approach appears to help MemSQL customers overcome the limitation of fitting all the data into RAM, which helps save customer costs on their hardware configuration," Menninger added.
MemSQL Helios
We see continued growth in real-time and streaming data processing. MemSQL, with their in-memory architecture, is a natural fit for this category.

David MenningerSVP and research director, Ventana Research
The MemSQL Helios cloud service is part of a growing trend of cloud database vendors offering their platforms as a cloud service. The basic idea behind putting the database platforms in the cloud is to provide potential customers with an easy way to start using a database quickly.
MemSQL users have an easy path to cloud migration with Helios, as both Helios and the new update are identical products in every environment, said Rick Negrin, vice president of product management at MemSQL. During the public preview of Helios, MemSQL is limiting the total number of production users to ensure it can provide effective service while the vendor scales the service. Helios will be generally available sometime early next year, according to MemSQL.
MemSQL 7.0 SingleStore
With MemSQL 7.0 the big new feature is the vendor's introduction of SingleStore.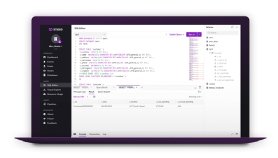 With the SingleStore enhancements, query performance in columnstore improves dramatically with the addition of fast seeks and hash indexes, Negrin said.
While SingleStore improves the performance of different table types, users still need to choose which store they want to use within the database, Negrin noted. That said, the improvements should dramatically reduce the negative impacts of having what in the past would have been considered the "wrong" store for the workload, he said. Looking forward, the plan is for future versions of MemSQL to begin to collapse the two stores into one.
Improved sync replication
Beyond SingleStore, MemSQL 7.0 introduced what the vendor said is much faster synchronous replication.
Previously, synchronous replication came with a fairly significant performance penalty, limiting its usefulness and the workloads for which MemSQL could be applied as a true system of record.
MemSQL 7.0 will become generally available later this year, the vendor said.