benedetti68 - Fotolia
SolarWinds advances cloud native database monitoring
SolarWinds grows its product portfolio with the acquisition of cloud native database monitoring vendor VividCortex, in a bid to help organizations deal with the challenges of cloud.
Among the most critical aspects of database administration is monitoring for performance and availability. While some databases include limited database monitoring capabilities, there is a market need for third-party tools, as well.
SolarWinds, a player in the database monitoring market this month expanded its scope with the acquisition of privately held vendor VividCortex. SolarWinds already has a Database Performance Analyzer (DPA) offering, which will now be complemented with VividCortex's software-as-a-service (SaaS) cloud native database monitoring platform. The VividCortex technology will initially be kept as a standalone service, with a plan to have a combined roadmap with DPA sometime in the future.
Cloud native databases are a growing area of the market, targeting deployment on the Kubernetes container orchestration platform, which can enable workloads across hybrid cloud environments.
VividCortex provides a SaaS-based model that augments SolarWinds' growing multi-cloud story and strong on-premises position, according to IDC analyst Stephen Elliott.
"The reality is that management vendors have to support all of the different cloud environments from an IT operations perspective to remain competitive," Elliott said.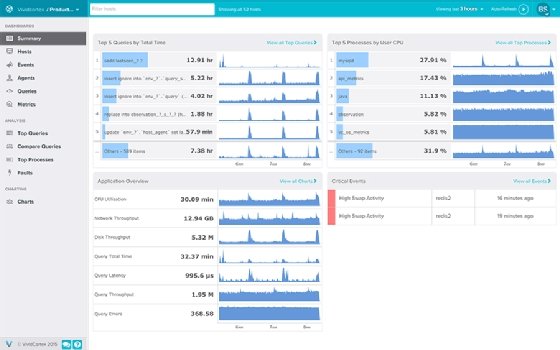 The challenges of cloud native database monitoring
Companies face multiple challenges when looking to manage and monitor cloud native databases. IT organizations can now purchase database capabilities offered through different models, such as on-premises, as a managed service or from cloud providers, Elliott explained. Customers have to make large investments in planning and understanding which model works best for their workload and performance requirements.
The need to have visibility into performance management … will always remain an important requirement for IT organizations.

Stephen ElliotAnalyst, IDC
"The need to have visibility into performance management, from an end-to-end perspective, will always remain an important requirement for IT organizations, regardless of who has responsibility for management," Elliott said. "It's a need-to-have, not a nice-to-have capability."
David Gardiner, executive vice president of Core IT at SolarWinds, said he sees a number of hurdles for cloud native database performance monitoring. One of the primary issues is that technology professionals must allow for data to be sent and stored somewhere other than their own data center, which raises questions around security and privacy. He added that there are also questions around performance -- mostly around network latency, but also scalability.
"Then there are times when the cloud isn't available," Gardiner said. "It can be frustrating to suffer a loss of service, and there is nothing you can do to help fix issues."
One of the primary locations for cloud native database deployments is in the public cloud. Cloud service providers such as AWS and Azure offer monitoring for their proprietary services, Gardiner said, though they may not always have the type of performance monitoring capabilities that users require. He added that with many workloads still on-premises, there's a huge market for hybrid deployments that will remain for years to come.
The technology that SolarWinds is now gaining via the acquisition of VividCortex aims to improve the cloud native database monitoring process with a scalable data collection model. Gardiner explained that traditional monitoring products have approached collecting performance metrics in a similar manner: observe and record as many details as desired or possible. VividCortex has built a method that's more efficient, providing improved scalability.
"This scalability is necessary for SaaS systems, otherwise the cost of data collection can quickly outgrow the price of the service," Gardiner said.
Dig Deeper on Database management