adimas - Fotolia
Why the open source DBaaS market is hot
Open source database vendors face an array of challenges and opportunities as they flock to the cloud with new database-as-a-service platforms.
Once, the only way to run an open source database was on premises. Those days are long gone as open source database vendors over the past year have launched their own managed DBaaS offerings into a hot market.
Notable among the open source database vendors that have recently launched or unveiled database as a service (DBaaS) systems is MariaDB, which released its SkySQL DBaaS in March. DataStax launched its Astra service based on Apache Cassandra in May. NoSQL database vendor Couchbase is up next with its Couchbase Cloud service now in beta, with general availability expected later this year.
Open source database vendors have flocked to the cloud, offering users a DBaaS option, chiefly because cloud-based database services are more efficient and cost-effective. And the booming DBaaS market is not limited to open source databases, but rather is a larger trend across databases in general, according to IDC analyst Carl Olofson.
"Managed database services in the cloud are the future of the database business, both open source and otherwise," Olofson said. "They offer the best value for customers, relieving them of the burden of tuning and maintaining database servers themselves, and for vendors, providing a steady, predictable revenue stream."
DBaaS also blurs the distinction between open source and closed source database options, Olofson said.
"If you get a subscription for a database that's operationally managed for you, who cares if it's open source? You never have to look at the code anyway, and the costs are similar," he said.
For DataStax, interest in its DBaaS product is being driven by organizations that want the value of the Apache Cassandra model without the complications of operations, said Matt Kennedy, senior director of cloud solutions.
"Companies that value the flexibility and freedom of owning their data and ability to work on any cloud will benefit from an open source database," Kennedy said. "But open source can be hard for the uninitiated."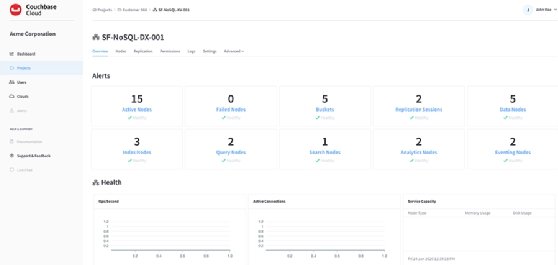 The impact of COVID-19 on the open source DBaaS market
The COVID-19 pandemic is also creating an impact on enterprises' acceptance of DBaaS systems and the move to the cloud. On June 2, MariaDB released the results of a survey of 559 IT leaders in the U.S, the U.K, France and Germany on the effect of the pandemic on cloud adoption.
Among key findings was that 40% of organizations are now accelerating their move to the cloud, a trend that MariaDB is seeing with its cloud DBaaS platform, said Shane Johnson, senior director of product marketing.
Managed database services in the cloud are the future of the database business, both open source and otherwise.

Carl OlofsonAnalyst, IDC
"It makes sense, companies, now more than ever, need to keep up with changing times and cloud-based technologies make it easier for companies to evolve quickly," he said.
While cloud use is growing, organizations are not moving all of their databases to the cloud.
The MariaDB survey found that a perceived lack of reliable security was the main reason organizations haven't all enthusiastically embraced cloud databases. In Johnson's view, that concern is perhaps a reflection of the perception that first-generation cloud databases lack strong enough security measures.
Among the capabilities that are part of second-generation cloud databases like SkySQL are end-to-end encryption and access control, as well as privacy features to help organizations be compliant with regulations such as the GDPR.

Challenges in the open source DBaaS market
"The good news is that there's a lot of open source database choice for organizations," said James Curtis, senior research analyst at S&P Global. "The bad news is that there's a lot open source choice and that can cause some confusion."
While a growing number of vendors support open source database products, the public cloud vendors also offer versions of many popular open source databases, Curtis noted.
For example, AWS boasts a managed Cassandra service, as well as support for MySQL and PostgreSQL with its Relational Database Service (RDS). When they get ready to decide on which route to take, Curtis said that organizations need to choose a vendor that provides the support they are looking for.
For open source database vendors, DBaaS might also represent a threat as it has the potential to replace or cannibalize existing on-premises deployments. Among DBaaS benefits, one of the most important is reducing the time organizations need to spend managing the infrastructure.
"What will happen in the future is that database workloads will gravitate to the right environment in which it makes sense to run that workload," Curtis said. "Some workloads are best suited to run on premises and perhaps always will."