Fotolia
Future of data management is in the cloud
Organizations are increasingly moving their data management efforts to the cloud with cloud database systems set to produce the majority of revenue by 2022.
The future of data is not only automated, it's in the cloud.
Data management is a broad topic that includes data quality, data governance and data fabric, among other technologies and strategies. At the virtual Gartner Data & Analytics Summit, Americas, held May 4-6, analysts outlined how the various incarnations of data management are increasingly migrating to the cloud with automation a key driver of user success.
Gartner analyst Mark Beyer said enterprise data management benefits from a data architecture that can help with discoverability of data as well as automation.
"Data management in 2021 and beyond has shifted beyond the idea of managing file stores and content into managing quality and integration as a center point, and using iPaaS [integration platform as a service], DBMS [database management system], data integration and data quality tools as the delivery platform," Beyer said in a session on the future of data management.
Cloud DBMS revenue on the fast track
While on-premises databases currently produce the majority share of DBMS revenue, that's not likely to remain the case for long.
Gartner analyst Donald Feinberg provided specific details about the growth of cloud for data management and database deployments. According to the data Feinberg presented, total DBMS market revenue in 2020 was almost $65 billion. The cloud DBMS market accounted for $26 billion of that revenue figure.
"Cloud DBMS [revenue] is now greater than 40% of the total DBMS revenue, and that's getting close to 50% of the total," Feinberg said.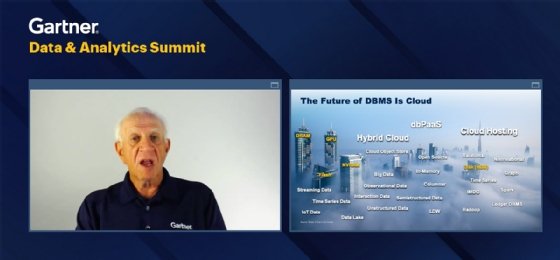 Feinberg pointed out that cloud DBMS is growing faster than the overall DBMS market. Year-over-year growth from 2019 to 2020 for total DBMS market revenues was 17%; in contrast, the cloud DBMS segment grew by 50% year-over-year. Gartner now forecasts that cloud DBMS revenue will represent the biggest share of total DBMS market revenue by next year.
"The majority of the growth in the database market is going to cloud," Feinberg stated emphatically.
Open source cloud database as a service matters
A key trend Feinberg highlighted during his session was the desire of organizations to use an open source database, such as PostgreSQL or MySQL.
Feinberg noted that when Gartner clients call him and ask about open source software that is deployed on premises, usually what they're looking for is information on open source pricing. He noted that open source pricing means an organization doesn't want to pay upfront license fees but is willing to pay for support.
With the cloud, Feinberg noted, there aren't any license fees.
In the cloud, users pay for services and consumption, regardless if the underlying technology is open source or proprietary. That said, even though there are no license costs in the cloud, Feinberg said many organizations are still asking specifically for an open source database. That is because open source databases provide an open front-end API that is portable.
"What I'm saying is if I write my application to a PostgreSQL API, I can run it on every cloud service that has a PostgreSQL standard offering," he said.
Another key trend Feinberg highlighted is the continued dominance of relational database management systems (RDBMSs). In 2020, across both on-premises and cloud deployments, RDBMS accounted for 82% of industry revenues.
"Relational is not going away -- period," Feinberg said. "So, don't believe the hype in the market where they tell you they're going to replace your relational systems. Relational is 82% of the total; it's not changing much at all."