grandeduc - Fotolia
Recovering from ransomware soars to the top of DR concerns
Ransomware recovery may not have always been a featured topic in TechTarget's 20 years of coverage, but it's certainly made an impression in the last few.
The rise of ransomware has had a significant effect on modern disaster recovery, shaping the way we protect data and plan a recovery. It does not bring the same physical destruction of a natural disaster, but the effects within an organization -- and on its reputation -- can be lasting.
It's no wonder that recovering from ransomware has become such a priority in recent years.
It's hard to imagine a time when ransomware wasn't a threat, but while cyberattacks date back as far as the late 1980s, ransomware in particular has had a relatively recent rise in prominence. Ransomware is a type of malware attack that can be carried out in a number of ways, but generally the "ransom" part of the name comes from one of the ways attackers hope to profit from it. The victim's data is locked, often behind encryption, and held for ransom until the attacker is paid. Assuming the attacker is telling the truth, the data will be decrypted and returned. Again, this assumes that the anonymous person or group that just stole your data is being honest.
"Just pay the ransom" is rarely the first piece of advice an expert will offer. Not only do you not know if payment will actually result in your computer being unlocked, but developments in backup and recovery have made recovering from ransomware without paying the attacker possible. While this method of cyberattack seems specially designed to make victims panic and pay up, doing so does not guarantee you'll get your data back or won't be asked for more money.
Disaster recovery has changed significantly in the 20 years TechTarget has been covering technology news, but the rapid rise of ransomware to the top of the potential disaster pyramid is one of the more remarkable changes to occur. According to a U.S. government report, by 2016 4,000 ransomware attacks were occurring daily. This was a 300% increase over the previous year. Ransomware recovery has changed the disaster recovery model, and it won't be going away any time soon. In this brief retrospective, take a look back at the major attacks that made headlines, evolving advice and warnings regarding ransomware, and how organizations are fighting back.
In the news
The appropriately named WannaCry ransomware attack began spreading in May 2017, using an exploit leaked from the National Security Agency targeting Windows computers. WannaCry is a worm, which means that it can spread without participation from the victims, unlike phishing attacks, which require action from the recipient to spread widely.
Ransomware recovery has changed the disaster recovery model, and it won't be going away any time soon.
How big was the WannaCry attack? Affecting computers in as many as 150 countries, WannaCry is estimated to have caused hundreds of millions of dollars in damages. According to cyber risk modeling company Cyence, the total costs associated with the attack could be as high as $4 billion.
Rather than the price of the ransom itself, the biggest issue companies face is the cost of being down. Because so many organizations were infected with the WannaCry virus, news spread that those who paid the ransom were never given the decryption key, so most victims did not pay. However, many took a financial hit from the downtime the attack caused. Another major attack in 2017, NotPetya, cost Danish shipping giant A.P. Moller-Maersk hundreds of millions of dollars. And that's just one victim.
In 2018, the city of Atlanta's recovery from ransomware ended up costing more than $5 million, and shut down several city departments for five days. In the Matanuska-Susitna borough of Alaska in 2018, 120 of 150 servers were affected by ransomware, and the government workers resorted to using typewriters to stay operational. Whether it is on a global or local scale, the consequences of ransomware are clear.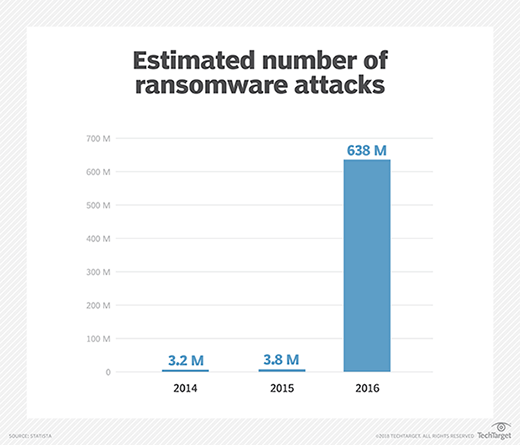 Taking center stage
Looking back, the massive increase in ransomware attacks between 2015 and 2016 signaled when ransomware really began to take its place at the head of the data threat pack. Experts not only began emphasizing the importance of backup and data protection against attacks, but planning for future potential recoveries. Depending on your DR strategy, recovering from ransomware could fit into your current plan, or you might have to start considering an overhaul.
By 2017, the ransomware threat was impossible to ignore. According to a 2018 Verizon Data Breach Investigations Report, 39% of malware attacks carried out in 2017 were ransomware, and ransomware had soared from being the fifth most common type of malware to number one.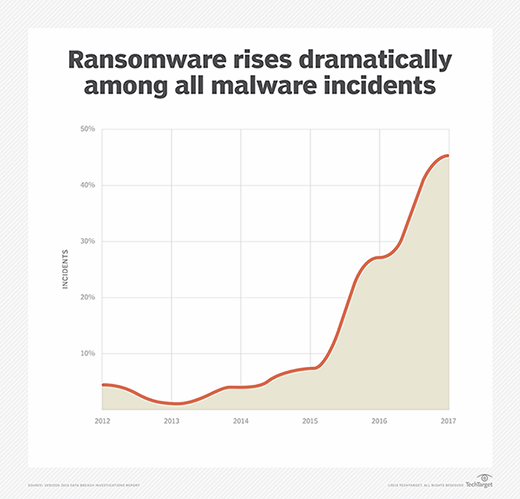 Ransomware was not only becoming more prominent, but more sophisticated as well. Best practices for DR highlighted preparation for ransomware, and an emphasis on IT resiliency entered backup and recovery discussions. Protecting against ransomware became less about wondering what would happen if your organization was attacked, and more about what you would do when your organization was attacked. Ransomware recovery planning wasn't just a good idea, it was a priority.
As a result of the recent epidemic, more organizations appear to be considering disaster recovery planning in general. As unthinkable as it may seem, many organizations have been reluctant to invest in disaster recovery, viewing it as something they might need eventually. This mindset is dangerous, and results in many companies not having a recovery plan in place until it's too late.
Bouncing back
While ransomware attacks may feel like an inevitability -- which is how companies should prepare -- that doesn't mean the end is nigh. Recovering from ransomware is possible, and with the right amount of preparation and help, it can be done.
The modern backup market is evolving in such a way that downtime is considered practically unacceptable, which bodes well for ransomware recovery. Having frequent backups available is a major element of recovering, and taking advantage of vendor offerings can give you a boost when it comes to frequent, secure backups.
Vendors such as Reduxio, Nasuni and Carbonite have developed tools aimed at ransomware recovery, and can have you back up and running without significant data loss within hours. Whether the trick is backdating, snapshots, cloud-based backup and recovery, or server-level restores, numerous tools out there can help with recovery efforts. Other vendors working in this space include Acronis, Asigra, Barracuda, Commvault, Datto, Infrascale, Quorum, Unitrends and Zerto.
Along with a wider array of tech options, more information about ransomware is available than in the past. This is particularly helpful with ransomware attacks, because the attacks in part rely on the victims unwittingly participating. Whether you're looking for tips on protecting against attacks or recovering after the fact, a wealth of information is available.
The widespread nature of ransomware is alarming, but also provides first-hand accounts of what happened and what was done to recover after the attack. You may not know when ransomware is going to strike, but recovery is no longer a mystery.
Dig Deeper on Disaster recovery planning and management