Andrea Danti - Fotolia
Gen 8 Unitrends appliances span SMB to enterprise
Unitrends adds 12 TB hard disk drives and more models to cover a greater range of customer and workload sizes in its Gen 8 Recovery Series integrated appliances.
Unitrends upgraded and expanded its flagship Recovery Series data protection appliances, increasing disk density and adding options to help support customers ranging from SMBs to enterprises.
The new Gen 8 Unitrends appliances run Unitrends Backup version 10.2, the company's latest backup software. The appliances also have a "self-healing storage" feature, which uses cloud-based analytics to monitor and automatically fix hardware anomalies before they turn into full-blown failures. If necessary, the appliance will notify the customer and automatically open a support ticket.
Unitrends' new line of backup appliances features a wider range of models than the previous Recovery Series generation launched in October 2016. The Gen 8 platform includes 15 models, ranging from 2 TB to 120 TB usable capacity, although Unitrends dropped its 180 TB model in Gen 8. Gen 8 Unitrends appliances have added 12 TB capacity drives.
The new models include six 1U appliances for SMB and remote offices, two 1U and three 2U midsize appliances, and four 2U enterprise systems.
Joe Noonan, vice president of product management and marketing at Unitrends, explained that the previous appliance storage sizes weren't fitting all the needs of the broad market Unitrends plays in.
By having such a broad market to go after, we needed to make it as easy as possible to buy and fit the budget needs of our end users.

Joe Noonanvice president of product management and marketing, Unitrends
"Unitrends does play in the enterprise, we play in the midmarket, and we even have some play in the SMB space," Noonan said. "By having such a broad market to go after, we needed to make it as easy as possible to buy and fit the budget needs of our end users."
Pricing for the new Unitrends appliances ranges from $2,749 for the 2 TB 8002 model to $97,999 for the 120 TB 8120S with Enterprise Plus software. Noonan said the price per useable TB had gone up 10% over the previous models. However, he said greater choice can reduce the cost for some midrange customers "because we filled in those gaps so that there was a better model to meet their needs and they didn't have to buy something too big."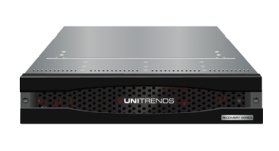 Unitrends recently merged with Kaseya, but Noonan pointed out that Unitrends remains independent. "We maintained our management structure, we maintained our CEO; our channel remains the same," he said.
Unitrends sells backup software separately or integrated on appliances. Its product portfolio also includes VMware Backup Essentials virtual backup appliances and Boomerang for VMware software that replicates to public clouds for disaster recovery.
With pieces on so many playing fields, Unitrends runs into a lot of competition. Noonan sees Barracuda as the biggest backup competitor for Unitrends appliances, but also lists Data Domain, Rubrik and Veeam as hardware or software competitors. He said Unitrends tries to stand out by offering a complete on-premises-to-cloud package. "That combination, being able to fit a very well-priced solution that is very low-maintenance because it's a full box, you're not stitching that together yourself, and then offering a wide array of disaster recovery options; we're able to constantly fill gaps as you go along on that disaster recovery story all the way through to the cloud."
Dig Deeper on Disaster recovery facilities and operations