Rob Byron - Fotolia
AlertMedia boosts threat intelligence warning capabilities
AlertMedia enhanced its Global Threat Intelligence capabilities by adding a team of experts to provide professionally vetted threat warnings for its customers.
AlertMedia has improved its ability to warn customers about local threats to employee safety and business operations.
The emergency communications platform now has a dedicated team of experts for its Global Threat Intelligence product, which provides independently verified warnings for critical global events. Previously, AlertMedia provided this information through partnerships with third parties. By bringing it in-house, Global Threat Intelligence's information output of severe weather, public demonstrations and other timely warnings has more than doubled, according to the company.
AlertMedia's core offering is a mass notification system, which provides a way for organizations to communicate with employees during emergencies. Similar to Everbridge and Send Word Now, it can serve as an important part of a company's disaster recovery plan.
Global Threat Intelligence is a component of the AlertMedia platform focused on delivering analyst-vetted alerts about global threats. Events are reviewed and confirmed by experts that have threat intelligence work experience with the CIA, FBI, U.S. Army and large corporations, then categorized by type, severity and location. Customers can filter alerts by these categories and set up rules for automated responses, such as directly notifying employees closest to where the threat is happening.
The demand for Global Threat Intelligence increased during the COVID-19 pandemic, when more people started working remotely, said Sara Pratley, vice president of global intelligence at AlertMedia. Not only are workers no longer concentrated in a single office, but the last two years have also seen a rise in public demonstrations, severe weather and other threats to employee safety. Combined, this has increased customers' desire to know where their workers are in relation to global threats.
"This is a product of a dispersed workforce. It became apparent that it's important to stay connected with people," Pratley said.
Global Threat Intelligence can cut down the amount of time organizations' security and safety teams spend on manually assessing threats, Pratley added. Since the threat information is already vetted by AlertMedia's experts, customers can instead focus enacting their disaster recovery plans and keeping their employees safe.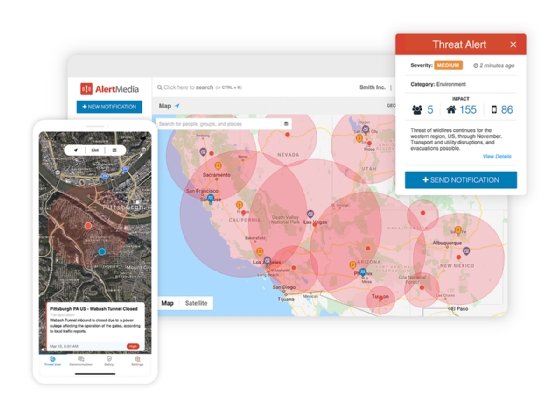 Building confidence with Moss Construction
When Moss Construction is working on a new site, AlertMedia is often one of the few guaranteed ways to contact employees there. The construction management company usually has about 60 ongoing construction projects in various stages of completion, according to Scott Gerard, vice president of environmental, health and safety. In early stages, the construction site doesn't always have power, internet connectivity or even a searchable address, so workers can only be reached through their mobile devices.
This is a product of a dispersed workforce. It became apparent that it's important to stay connected with people.

Sara PratleyVice president of global intelligence, AlertMedia
"AlertMedia is one of the most important tools during that startup phase. At that stage, it's about mobilizing first aid kits, defibrillators and making sure nearby emergency services know about you, since you don't even have an address yet," Gerard said.
Moss, headquartered in Fort Lauderdale, Fla., is a national construction management company with offices in Texas, California and Hawaii. It specializes in high-rises and entertainment venues, but also handles public utilities projects such as large-scale, multi-acre solar farms. Notable Moss projects include Marlins Park in Miami, the Tampa Bay Lightning training facility in the Brandon Ice Sports Forum and the Southwest Airlines terminal at Fort Lauderdale-Hollywood International Airport.
During the mass shooting at the Fort Lauderdale airport on Jan. 6, 2017, Moss had around 250 employees on-site. Moss' emergency communication tool was mostly for warning construction workers about hurricanes and other dangerous weather and didn't have a way for them to check in and confirm their safety. The company eventually accounted for its workers, none of whom had been harmed, but the incident prompted Gerard to purchase AlertMedia because the tool not only enabled check-in, but also actively monitored for global threats.
Moss has between 10,000 and 12,000 contractors and subcontractors working at its construction sites at any given time, and Gerard is ultimately responsible for their safety. Moss mostly uses AlertMedia's Global Threat Intelligence for detecting severe weather and civil disturbances, but also for comparatively mundane things such as high wind and heat. Gerard said he has been "pestering" AlertMedia to add lightning detection to its capabilities, as that is a potential hazard at Moss' solar facilities.
AlertMedia has APIs to keep it synced with Moss' HR database, which provided another important advantage over Moss' previous emergency communications product, Gerard said. Through those APIs, contact information and settings would move with the workers as they transferred between projects, which typically last between nine months and two years.
Dig Deeper on Disaster recovery facilities and operations