Konstantin Emelyanov - Fotolia
Assess IT help desk software options based on these features
Explore communication channels, ticket management, agent management, knowledge base options and reporting capabilities when evaluating prospective help desk management software.
IT help desk software is necessary even for small businesses. The main challenge when evaluating a help desk management product is sorting through the myriad of multilayered options.
Buyers can simplify this task by narrowing down the features that their ideal IT help desk software should offer and what their organization requires from those features. Some of the key features a help desk application should offer include:
Communication channels
Easy logging of support calls
Reporting
Product support
This article explores nine leading vendors of IT help desk software and details what they offer out of the above-mentioned features.
Agiloft Inc.
Atlassian Jira Service Desk
Cayzu Inc.
InvGate Service Desk
Spiceworks Inc.
Vivantio Inc. Pro
Zendesk Inc.
Freshdesk Inc.
Zoho Corp.
Editor's note
Using extensive research into help desk management software, TechTarget editors focused on vendors with internal-facing products as opposed to customer-facing products. Our research included Gartner and TechTarget surveys.
Communications channels
Communication between the user who logs the ticket, the help desk agent and the support engineer must flow smoothly, especially during time-sensitive events that could cause downtime. IT help desk software must also properly utilize social media outlets, online chat, mobile phones and voice over IP (VoIP) applications. Buyers should ask themselves:
Can users log calls only with physical phones or can they make VoIP calls via a web interface?
Does the tool support Facebook, Twitter or other social media?
Will the product allow a standard phone call?
Is there an online chat feature?
Can users log cases via email -- typically via a shared inbox?
Is there a web interface?
Can users log, escalate and track cases via a web interface as opposed to making a phone call?
Can users make phone calls from within a web interface?
Here is how the vendors stack up against one another in terms of communications capabilities: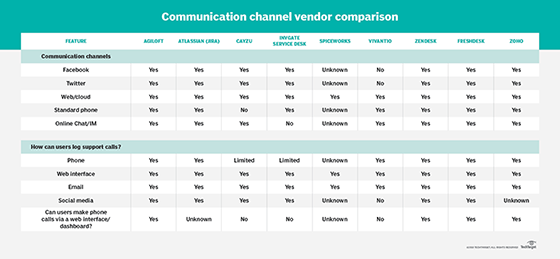 Ticket management
Ticket management is at the heart of the help desk. The help desk must manage the lifecycle of support tickets, including escalations. The tools available for ticket management must be available to the agents via an electronic dashboard, which must be customizable for whatever a particular organization requires.
This article explores nine leading vendors of IT help desk software and details what they offer out of the above-mentioned features.
The system IT chooses should also include a tool to track and maintain status updates that admins can edit and that users can view. This capability is critical for escalations when there is a high-priority outage.
Buyers should check whether a vendor has an electronic dashboard or not because a dashboard is much more efficient than email or phone. Buyers should also see if the system offers real-time updates as opposed to daily updates.
Users should be able to track their own tickets and admins should be able to track tickets in real time. Admins should be able to enter the ticket status and notes, which may be vital information during root cause analysis.
A strong help desk management platform should also offer functional ticket escalation and prioritization at varying levels. These levels include:
Custom priority: Uses service-level agreements (SLAs) to determine the priority of different events. For example, priority 1 would be business-critical problems, such as a downed system. Priority 2 would be something less critical that admins can apply a workaround to. Priority 3 would be a problem that admins can schedule to resolve later.
Custom-defined SLAs: Users can define SLAs and not just use defaults.
The system should also be able to escalate a ticket's priority if necessary.

Call agent management
Call agent metrics are important for evaluating business operation, user satisfaction, and personnel and individual performance. Some systems, like Atlassian, automatically send the user a survey that the system can track.

Ticket data and knowledge base
The key to improving help desk processes and reducing costs is to collect and analyze data and use that data effectively. The IT help desk tool must enable IT to define that data and then gather it in a knowledge base. Call agents, support personnel and others should be able to write articles in the knowledge base that help others resolve similar problems. The knowledge base must also be searchable for both admins and users.
Another key metric is the actual time the engineer spends repairing the system, which may differ from how long the ticket is open. The net repair time is what should drive SLAs and determine if the help desk can meet them.
Users and help desk workers should be able to search -- by keyword -- the database for closed tickets to reference how to resolve a particular issue. This will reduce both cost and time by helping fix issues faster.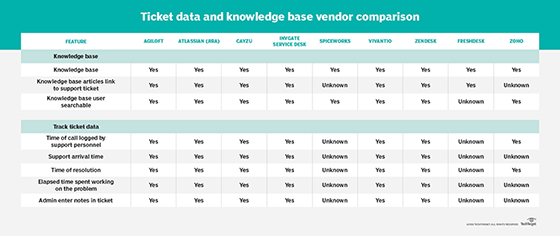 Custom reports
Any help desk application must provide custom reporting. Collected data is only useful if admins can display it in a way that makes sense.
In a product evaluation, prospective buyers should take the time to generate sample reports and test the custom reporting functions.

Product support
All vendors provide product support in some way, but they may differ in media type and method. Some vendors have a support link on their website that provides an immediate, automated email reply. Zendesk, for example, provides an automatic, informative email with a case number and link to track the status. However, not all vendors offer something that specific.
Community forums where users can discuss issues are another important feature, and can ultimately reduce support calls. Technical experts should oversee these forums to avoid misinformation and incorrect problem resolution.

Other features
Other important features to look for include:
ITIL-compliance: IT admins focused on ITIL-compliance should make sure their help desk software is ITIL-certified.
Multilingual: A multinational company will need a tool that offers communication in multiple languages.
Third-party interface: Large enterprises typically want to interface their help desk system to third-party systems, such as Dell or Hewlett Packard Enterprise. These interface capabilities can vary, so buyers should run test cases and see if the generated ticket can move seamlessly to the third-party system and back. It is typically difficult to achieve complete transparency with third-party interfaces. They are also expensive. The other option is a swivel seat where admins simply log a call with the third party and both parties log and update the incident.

Nearly all of the products featured here allow users to request a demo before purchase. Buyers should take advantage of demos to run some test cases.
Investing in a quality help desk product that provides effective ticket management and prioritization, definable data points for tracking, powerful knowledge base functionality, and custom reporting will ensure an organization's ability to improve processes, reduce cost and keep help desk users satisfied.