designsoliman - Fotolia
User experience management from Knoa shines light on SAP app use
Agribusiness company Bunge improved its end-user experience with SAP applications by licensing Knoa. The software company helped provide insights into how its users were -- and weren't -- interacting with the applications.
Enterprises invest millions of dollars in the technology they license, so it's paramount that they understand whether they're getting the most out of the products.
Agribusiness company Bunge Limited wanted to figure that out and looked to user experience management vendor Knoa Software for insight. Specifically, the company, based in White Plains, N.Y., wanted to better understand how employees interacted with its SAP applications, an area of focus for Knoa.
"We needed to guarantee effective end-user training to operate the SAP system," said Rita Souza, senior HR manager at Bunge's Brazil office.
Bunge licensed a product from Knoa two years ago to gain insight into who needed more training with SAP applications and where Bunge could provide more support or training material to its end users.
"We focused on the most common issues and wanted to retrain the users without interrupting operations," Souza said.
Importance of user experience management
This wasn't the first time Bunge tried to implement SAP's ERP system. A previous implementation was unsuccessful due to a myriad of reasons, including end-user experience and inefficient training.
"The business feared new failure," Souza said. "From the moment we started [the implementation] we identified main errors within the system and enabled our users to correctly use SAP."
Souza and Bunge used Knoa's user experience management product, which can be licensed through Knoa directly or through SAP, to better navigate its SAP applications and provide the workforce with proper training of the new applications.
According to a 2015, Gartner survey on end-user experience management, 61% of respondents viewed application performance management as either important or critical to the success of an implementation. Of that 61% nearly two-thirds also use enterprise applications that are monitored, like Bunge is doing with Knoa.
There's no shortage of user experience management or application performance monitoring vendors for IT admins to choose from. AppDynamics, Stackify, SolarWinds and Qualtrics all measure application performance and user experience.
"Some of these systems and projects have a lot of people involved, cost millions of dollars and sometimes you bring in third parties. The end result is you're looking to improve the user experience and you're looking for efficiencies," said Brian Berns, CEO at Knoa. "If you have 1,000 customizations over the years and you're worried about migrating them all, we can tell you that, in reality, only 10% of those are being used."
Berns said Knoa's goal is to provide incremental improvements for its users around their applications and by providing context into how an employee uses an application can help bring insight. That data is served up to the managers or administrators and it's up to them to work with their end users to maximize their application use.
"There are a lot of monitoring tools out there that show you what users are clicking on. But what's the context," Berns said. "Are they at the beginning of the process? Somewhere in the middle? That's what we hope to provide our users."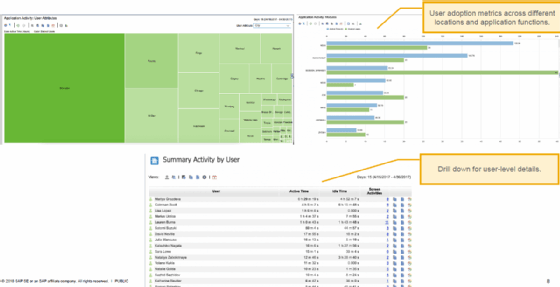 Too much data
IT admins can't expect to just plug Knoa in and receive a playbook on how to most efficiently use an application. Souza described the amount of data generated by Knoa as "overwhelming at first" and emphasized IT admins think through what they want to know. The organization needs to be able to act on the data provided by Knoa and use it to improve their application interactions.
It's important to have a plan in place in order to make sense of the data.

Rita SouzaSenior HR manager, Bunge
"Knoa is just a tool -- you can't solve your problems just by implementing it," she said "It's important to have a plan in place in order to make sense of the data."
Berns warns that IT admins may not always like what the data says.
"Customers sometimes have the perception things are working well and we may show them they're not," Berns said. "At the end of the day, it's the users who determine the efficiency of these systems. Step one is understanding the current reality."
Pricing information for Knoa was not available.