New HP business workstations have more memory, processing cores
The new HP business workstations, models Z6 and Z8, have more memory and processing cores to improve data access, graphics and power supply. They also provide remote workstation access.
HP Inc. is aiming to make blogging, graphic building, and video and photo editing more efficient with its newest HP business workstations.
In an upgrade aimed at creators, HP has introduced new features for its Z6 G4 and Z8 G4 Workstations, including more memory, storage and processing cores.
The HP business workstations use Intel Xeon Scalable Processors and the Optane DC persistent memory module. The Optane DC moves more data closer to the CPU, which improves data access.
The Z6 model has 384 GB of memory, up to 48 processing cores, and it uses Nvidia and AMD graphics. This model also allows for the installation of professional-grade storage hardware. The Z6 has the ability to be upgraded over time and is built to handle 8K video, according to HP.
The Z8 model has dual Intel Xeon CPUs, with up to 56 processing cores, 3 TB of memory and 48 TB of storage. It is capable of running complex 3D simulations and can handle machine learning algorithms and visual effects. HP claimed the Z8 is the "most powerful workstation on the planet," as of June 14, 2017, based on processor, graphics, memory and power supply.
Digital Storm makes the Aventum Pro workstation, which has up to 56 processor cores and up to 512 GB of storage. Pricing starts at $3,610. Dell's Precision 7920 Tower workstation has 28 cores per processor, but can be customized to have up to 56 with dual processors. Dell also uses the same Intel Xeon Scalable Processors as HP. Pricing starts at $2,049.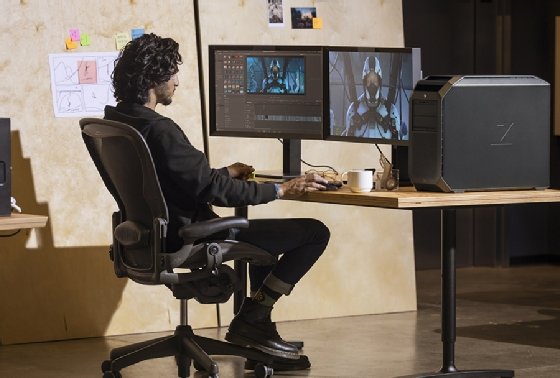 Both Z6 and Z8 include HP's Remote Graphics Software (RGS), which allows for remote workstation access from any Windows, Linux or Mac device. Avid is working with HP to test RGS with Media Composer | Cloud VM. HP claimed the remote editing software will provide creators with both high performance and flexibility.
The new HP business workstations are currently available. The Z6 starts at $2,372, and the Z8 starts at $2,981.