Rymden - stock.adobe.com
Observations from the intersection of UCC and EUC
End-user computing tends to overlap with numerous other business technologies, such as cloud computing, security and mobility. But one of the areas with the most overlap is UCC.
As end user computing continues to grow, it's increasingly overlapping with areas that were at one time adjacent.
There's no better example than unified communications and collaboration (UCC), which have become so core to the overall end user experience that it's sometimes hard to differentiate the two. That's not to say there aren't differences. For example, people with an end-user computing-related role (EUC) have never really had to pay attention to VoIP infrastructure or SIP trunking.
But, as EUC folks already know, it's important to understand the many adjacent technologies that end users brush up against. After all, we're accustomed to lending an outside-in perspective on things from the end user's viewpoint.
With that in mind, here are a few thoughts on UCC that have appeared on my radar recently -- the new role of the office in the daily lives of employees and the increasing interest in asynchronous video.
The new role of the office
Depending where you look, you can find data that shows that either hybrid work is here to stay and we all need to plan on working remotely forever, or that most employees are returning to the office and it's impossible to be productive anywhere else. The real answer, of course, is hardly as binary as that. Many vendors and organizations are revisiting both what it really means to be hybrid and what the purpose of the office is.
It's true that employers and employees have invested in UCC for remote workers to ensure effective, reliable communication and collaboration. In fact, so much has been done to ensure this that the idea of returning to the office seems like a step back from a collaboration perspective. To combat this and to encourage workers to return to the office at least part time, some organizations are reimagining the office as a collaboration space rather than a cubicle farm. This way, the best collaboration experience is in the office, even if the preferred environment to get the work done is still a remote location.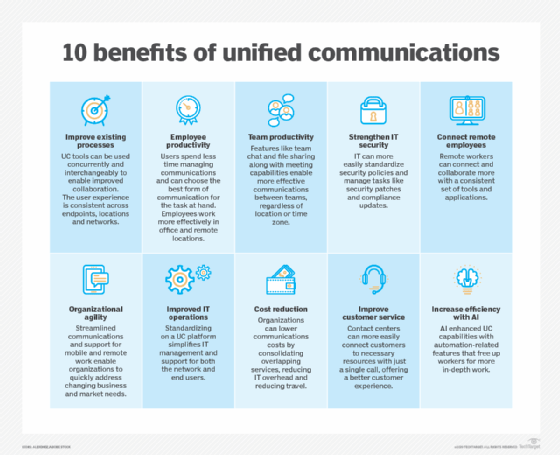 This concept is relatively new, so the effect this has on return-to-office efforts remains to be seen, but the technology is there to provide a consistent experience wherever users happen to be. Organizations can invest in some really cool meeting and conference room technologies to make the office a great collaboration space for when users can actually get together.
Asynchronous video
Earlier this month, Atlassian made some news by acquiring Loom, which you might know as an enterprise video communications platform that lets you record and easily distribute videos to coworkers. The deal, worth reportedly near a billion dollars, makes a lot of sense for a company like Atlassian that has built itself as a go-to vendor of team collaboration and project management offering -- think Trello, Jira and Confluence, among others. It's interesting in that regard alone, but it also shines a light on what appears to be a pretty active area of productivity and collaboration.
Many organizations have sought to create a sort of "internal YouTube" that allows unidirectional communication between teams and individual employees in a one-to-one or one-to-many way. The following are some examples:
Microsoft Stream. Microsoft has released a few iterations of this platform, which is part of Microsoft 365.
Zoom Clips. This is Zoom's asynchronous video feature that wraps a UI and centralized access around what many users already did -- use Zoom to self-record presentations. It also includes some lightweight editing functionality.
Zight. This is also known as CloudApp, and it features a similar platform for enterprise organizations.
Webex Vidcast. This has actually been around since 2021.
Invariably, these technologies tout increased productivity, enhanced communication and a reduction in the number of meetings. As you might imagine, the concept has also been extended to sales and marketing, though with different platforms such as Dubb, Vidyard and StoryXpress.
Many organizations have sought to create a sort of 'internal YouTube' that allows unidirectional communication between teams and individual employees in a one-to-one or one-to-many way.
I'm particularly interested in the enterprise side of this because it represents a shift in the way that employees communicate and collaborate. When everyone was together in the office, it made sense to huddle up in groups on an as-needed basis. During the pandemic we tried every conceivable way to replicate this, which resulted in an unending stream of meetings that, for many of us, left little time to actually do any work.
The recent moves by Zoom and Atlassian are sure to inject some life into the async video landscape. Coupled with the impact UCC has on remote and hybrid work strategies and the redefinition of the workplace, these trends can fundamentally affect the way we meet and collaborate by reducing the number of meetings, increasing the effectiveness of the meetings we do have and creating productive environments from which the work can be done -- wherever that may be.
Gabe Knuth is the senior end user computing analyst for TechTarget's Enterprise Strategy Group. He writes publicly for TechTarget in addition to his analyst work. If you'd like to reach out, see his profile on LinkedIn or send an email to [email protected].