Evaluate
Weigh the pros and cons of technologies, products and projects you are considering.
4 enterprise email clients to consider instead of Outlook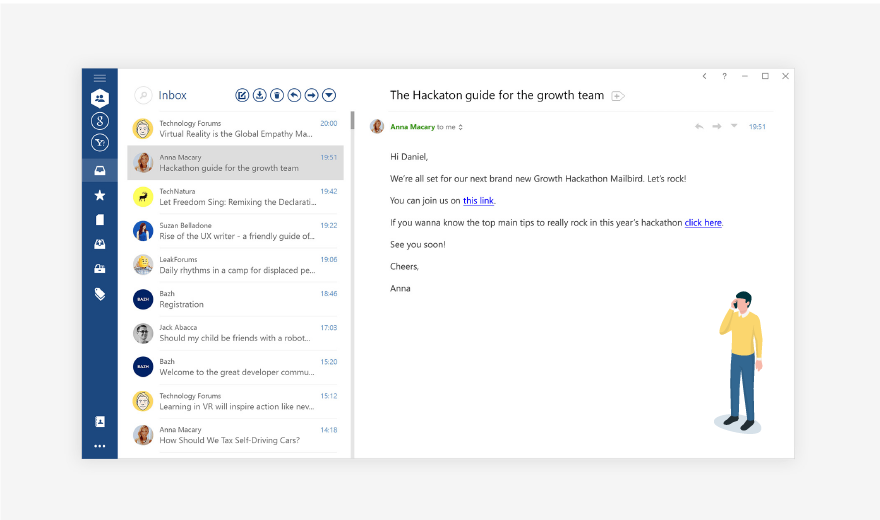 Source:
Getty Images; Screens courtesy of companies
Visual Editor:
Getty Images; Screens courtesy of companies
Mailbird's developers designed it with a straightforward UI and simplistic feature selection because they found that most enterprise email clients were more feature-intensive than some users needed.
Mailbird email allows users to switch between accounts and mute email notifications, for example. Some of Mailbird's features, such as the calendar, require a paid subscription, but Mailbird supports Google Calendar and Facebook event integration, making the pay-to-use calendar a more attractive option at a fraction of Outlook's licensing cost. Other applications, such as WhatsApp, are free to integrate, as well.
Outlook features Microsoft Edge integration, and Thunderbird features Mozilla Firefox integration. Mailbird email, on the other hand, has a built-in app section that can open add-on web features without leaving the business­ email client.
Organizations can also integrate IMAP and POP3 with its servers. The only drawback is that IT must input the server information and connect each endpoint manually.
View All Photo Stories