kantver - Fotolia
Comparing Jamf vs. Fleetsmith for macOS management
Like any decision around purchasing a business technology, the Jamf vs. Fleetsmith debate for Apple device management comes down to certainty, compatibility and feature sets.
Both Jamf and Fleetsmith offer business-focused platforms for deploying and maintaining macOS devices, and organizations should understand how these two offerings stack up against one another.
Jamf has been around a lot longer and is a more feature-rich product, whereas Fleetsmith is more streamlined, user-friendly and embraces more modern architectures.
In the past, choosing between the two platforms could be a straightforward process. Larger organizations that wanted a more comprehensive platform might opt for Jamf, and smaller organizations looking for simplicity might gravitate toward Fleetsmith. But the rules changed in June 2020 when Apple acquired Fleetsmith, creating uncertainty about the future of both products.
Overview of Jamf vs. Fleetsmith
Apple's acquisition of Fleetsmith makes it difficult for organizations to know which product will sustain them over the long term. Will Apple modify Fleetsmith? Could the nature of macOS management change? Will products such as Jamf be sidelined?
Unfortunately, most organizations don't have time to wait around for answers, so they must make the decision based on the information available now.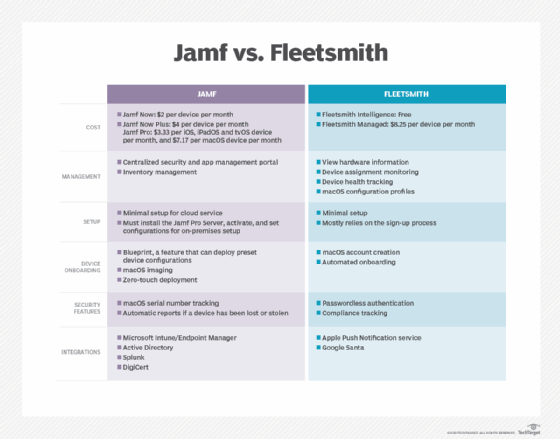 Jamf
Jamf offers three editions: Jamf Now, Jamf Pro and Jamf School. Now and School are cloud services, while Jamf sells Pro as both on-premises software and as a cloud-based platform. Jamf Pro subscribers get access to the fullest set of macOS management capabilities that Jamf has to offer. For example, administrators can use Jamf Pro to run custom macOS scripts, manage local macOS accounts, preconfigure app settings, issue patch notifications for third-party apps and set up dynamic inventory reporting and alerts.
All Jamf editions support macOS desktops to some extent. With each one, administrators can enforce data encryption, deploy macOS updates, deploy Apple App Store apps, and configure Wi-Fi, email, calendar and contact settings. All editions also support iOS and iPadOS devices to varying degrees, although only Jamf School and Jamf Pro can manage tvOS devices. In addition, Jamf offers Jamf Now Plus and Jamf School Plus, which add several advanced macOS capabilities to the base subscriptions, such as enhanced customer support from Jamf, the ability to deploy more complex custom profiles and support for deploying custom applications.
Fleetsmith
Fleetsmith is strictly a cloud service that's available at two subscription levels: Fleetsmith Intelligence and Fleetsmith Managed. Fleetsmith Intelligence is free and provides only basic macOS management, such as asset tagging, macOS intelligence and macOS enrollment through Apple's Automated Device Enrollment program, now a part of Apple Business Manager.
Fleetsmith Intelligence can also use Google G Suite and Microsoft Office 365 as identity providers. In addition, the service can manage iOS, iPadOS and tvOS devices, although some management features are still in beta.
Organizations of any size will likely go with the Fleetsmith Managed service, which supports all the Fleetsmith Intelligence capabilities, along with many others. These include features such as easy remediation, macOS upgrades, app installations with automatic updates and zero-touch deployments with Apple Business Manager. In addition, the Fleetsmith Managed service includes remote lock and erase, disk encryption with automatic key escrow, and password and screen lock enforcement.
Comparing the feature sets, strengths and weaknesses of Jamf vs. Fleetsmith
While there are many distinguishing features and other elements that can differentiate Jamf and Fleetsmith's macOS management platforms, it can help to segment each set of platforms based on categories such as management, security, setup and integrations.
Setup
The steps that an organization takes to get started with Jamf depend on the edition. For the cloud service, setup is primarily a matter of signing up for the service. For the on-premises edition, administrators must install Jamf Pro Server and the server tools, and activate the product and address the various configurations. Jamf Pro automatically installs a client agent on each managed macOS device.
Apple's acquisition of Fleetsmith makes it difficult for organizations to know which product will sustain them over the long term.
Fleetsmith works much like Jamf Cloud. Customers simply set up their accounts and add macOS desktops. As with Jamf Pro, Fleetsmith also automatically installs a client agent on each macOS system.
Management
Jamf offers several tools for managing macOS systems. Jamf Now, for example, provides a centralized portal that includes status information about email accounts, security settings and deployed apps. Jamf Now also offers inventory management to ensure users get the resources, apps and services they need. Jamf Pro supports the same features but adds numerous others, including support for configuration and management policies. Jamf Pro also takes a more automated and proactive approach to macOS administration.
Like Jamf, Fleetsmith Intelligence and Fleetsmith Managed include several essential management features. Administrators can view hardware information, install apps and settings, monitor device assignment and inventory, and automatically approve kernel extensions and privacy preferences. In addition, administrators can quickly access device health and security issues through the centralized dashboard, and create configuration profiles to automate setting configurations.
Device onboarding
Both vendors offer features that help simplify device onboarding and maintenance. Jamf Pro, for example, includes the Blueprint feature, which enables administrators to easily deploy settings, apps and restrictions. It also allows administrators to deploy packages and custom apps. In addition, Jamf Pro supports zero-touch deployments and macOS imaging. Although Fleetsmith doesn't offer the full breadth of macOS features, it includes a comprehensive set of tools that streamline and simplify macOS deployment and management.
Security
Both vendors also take security very seriously. Building on the native protections built into macOS, they each offer additional features to provide further safeguards. For example, Jamf can track all macOS serial numbers and report to Apple online if a device has been lost or stolen. Jamf also supports compliance monitoring features that enable administrators to view real-time information about managed devices. Fleetsmith offers features such as password-less authentication for account creation and sign-in, as well as providing up-to-date information about device health, security and compliance.
Integrations
Jamf is at the forefront of third-party integrations. The vendor has been working with Microsoft to support an Intune integration and offers a plugin for Microsoft's Endpoint Configuration Manager -- formerly SCCM. Jamf also integrates with directory services such as Microsoft Active Directory (AD), as well as with platforms such as Venafi, DigiCert, Splunk and AD Certificate Services. In addition, Jamf provides an API that enables third-party tools to programmatically interact with Jamf Pro. Fleetsmith is much more limited, integrating only with the Apple Push Notification service and Google's Santa, a binary authorization system for macOS.
Cost
Fleetsmith offers its Intelligence service for free and charges a flat $8.25 per device per month for its Managed service. According to Fleetsmith, all iOS and tvOS devices enrolled during open beta will continue to be free once the beta ends. The vendor does not specify what will happen with pricing after beta.
Jamf pricing depends on the edition, platform and targeted devices. For example, Jamf Now is $2 per device per month and Jamf Now Plus is $4. Jamf Pro is $3.33 for iOS, iPadOS and tvOS devices and $7.17 for macOS devices. Jamf also offers Premium and Government add-ons for its cloud service, which run $20,000 per year and $30,000 per year, respectively. Jamf School subscriptions have far more complicated plans.
Choosing between Jamf and Fleetsmith
More organizations have adopted Jamf than Fleetsmith, as Jamf can accommodate organizations of all sizes. Fleetsmith has typically targeted smaller organizations. That said, Fleetsmith says that its product is suited to organizations of all sizes, and its streamlined user interface and simple operations add to its appeal.
When comparing the two products, decision-makers will have to weigh pricing against features, usability and any other relevant factors. The big wildcard here is the recent acquisition. It's unclear what Apple will do with Fleetsmith, what the company has in mind for device management, and how vendors such as Jamf might be affected. Apple has already pulled the third-party app catalog from Fleetsmith, and it's uncertain what will come next.
To further complicate matters, Apple plans to start replacing the Intel processors in their macOS desktops with Apple Silicon processors. It's not clear yet what effect this might have on Mac management, but there are bound to be repercussions.
With such uncertainly, it's difficult for IT teams to know which product will best serve them going forward. If they have the option to wait, they might want to do so. If they don't, they'll need to choose the product that best fits their current requirements, while hoping for the best in the years to come.