Askhat - stock.adobe.com
6 Mac antivirus options to improve internet security
Organizations with macOS desktops under their management need to ensure their security products can support Macs. Review these six antivirus products with macOS support.
Organizations that support macOS desktops need to protect them with antivirus software that safeguards against the many lurking threats to business systems and data.
But choosing the right platform is no small task. Many vendors offer products for protecting Macs and other devices, but they can differ in important ways with unique features and integrations.
This article examines six vendors that offer antivirus software products that illustrate the types of options on the market today. The products provide a good sampling of what's available on the market with a variety of features and approaches.
Why do organizations need antivirus for Macs?
Antivirus software enhances Mac internet security by protecting macOS endpoints from malware, ransomware, phishing and other types of attacks. Most of these products also protect Windows desktops, and some might even support servers or mobile devices. Products that target business customers typically include more advanced features than those available to consumers. In addition, vendors often provide management portals to help with controlling deployments across devices.
The need for antivirus protections on Mac computers has never been greater. As more Macs are being used for business, both in the office and remotely, cybercriminals have taken notice. They no longer ignore these systems as they once did, and their techniques are steadily evolving and growing more sophisticated. Mac computers might still have a slight edge over PCs when it comes to security, but that certainly doesn't make them immune to possible risks.
Threats against Mac computers come in many forms, and in recent years, ransomware has undoubtedly become one of the greatest concerns.
Threats against Mac computers come in many forms, and in recent years, ransomware has undoubtedly become one of the greatest concerns. Criminals might use phishing or other social engineering techniques to gain access to an individual Mac computer, which provides them with inroads into network resources, where the ransomware can encrypt files and hold them hostage.
Adware also represents a threat because it can contain hidden viruses or direct users to infected websites. One wrong click could result in extensive damage to an organization's data and its reputation. Macs are also susceptible to spyware, Trojans, rootkits, worms and potentially unwanted applications. In 2022 alone, Macs came under attack from threats such as SysJoker, oRAT, DazzleSpy, Pymafka, CrateDepression, VPN Trojan and numerous others.
6 Mac antivirus vendors for organizations to consider
The market is full of products that help protect against macOS threats, but these products can vary significantly from one to the next -- even those from the same vendor. This list examines six antivirus platforms from six different vendors -- listed alphabetically. These are by no means the only products available for protecting Macs, nor is any one of them necessarily an organization's best option. But these products provide a good sampling of the options out there and what to look for when researching antivirus products.
Avast
Avast offers four products that specifically target business: Small Office Protection, Essential Business Security, Premium Business Security and Ultimate Business Security. All editions protect Mac and Windows computers, and all but the Home Office edition also support Windows Server. However, only the Small Office Protection edition includes management for iOS and Android devices. Linux antivirus support is available, but customers must purchase it as a separate package and can't be managed from Business Hub. In addition to antivirus protections, all four editions include data, identity and ransomware protections.
The three Business Security editions include access to Business Hub, an online platform for managing devices and policies. The dashboard is customizable and offers detailed reports about the protected devices and blocked threats. Other features -- such as unlimited VPN, USB protection and patch management -- depend on the level of service. However, unlimited VPN is not available for Macs. Avast primarily targets smaller organizations with its products, rather than enterprise organizations, although the vendor provides all business customers with 24/5 support via email, chat or phone.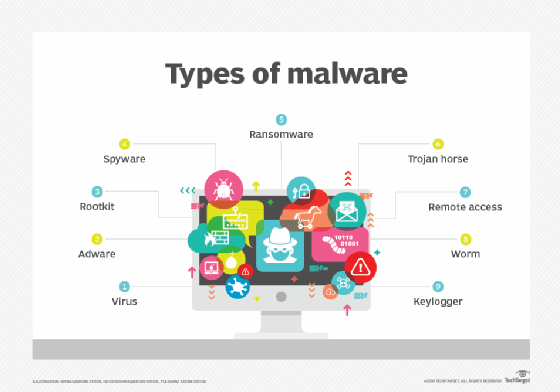 Bitdefender
Bitdefender offers three primary antivirus security packages for business -- Business Security, Business Security Premium, and Business Security Enterprise -- along with several other variations and add-ons, including cloud options. All three packages protect both physical and virtual workstations and servers, with support for macOS, Linux, and Windows desktops and servers. They also offer features such as endpoint risk analytics, web threat protection, application allowlisting, ransomware mitigations and real-time threat inspection.
Although the three editions provide the same basic features, they also differ in several important ways. For example, the Premium and Enterprise editions include a tunable machine learning (ML) layer for detecting and blocking sophisticated threats. They also offer sandbox analysis, fileless attack mitigation, smart scaling and Microsoft Exchange protections, along with support for iOS and Android devices. The Enterprise edition adds anomaly-based defense and Mitre event tagging. Some customers have found that getting started with the software is confusing, but any customer can access standard support, which includes incident help assistance via phone, portal and web. Bitdefender also offers premium support options for organizations with more comprehensive needs.
ESET
The ESET Protect line of products offers solutions for organizations of all sizes. Customers can choose from four primary editions: Entry, Advanced, Complete and Enterprise. Each edition includes endpoint and file server antivirus protections for macOS, Windows and Linux physical and virtual environments. Each one also supports iOS and Android devices. In addition, ESET offers solutions such as ESET Protect Mail Plus and ESET Protect MDR, which provide additional protections. ESET also offers a unified management console that can be deployed on premises or accessed in the cloud.
The Advanced edition adds full-desk encryption and advanced threat defense to the Entry edition. The Complete edition builds on the Advanced edition by including cloud app protection and email security. The Enterprise edition does not offer these two features, although they can be added as optional services. However, the Enterprise edition includes a detection and response feature that delivers breach prevention and enhanced visibility and remediation. The ESET products have fairly limited support options -- technical support is available 9 a.m. to 5 p.m., Sunday to Thursday, and it is only accessible by filling out an online form.
Malwarebytes
Malwarebytes offers two products that provide AI-powered antivirus protections for Mac and Windows computers. The first is Malwarebytes Endpoint Protection, and the second is Malwarebytes Endpoint Detection and Response (EDR), which builds on the feature set of the first one. Both products include threat removal and remediation, brute-force attack prevention, application hardening, anomaly detection, on-demand security reports and much more. In addition, they include ML anomaly detection and device control policies for managing connected USB devices. Malwarebytes also offers a centralized management console that provides threat visibility.
The EDR product adds several other features. For example, it comes with suspicious activity monitoring, automated analysis of zero-day threats and containment management based on machine, user or process. It also includes forensic tools and cloud sandboxing for observing suspicious files. Both products support Mac and Windows computers only, with some protections available only on Windows desktops. If customers want additional services, such as server or mobile device protections, they must purchase additional subscriptions. All business customers can access technical support by email, chat or phone. Malwarebytes also offers premium support packages.
Norton
Norton has a fairly limited portfolio when it comes to antivirus options for businesses. Its only offering is Norton Small Business, which comes in subscription packages of five, 10 or 20 devices, although it's possible to push this to 25. The product supports Mac and Windows computers, as well as iOS and Android devices. Organizations can centrally manage their devices through a cloud-based portal, and to enroll devices, administrators only need to send their users a predefined email, which includes step-by-step instructions for setting up the antivirus on the local device.
Norton offers 24/7 chat or phone support that's available to both administrators and end users. Norton Small Business protects devices from online threats and identity theft, whether the devices are in the office or being used remotely. However, the product clearly targets relatively small businesses, as it does not provide the comprehensive endpoint protections required by most larger organizations. In addition, it doesn't include built-in VPN like many products, although customers can purchase it separately. Norton Small Business focuses primarily on protecting against viruses and risky files, omitting many of the more comprehensive features included with other products.
Sophos
Sophos offers endpoint protection through Intercept X Endpoint, which supports both Mac and Windows desktops. The product is available in several editions that differ from each other primarily by whether they include managed detection and response (MDR) or extended detection and response. All editions offer an extensive set of core features that prevent malware and protect an organization's overall attack surface. The platform incorporates AI-driven analytics for detecting and investigating suspicious activity and uses predictive deep learning to protect against malware and other threats, both known and unknown. Customers also get access to exploit and data loss prevention, as well as runtime behavior analysis and malicious traffic detection.
Administrators can use cloud-based Sophos Central to manage Mac and Windows devices running Intercept X. They can also use Sophos Central to manage other protected systems, such as servers or mobile devices. Sophos Central provides a centralized console for creating and deploying policies and investigating potential threats. Administrators can access support by chat or phone, although they must first open a support ticket and get a case number before calling. Intercept X Endpoint covers only Mac and Windows devices, so organizations that want to protect servers or mobile devices must purchase separate subscriptions.