arthead - stock.adobe.com
Does macOS need third-party antivirus in the enterprise?
Macs are known for their security, but that doesn't mean they're safe from viruses and other threats. IT teams can look into third-party antivirus tools to bolster macOS security.
Cybersecurity threats require organizations to employ comprehensive data protection tactics and software such as antivirus, but Apple administrators may see Apple devices as sufficiently protected by the native security features.
Apple devices historically have a reputation for strong security, and macOS has a built-in antivirus tool, XProtect, so third-party antivirus might seem unnecessary to some Mac administrators. However, that reputation isn't necessarily accurate today, and malware such as viruses can cause serious issues if they're able to slip through the cracks. Additional antivirus protection is one important part of an effective cybersecurity strategy for Mac devices in the enterprise.
Is macOS immune to viruses?
There are a few reasons why Macs have been seen as especially secure devices over the years. In the past, Apple had a much smaller share of the business computing market compared to Windows. There were more users to reach within the Windows OS, so hackers focused on writing malicious code to target Windows devices. Today, however, plenty of people use Macs, so they're a more appealing target for cyber attacks than they used to be.
Another reason for this security reputation is Apple's walled garden approach, where any software or service must be reviewed and approved by Apple before it can run within macOS, iOS or iPadOS. With the App Store, Apple carefully vets third-party software before making it available for download, so it's harder for users to unwittingly install malicious software onto their devices. While this approach can strengthen device security, it has been the subject of criticism and antitrust charges in recent years, so Apple might have to allow third-party app stores on its devices in the future.
New threats emerge constantly, and XProtect isn't as up to date on those threats as third-party antivirus providers tend to be.
Still, there are some aspects of macOS that give the operating system an edge when it comes to security. XProtect is macOS' built-in antivirus protection tool, which scans all applications and files to detect and block the download of malware. Another built-in security tool is Gatekeeper, which verifies that any app users try to open or install has come from a certified developer. These native Mac security tools also receive silent automatic updates, keeping them effective as threats evolve.
Even with these security strengths, viruses and other malware infections can and do affect Mac devices, with new vulnerabilities coming out every year. Their reputation for security can also contribute to cybersecurity risks, as users might be more careless when dealing with phishing attempts and other threats in a Mac environment. To stay on top of any potential vulnerabilities, organizations should supplement macOS' native security features with third-party antivirus software.
Can third-party antivirus software boost Mac security?
Antivirus software typically runs in the background to scan devices for malware and vulnerabilities, detecting and blocking threats such as ransomware, spyware and adware in real time. While XProtect can do this fairly well, it only scans for the malicious software that Apple is already aware of. New threats emerge constantly, and XProtect isn't as up to date on those threats as third-party antivirus providers tend to be. Plus, many antivirus products offer advanced features to further enhance protection, such as built-in VPN, malicious traffic detection, data loss prevention and patch management.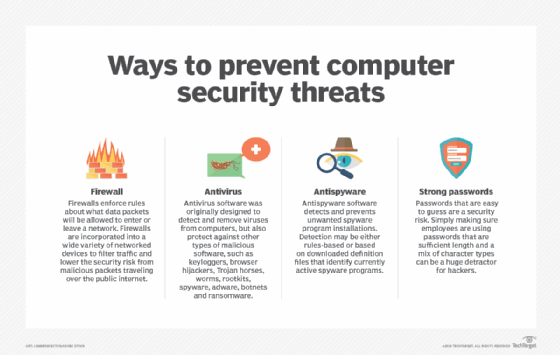 Third-party antivirus can fill in some of the gaps that macOS doesn't cover for security, making it a necessity for organizations that have to deal with sensitive corporate and end-user data. It should be just one part of a malware protection strategy, however. In addition to third-party antivirus software, organizations should invest in security awareness training for end users.
User behavior plays a major role in cybersecurity, with the Verizon "2022 Data Breach Investigations Report" finding that 82% of breaches in 2021 involved human error. Users don't always recognize the signs of a malware attack or know how to react to pop-ups and other suspicious activity. And while one of Apple's security strengths is that it issues regular security updates, users aren't always quick to install updates, allowing vulnerabilities to cause serious issues for even longer. Ensuring that users know the importance of software updates and other cybersecurity best practices is vital to effectively secure Macs in the enterprise.
How to choose a third-party antivirus provider for macOS
There is a wide range of Mac antivirus providers on the market today. To choose from the available options, organizations should consider a few factors. Some tools, such as Intego Mac Internet Security X9, only support macOS, but most antivirus vendors can accommodate both macOS and Windows systems. Vendors such as Bitdefender and ESET include Linux support as well. Implementing security platforms that can support all of an organization's systems is a good way to reduce administrative overhead and licensing costs.
Similarly, organizations should look for antivirus software that's compatible with other IT tools and won't significantly impact device performance or the end-user experience. Some vendors, including Malwarebytes and Avast, offer a few different antivirus products and editions to choose from. It's important to sort through all of the available features to find the best fit among all of the vendors and their offerings. Some features that organizations should opt for include ransomware protection, adware detection and centralized management. Other popular vendors to consider include Norton, McAfee, TotalAV and Kaspersky.