You can more - Fotolia
Top Windows 10 backup and restore utilities
The key to a good backup and restore tool is reliability. Look into third-party utilities such as Reflect or OneKey for Windows 10 restore and backup.
It's hard to overstate the value of a good, recent backup. IT professionals with a Windows 10 backup in hand and a good tool to restore it to the PC can overcome most software issues.
An image backup is best because it takes a snapshot of the drive that captures both the content and disk layout. Restoring such a backup replaces the entire affected drive with an image snapshot. As a result, none of the problems present on the disk at the start of the restore process remain once the snapshot overwrites its contents.
Quality backup utilities for Windows 10 go beyond capturing the necessary images to restore a Windows 10 installation. They should be able to mount a backup image as a virtual drive so its contents are available at runtime and offer the ability to restore an image to a bare-metal PC -- or a PC without an OS. Windows 10 backup utilities may even include a suite of system repair tools that run on bootable media, such as a USB flash drive, or optical media, such as recordable DVD discs. All these functions are important when restoring a damaged Windows installation or recovering from an unsuccessful upgrade attempt.
Built-in Windows 10 backup and restore tool
Windows 10 still includes a Backup and Restore utility that harkens back to Windows 7. This is a no frills tool that IT has used for many years on Windows PCs. This utility is subject to issues that report certain image backups as unreadable or unusable.
The only good Windows 10 backup is the one that IT can always restore, so these hiccups are enough to steer clear of relying solely on the tool. Backup and Restore works most of the time, but only IT pros who absolutely have to stick with Microsoft-only utilities as a matter of policy or deliberate choice should use it.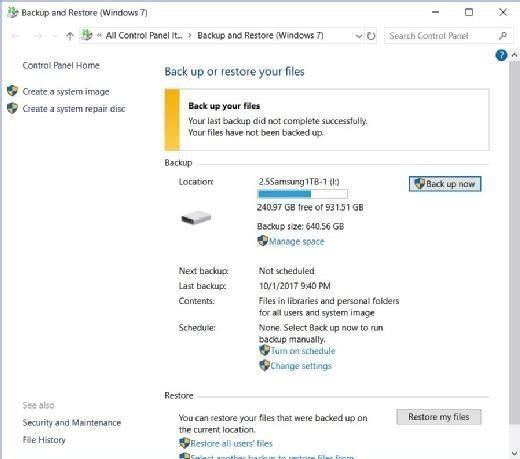 Macrium Reflect Free
Macrium Software offers both free and commercial versions of its Reflect backup and restore utility.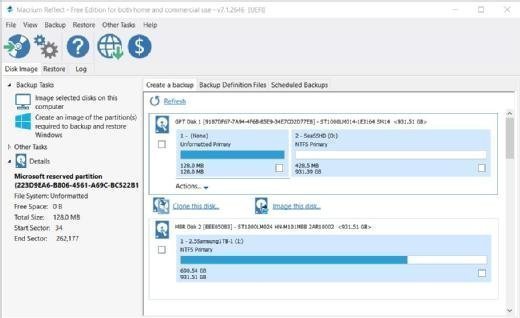 Reflect also creates bootable media, called rescue media, that restores a Windows 10 backup to a PC that won't boot. In addition to providing access to the facilities from the Windows Recovery Environment, it also includes these capabilities:
Fix Windows boot problems: Rebuilds the Windows boot environment on the boot/system disk by replacing current boot configuration data with a cleaned-up version. For many IT pros, this works better than boot repair tools on the Microsoft system repair disk.
Browse for an image or backup file to restore: Enables IT to navigate image backups and other types of backups that Reflect creates to select a source for restore operations.
Open an image or backup file in Windows Explorer: Mounts a backup as a virtual drive in the Internet Explorer browser so IT may inspect or copy its contents.
Support for various backup and image operations: Enables IT to verify backups, as well as to create incremental or differential backups or delete backup images inside this program.
The biggest advantage of Reflect is that it's quick. It normally completes an image backup in less than half the time it takes the built-in Windows utility to do the same. It also provides better file compression, so that image and other backups consume less than 60% of the disk space that the native utility sucks up.
Aomei OneKey Recovery and Backupper
Aomei Technology Co. Ltd.'s OneKey Recovery Free creates something similar to a factory recovery partition on the boot/system drive. Each time IT captures a Windows 10 backup image, it is laid down in that partition. If the primary boot partition fails for any reason, this software enables IT to select the OneKey function to copy the contents of its recovery partition over the primary, restoring the OS to the same state it enjoyed when IT captured the image inside the recovery partition.
The biggest advantage of Reflect is that it's quick.
This works as long as the boot/system drive functions, but a Windows 10 image backup must backstop it on another drive to prevent access or function loss should the drive fail. That's why most OneKey Recovery customers also work with the free Aomei Backupper Standard package. Backupper provides most of the same functions as Macrium Reflect Free. It stores its image backup on a different drive so IT can restore the image to a different replacement drive.
Aomei Backupper supports a full battery of backup types, including image backup -- which the product calls System Backup -- file backups, full disk backups, disk partition or logical volume backups, and more. It also supports differential backups, which save all the files IT or users changed since the last full backup, and incremental backups, which only save files IT or users changed since the previous backup. As with most backup programs, it runs on an automated schedule, so backups occur without requiring human intervention. The program also offers file syncing, or sending copied files from a source drive to a target drive at regular intervals, similar to a File History in Windows 10.
Aomei's rescue disk capabilities are not on par with Macrium's, and the free version of Macrium runs faster and more compactly. That said, OneKey Recovery is both interesting and valuable for those with disks large enough to accommodate a mirror of their primary OS partition.
The backup rule of three
A crucial concept IT must know is how to fix a volsnap.sys breakdown afflicting PCs running Windows 10 Build 17017. Call it "The backup rule of three":
Make three copies of anything IT cares about. Two is not enough if it's important, and nothing is more important to a running PC than the OS that makes it work.
Use two different repositories, such as Dropbox and USB HD.
Maintain one off-site backup. If the office goes up in flames, the OS, apps and data are gone. Examples include Google Drive, Dropbox, OneDrive and Carbonite.