Definition
System Restore
System Restore is a utility to protect and revert the Windows client operating system to a previous state -- known as a restore point -- undoing system changes made since that time to avoid a reinstall of the operating system.
System Restore attempts to correct issues with system stability after a particular event occurs that affects the performance of a computer. For example, System Restore could fix a problematic Windows update by bringing the machine to an earlier restore point. If a new program doesn't function properly, a patch slows down the operating system or the system stops responding, System Restore can attempt to correct these problems by reverting the system to a snapshot before the troubles began.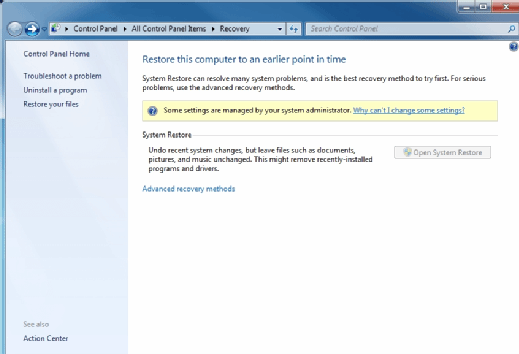 System Restore periodically creates automatic restore points that preserve key operating system files and the Windows registry. Users can use System Restore to create manual restore points before making any significant changes to the system, such as installing new programs. System Restore does not affect personal data -- such as new files, new email messages and changes to documents -- while it undoes system changes.
What Windows System Restore does
Microsoft disables System Restore by default in Windows 10. To access and enable System Restore, press the Windows key and use the search bar to find the Control Panel. Once the Control Panel opens, search for and then select Recovery > Configure System Restore, then Turn on system protection. Select Apply, then OK. This enables the automatic protection in System Restore and creates a new restore point when particular activities occur, such as a system update.
To set a new restore point, press the Windows key and search for System Restore. Under the tab System Protection, select Create... Then, name the restore point and select Create to take a system snapshot.
To restore the system, press the Windows key and search for System Restore. Under the tab System Protection, select System Restore… When the new window appears, select Next. Then, choose the date of the desired restore point, then Next > Finish. If the restore procedure fails, follow the restore steps from Safe Mode.
On a system infected with malware, system administrators may wish to temporarily disable System Restore to run antimalware tools, and then re-enable System Restore to create a new checkpoint once the system is clean.
Alternatives to System Restore
System Restore is one of several native Windows tools that can troubleshoot and correct system problems.
Automatic Repair corrects operating system startup problems. Automatic Repair diagnoses the Windows operating system and tries to fix startup issues automatically.
System Image Recovery creates an exact copy, or image, of an entire drive, which can restore a machine to an earlier state, but replaces all existing programs, settings and files. The Reset this PC feature enables the user to choose between keeping current files or resetting the operating system. If the user selects the option to keep the files, the feature will only reset settings and applications.
This was last updated in
April 2018
Continue Reading About System Restore
Dig Deeper on IT operations and infrastructure management