fotohansel - Fotolia
Industrial IoT application boosts machine utilization
Metal parts maker uses MachineMetrics analytics cloud to spot underused equipment, help machinists squeeze out more production and monitor their own efficiency.
Manufacturers put a lot of thought and effort into getting the most out of their expensive machinery. Some are starting to realize that an analytics-enabled industrial IoT application might be an affordable way to automate the process.
BC Machining LLC, a contract manufacturer of metal parts based in Brasstown, N.C., was eager to tackle the problem last year, according to owner Bob Merrill. Finding good help in its rural community has been challenging, so adding workers isn't an easy way to boost production. "I'm trying to continually increase my capacity, and it's difficult to do if you can't find the employees," he said. "I knew we didn't have good machine utilization. It was blatantly obvious."
At first, Merrill tried having an employee track the machines' daily hours of operation in a spreadsheet. "It was very cumbersome, and one day you forget, so then you don't have accurate numbers anymore. But it was quite obvious," he said, "that we could probably pick up an additional 40% capacity just by utilizing the machines better."
Merrill researched machine monitoring software and, after attending a local conference, chose MachineMetrics, which makes a SaaS industrial IoT application specifically for the purpose.
The software has helped to improve the productivity not just of the machines, but of the people who operate them.
Timely data from industrial IoT application
BC Machining has just a dozen employees working in a 5,000-square-foot facility, but it has been in business for a decade. It counts two Fortune 500 manufacturers among its customers, though Merrill wouldn't identify them. (The website mentioned three customers in the microwave communications, power tools and tactical medical supply industries.) "We're not a guy in the backyard with a garage," Merrill said.
Production operations are sophisticated, with 11 computer numerical control (CNC) machine tools. "We probably have about $3 million in capital equipment inside the building and [are] looking to spend another $2 million this year," he said.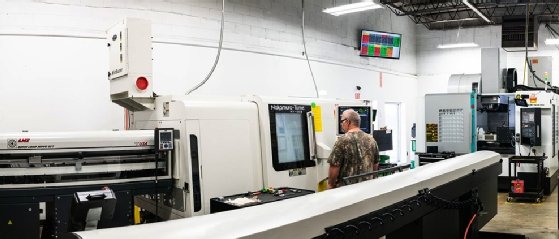 The company went paperless in 2017, replacing paper drawings with tablets in the shop. Operators would enter their daily output of pieces in a spreadsheet. "It was a day late. I was looking for a way to have some real-time visual way of looking [at] what was going on in the shop [so] we could now go out and say, 'Well, this machine has been down for 15 minutes. Why? And what we can do to help you?'"
I was looking for a way to have some real-time visual way of looking [at] what was going on in the shop.

Bob MerrillOwner, BC Machining
Merrill soon settled on the MachineMetrics industrial IoT application for production managers. "It was subscription-based, so it was relatively inexpensive to get involved in" and appeared to have a more complete, plug-and-play offering than others he considered. He signed with the vendor, which is based in Northampton, Mass., in November.
"By mid-December, we were live collecting data," he said.
Setup focused on establishing internet connections
Merrill said the easy installation required connecting every machine by CAT5 cable to a single network switch wired to an internet gateway sold by MachineMetrics. "We put this together in less than a day," he said, and after rejiggering the cabling to one machine, "we had all the machines wired into the switch."
In January, two large-screen TVs went up on the shop wall so operators can see at a glance how their machines are running. "We bought some Google [Chromecast] sticks and stuck them in there, and we were up and running and being able to watch this whole thing," Merrill said. "At this point, the investment's probably still well under $2,000."
Every machine was then outfitted with a MachineMetrics tablet. Workers initially encountered the type of problems familiar to home users of Wi-Fi internet. Some machines would get disconnected and fail to reconnect automatically, but MachineMetrics soon identified and fixed a problem on its end.
Visual warnings of underperforming machines
The MachineMetrics software uses a mix of manual data entry and real-time data feeds from the machines. Cycle times and the number of parts produced stream in over the wires.
"If a machine is down for five minutes, I force [operators] to input a reason," choosing from a short list of options, plus miscellaneous and a comment field, Merrill said. Machinists also record scrap. "I want it to be easy so that I can make sure I get the data."
The data goes up to the MachineMetrics cloud. "Each week, we get an email from MachineMetrics saying, 'This is what you did this week. Your usage is lower, it's higher, you're filling in more downtime reasons or you're filling in less downtime reasons,'" Merrill said. "You kind of get this little thing that tells you how well you're doing at collecting the data and how good your data is." MachineMetrics also sends back benchmark data comparing machine utilization to that of anonymous users.
"If I want to look at my quality between 10 a.m. and 1 p.m. today, I can go in and just look at that specific section," Merrill said. "I might want to look at my quality since the beginning of the year. I can do that. It will tell me how many parts we scrapped." He can also get text alerts when a machine isn't running.
The software uses green, orange and red color coding to show operators how they and their neighbors are doing. "If you're running your machine and you're in the green and you see this machinist over here struggling and he's in the red, then maybe you should go and try and help him a little," Merrill said. "I think our machines run more efficiently now because of that. Those operators are trying to keep that thing in the green."
Merrill said the system doesn't collect data on the operators themselves, which was important to stress to them.
Nevertheless, it has helped them be more accountable and see the effects of behavior that negatively impacts a machine's production -- such as numerous bathroom breaks. "All those things are visible now, so I think that people take less advantage," he said. "It gives me an ability to hold people accountable to something and being able to prove that, yes, they did it, or no, they didn't. It's not a matter of somebody's judgment."
The data also helps the company's manufacturing engineer estimate overall equipment effectiveness (OEE) when setting up a new job by, for example, measuring how long a part is in a machine or how long it takes to load and then inputting those figures into MachineMetrics.
Result: OEE is up at least 10%. And while overall machine utilization has been flat during a spell of softening sales, Merrill suspects a solid run of profitability since MachineMetrics went live is no coincidence.
Future plans
Merrill plans to add an ERP system, but it will have to be one that integrates with MachineMetrics to show the whole picture and drive further efficiencies. Like the industrial IoT application, the ERP system must be SaaS. "If it's not to our liking, we can get out of it and maybe go try somebody else," he said.
Merrill's analytics success story has a familiar ring to it: Most of the work goes into ensuring the quality, accuracy and timeliness of the data.
"Probably the most difficult part of this whole process with MachineMetrics is getting the operators to say, 'Oh, I scrapped three parts; I need to put that in and put a reason why.' They forget that," he said.
Merrill has added checks to ensure data is complete. For example, a quality control worker counts the parts in the scrap bin every morning and sends Merrill an email so he can compare that count to what the operators recorded.
"The critical thing with this is that you need to have the accuracy of the data," he said. "Otherwise, you don't have anything. You don't really know any more."